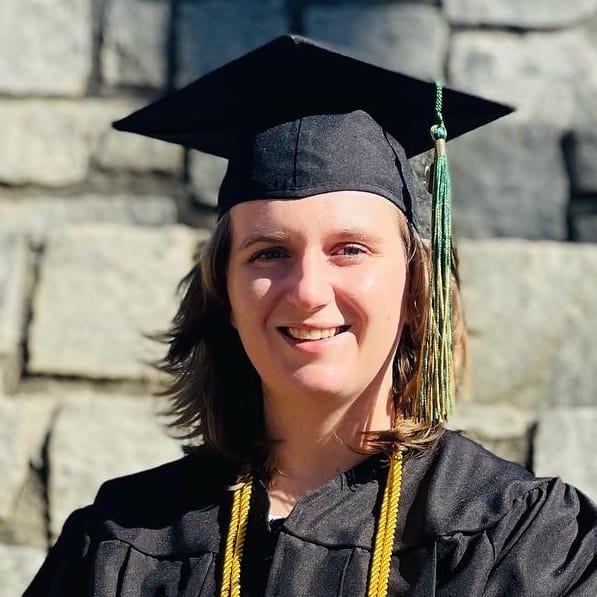 Jaiden Ouzts
Practicing Smarter Nutrition
Alumni: Bachelor of Science in Dietetics
March 2021
Jaiden Ouzts graduated from Life University in December 2020 with a Bachelor of Science in Dietetics and is currently applying to Dietetic Internship programs. Ouzts is from Greenville, South Carolina and has traveled quite a bit around the U.S.
"When I had my whole weight loss transformation, I really had an interest in dietetics, but I never knew I was actually going to fulfill a career in it," she shared. "At the end of high school, I had it in my mind that I would be a flight attendant, and I didn't even plan on going to college at all."
Ouzts' dad was the one to suggest she pursue a college degree as a backup plan. She realized that her passion would be to help other people achieve the same weight loss that she was able to. Atlanta was one of the cities she was most intrigued by. After looking up different schools that had a dietetics program, she found LIFE.
"I went on a campus tour and thought it was so beautiful. The dietetics program was known to be really good, and I was drawn to it. I knew I wanted to be there the first moment I stepped onto campus."
A few of the clubs Ouzts joined were the Gay-Straight Alliance and the Food and Nutrition Club, which were her favorite opportunities to make friends on campus.
"Also in 2018 and 2019, I played for the Life University Bowling team," Ouzts said, adding that she didn't plan to join until some of her friends invited her to play because the team needed more women. "The thing that I was most excited about was that they go to Las Vegas. We traveled a lot, and I grew to love bowling. It became more than just recreational."
Life University's Nutrition Department is built on a vitalistic view that what we eat can affect the entirety of our health, whether we are experiencing an illness, trying to live a healthier lifestyle, maximizing our physical performance or simply cooking balanced meals for the week. Now that she has completed her bachelor's degree, Ouzts is preparing for a yearlong internship followed by the national exam to become a Registered Dietitian.
"After I pass the test, my main focus is school nutrition, or I would really like to work in a weight loss camp," she explained. "My dream would be to be a private dietitian and work with celebrities."
She suggests to all students that practice makes perfect. "You have to love what you are doing. If you have your mind set on something, then keep going no matter how long or how hard it is."
LEARN MORE:
Faces of LIFE is a story campaign that showcases members of the dynamic LIFE community, including faculty/staff, students, alumni and health science professionals. Interested in being featured or nominating a candidate? E-mail Natalie.Esparza@LIFE.edu. Read more Faces of LIFE stories.
Related posts