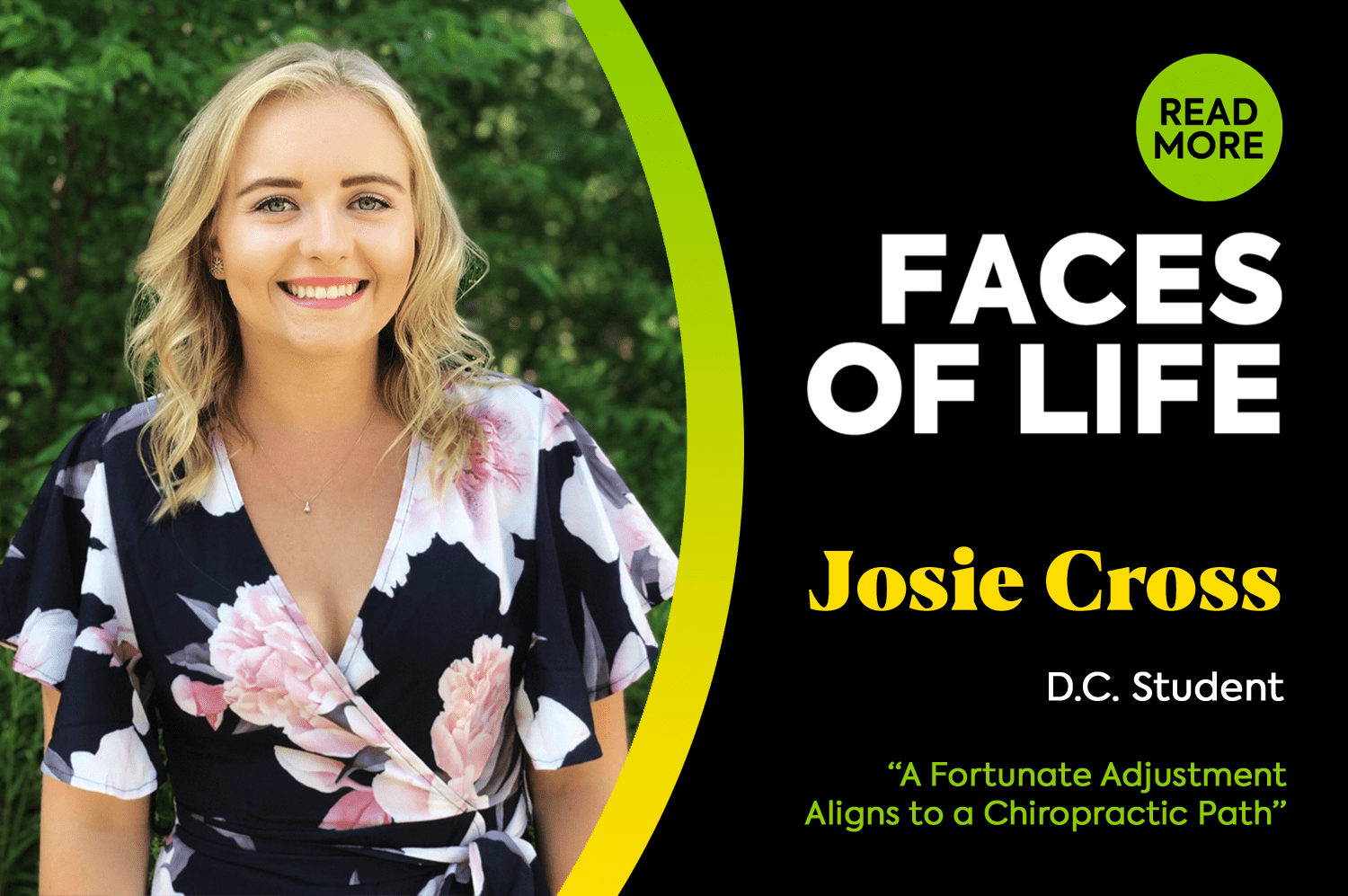 D.C. student
"A Fortunate Adjustment Aligns to a Chiropractic Path"
Josie Cross grew up as an only, but not lonely, child in Nova Scotia, Canada, as she has a decent number of cousins due to both her parents coming from large families. The family almost always had a dog in the house, and Cross refers jokingly to the current family dog as "her sister."
Cross attended undergrad at Acadia University in Nova Scotia, graduating with a B.S in Psychology.
"I was in my fourth year at Acadia, and I had no idea what I wanted to do. Then I started to see a chiropractor in January of 2019 after both of my parents had gone to one in the previous year. They had lower back pain problems, and so did I," said Cross.
Cross experienced pain related to a sports injury while playing ringette, a non-contact winter sport on ice similar to hockey. After her chiropractor had helped to alleviate her symptoms, Cross began to see the potential in Chiropractic as her profession.
"I always wanted to do a job where I could help people, so Chiropractic seemed like the right fit for me," explained Cross.
Now that she is attending Life U, Cross has made herself at home in this "homey school."
She also enjoys the academic rigor offered here.
"I like how Life U is more philosophy-based. I know other schools [] don't really teach as much philosophy as Life U, so I like the philosophy aspect," said Cross.
Cross previously served as Vice President of the Life U ICPA (International Chiropractic Pediatric Association) club and currently serves as one of its secretaries. She expressed that she always wanted to work with kids, though not knowing what setting she wanted to work with kids in.
"When I found the ICPA club in first quarter, I fell in love with it. It didn't really cross my mind that Chiropractic could involve kids and that kids also needed chiropractors. Finding that club first quarter, I just found where I was supposed to be," said Cross.
Faces of LIFE is a story campaign that showcases members of the dynamic Life U community, including faculty/staff, students, alumni and health science professionals. Interested in being featured or nominating a candidate? We want to hear from you! Email Marketing@LIFE.edu. Read more Faces of LIFE stories.
Related posts