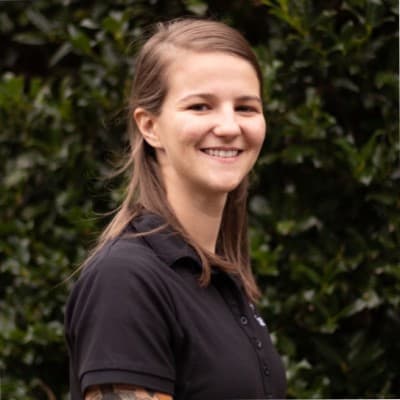 Mikey Provost
Gonstead Technique and Mentoring
Student: Doctor of Chiropractic
November 2020
Mikey Provost was born and raised in a small town in Nebraska and has three older brothers. Her mom works at Life University, her dad works on agriculture equipment in Nebraska and her brothers are electricians.
"I'd always been interested in Chiropractic, but when I went to undergrad at Georgia State University, I started going to a chiropractor who was actually a LIFEforce doctor," Provost shared. "She brought me to a lot of LIFE Vision seminars and stuff like that, so I never really considered another school besides LIFE."
Provost has really enjoyed her time studying at LIFE. "Life University is unlike any other place I've ever been," she shared. "I've really liked the connections I've made with the professors." Although the classes have been really interesting and challenging for her, "The relationships that I've made at Life University is what makes it so special."
Provost is very passionate about Chiropractic. "It's one of those things where it's who you are. We talk about it all the time, and it's a very cool little bubble that I find myself in."
The Gonstead Club is a chiropractic technique club that teaches a method to analyze and adjust the spine with specificity and certainty. "I started going to the Gonstead Club during my first quarter," Provost explained. "Technically now I am the chancellor since I've just completed being president. You should check out the Gonstead Club because the book is used in different classes, and it is a really good foundational technique."
The club has a tier system to complement anyone's level of understanding of Gonstead chiropractic from absolute beginner to advanced, Provost said. Many practing chiropractors consider Dr. Gonstead the "chiropractor's chiropractor," and his system of analyzing and adjusting the spine is featured widely within the Life University technique curriculum.
Provost is planning on interning and associating within the same practice. "It's a Gonstead practice so that is one perk about studying that method, because the offers are abundant."
She also described how she has found a sense of Lasting Purpose at LIFE. "I love that we are constantly being told to give, to do, to serve and to love, out of our own of abundance," Provost said. "It's kind of ingrained in us, and if you have that mindset and are a doctor taking care of people, you're only going to be helping them."
One of the projects that she is working on is a mentor program putting Gonstead doctors in contact with Gonstead students that want to learn. She feels like this is how she is embodying Lasting Purpose, by helping other students have someone they can talk to and ask questions of during their program.
The best advice that Provost has for other students is to get involved as much as they can on campus. "There are a lot of ways to meet people and so many clubs on campus," she said. "And not all are chiropractic-based. Some are about bettering yourself or understanding how to communicate or being healthy. Everyone here wants you to succeed, so ask for help or just go up and talk to somebody. There's really something special about just saying hello."
LEARN MORE:
Faces of LIFE is a story campaign that showcases members of the dynamic LIFE community, including faculty/staff, students, alumni and health science professionals. Interested in being featured or nominating a candidate? E-mail Natalie.Esparza@LIFE.edu. Read more Faces of LIFE stories.
Related posts