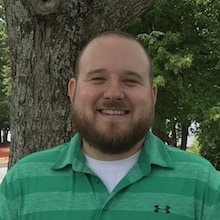 Zane Gray
Teamed Up For LIFE
Student: Doctor of Chiropractic
July 2018
To hear Zane Gray speak, you might think that both he and his wife, Kathryn, are both studying to become Doctors of Chiropractic at Life University. However, that is not the case … they just make a remarkable team.
From Holland, Michigan, Gray started his education here in 2013. When considering chiropractic schools, he decided on LIFE because he needed to finish his bachelor's degree prior to being able to enter the chiropractic program. He says that while he looked into other schools, LIFE was simply the best fit for him … and his wife.
Gray adds this about his decision, "At the time, I was working in a chiropractic office with four doctors, and all of them had gone to other chiropractic schools. Yet, ALL of them said, 'Go to LIFE!' So, that really solidified my decision." And about his 'partnership,' he adds, "My wife was also a big part of my decision to come down here. She had to leave a very successful career in Michigan, so we had to make this decision together since it was such a huge one that would affect both of us."
As a matter of fact, it was Gray's wife, when they sat down for a heart-to-heart about his career, who said to him, "Why don't you become a chiropractor?" He says that it took him a couple of months to really figure that out for himself, but he feels that he definitely made the right decision. "Plus, my wife was happy because she said that I could adjust her all the time now."
Gray recounts his introduction to Chiropractic as more of a fluke than anything else. One Friday as he was getting dressed for work, he bent down to pick up his belt, and when he straightened up, he was immediately in a lot of pain. He says he ended up just sitting for the rest of the day at work due to the intense pain and even had to take the rest of the weekend off from work. By Monday, his wife took him to the emergency room since his pain had not subsided, and he could no longer even walk across a room. Given medication that did not change his condition, he decided to try a chiropractor next.
He says, "There was one located just around the corner from where we lived. He did an initial exam, took x-rays and ended up adjusting me three times that week. The first time, he literally had to come out and help bring me in to the office. The second time, I was able to slowly walk in, and I started to slowly improve from there."
While Gray knew exactly what his new career would be, he was not as familiar with the chiropractic philosophy … until he got to LIFE. He says, "When my wife and I got here, I started taking classes and really got into the philosophy. Now, we've both looked at where we were before, and we've made a lot of changes in the time that we've been here. We see the amazing benefits that have come from us changing our thinking from being reactive to preventive. What a difference it's made in our overall health."
Gray mentions that Kathryn has even gotten into the chiropractic world on her own as she currently serves as the operations manager for LIFE alumnus Dr. Mark DeBrincat's practice in Castle Rock, Colorado. She helps him run his entire operation remotely from Georgia and is happy to be able to use her skillset to make a positive impact on the day-to-day lives of the people in Dr. DeBrincat's practice.
Truly wanting to make a difference in people's lives, Gray plans to open his own practice in Greenville, South Carolina after he graduates from LIFE in June 2019. He says that by September 1 of that year, he and his wife will be working side by side as the team that they have always been. As he puts it, "I really do believe that opposites attract. We're each good at something that the other is not, and together we are stronger for it."

LEARN MORE:
Faces of LIFE is a story campaign that showcases members of the dynamic LIFE community, including faculty/staff, students, alumni and health science professionals. Interested in being featured or nominating a candidate? E-mail LIFENews@LIFE.edu. Read more Faces of LIFE stories.
Related posts
Academic News
,
blog
,
Campus
,
CCR
,
CGU
,
CGUS
,
College of Online Education
,
DC Program
,
Education
,
Faces of LIFE
,
FACES of LIFE FRIDAY
,
Faculty/Staff
,
Lasting Purpose
,
Master's in Positive Psychology
,
Master's in Sport Health Science
,
Masters
,
Slice of LIFE
,
Student Affairs
,
Student Success Center
,
Students
,
Undergraduate
Faces of LIFE: Academic Learning Center