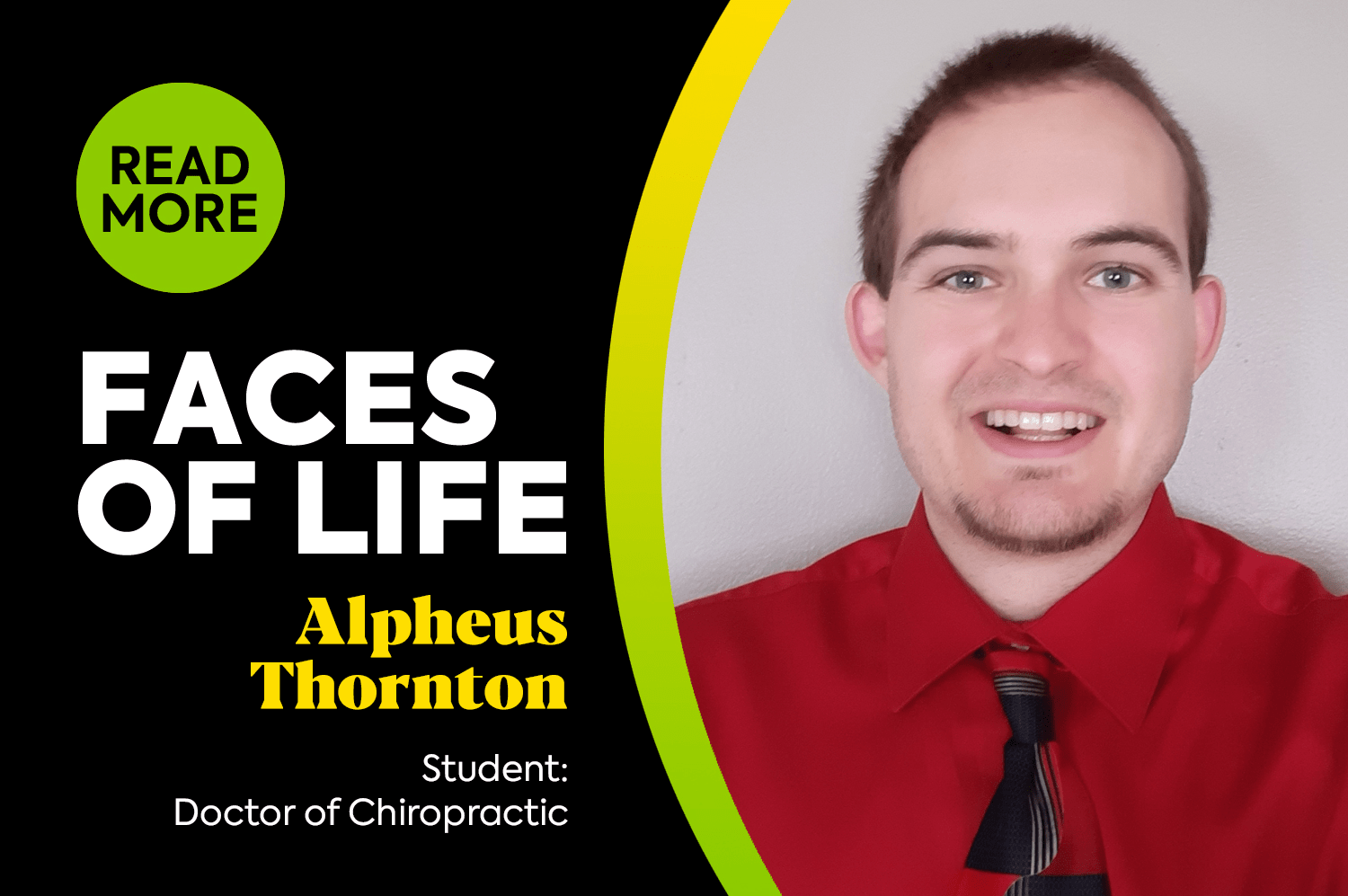 Alpheus Thornton
Following In His Family's Footsteps
Student: Doctor of Chiropractic
October 2021
Alpheus Thornton is a second quarter student from Independence, Oregon, who is studying to become a Doctor of Chiropractic at Life University.
"Both my parents are chiropractors, so I got to grow up around the chiropractic atmosphere and see health from that different perspective," he shared. "That definitely influenced where I am today."
Thornton was originally going to attend Palmer College of Chiropractic in Davenport, Iowa, where both his parents studied.
"After doing some research I kept hearing from other people that I had to go to Life U, and I went to check it out." Life U's dedication to Vitalism resonated with Thornton, and he chose to study Chiropractic there instead.
Thornton is a member of the bible study club and the Torque Release club on campus. "I dipped my toes in quite a few clubs to try them out, but not all the technique clubs were for me. Eventually, I want to join the Functional Neurology Club, but as a first quarter student, I'm still getting the hang of my schedule."
Becoming a chiropractor was not always the plan for Thornton. "I always saw Chiropractic as something my parents did. I originally wanted to be an orthopedic surgeon up until my junior year at my undergrad," he shared. "But, as I began to evaluate my options in health care, Chiropractic became more and more appealing."
After graduation, he plans to go back to Oregon and take over the family business.
"My father is starting to get to retirement age, and I know he is probably already getting patients ready for me. So, I'll go back and integrate into the family practice and go from there."
Thornton's advice to other students is to get a core group of friends.
"Find people to study with and intentionally get involved in the community. It's not something you can build overnight; as an introvert, I know how difficult it can be."
LEARN MORE:
Faces of LIFE is a story campaign that showcases members of the dynamic Life U community, including faculty/staff, students, alumni and health science professionals. Interested in being featured or nominating a candidate? Email Marketing@LIFE.edu. Read more Faces of LIFE stories.
Related posts