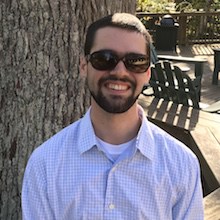 Carl Hedrick
Tireless Determination and Spirit
Student: Doctor of Chiropractic
November 2017
Carl Hedrick, a 6th Quarter Doctor of Chiropractic student, takes his education very seriously, yet he also takes the time to be involved in the LIFE community. He is a seven-time new student orientation leader, recently represented LIFE at the World Congress of Chiropractic Students, is founder and president of a University club, is very active in his church and is an avid team sport player.
Hedrick also just happens to be visually impaired, with only about one percent sight. One can tell that this is just a single characteristic of Hedrick; it by no means defines him.
From Nashville, Tennessee, Hedrick was born visually impaired, but over time, his vision has decreased to less than one percent accuracy. Then, at the age of nine, he was injured in an unlikely accident at school when, as he stepped from one wrestling mat to another, they both slipped out from under him and he fell face down on the hard gym floor. With his immediate concern being a broken tooth, he had no idea that there was a deeper injury that would cause him problems in the future. As he puts it, "And that's probably where it started," when referring to the subluxation of his atlas. He adds, "And since we didn't address that because we didn't know about it at the time, it just got worse and worse."
After going the traditional route and seeing about half a dozen medical doctors, none of which were able to help him, Hedrick was at a loss as to what to do next. Nothing worked until his father's chiropractor, LIFE alumnus Dr. James Moore, heard about Hedrick's troubles and said, "I don't know if I can help him, but bring him in, and I'll see what I can do."
"Dr. Moore did a lot to help me, but the thing that made me respect him even more is that when he realized that he couldn't do as much for me as I needed, he quickly referred me to another LIFE alumnus who could further my care – Dr. Victor Palffy," Hedrick recounts. He adds that the particular technique that Dr. Moore used was atlas orthogonal and that almost immediately his health started to drastically improve. He notes that while he had missed 78 days of his sophomore year in high school, after seeing Dr. Palffy regularly, by his senior year, that number was reduced to only 13 days.
After graduating high school, Hedrick headed to Missouri University of Science and Technology for an actuarial science degree. However, while he was at school and away from Dr. Palffy's consistent care, he suffered a steep health decline and was not able to remain in school. After unsuccessfully (due to ongoing health issues) trying his luck at another university, Hedrick then headed back home to live with his parents in Nashville, Tennessee. While his health was improving, he attended Nashville State Community College, and while there, he had an epiphany and made a tremendous career change decision … he would become a chiropractor.
That turning point was reached when Hedrick came to the realization that Chiropractic was something that he would need for the rest of his life, and he also wanted to provide that same care to others. He specifically is interested in pediatric Chiropractic, because as he puts it, "My issues developed at a pretty young age, and I've heard of even worse issues that children go through, so I want to help however I can." He continues with a smile, "Plus, I want several kids of my own, and I would like to be able to provide care for them as well."
Here at LIFE, Hedrick is the founder and current president of the Disabilities Alliance Club. He explains. "We formed because I realized that there were several students with disabilities around campus who did not have a good support network, and I didn't want anyone to leave school because of a disability." He adds that while he has a very knowledgeable and caring support network, some individuals may not have that same advantage. He continues, "Now through the Alliance, we can all come together and talk about any issues that we're having and brainstorm ideas about how to handle those situations. I also use the Alliance as a means to reach out and stay in touch with the entire LIFE community."
When Hedrick mentions this outreach, he is referring to his efforts to make others aware of, and more comfortable with, individuals with disabilities. He says that the ways in which LIFE's students have interacted with him has been quite diverse – from some being a bit standoffish with him for fear of making a mistake that may offend him, to others who simply ignore his disability and treat him as any other student. He adds, "I might be the first blind person that a lot of the students have ever met, so I understand the hesitation, and that's exactly why I formed the Alliance – to educate the community."
A message that Hedrick wants to send to the LIFE community is, "Anyone who is disabled and is at LIFE or planning on attending, I would be happy to speak with them and guide them through the whole process. I would, of course, also make them familiar with the Disabilities Alliance and hope they become involved in it to help others like themselves."
About his future, Hedrick is confident that he will able to succeed in Chiropractic. However, he knows that there will be some trepidation from patients as to his ability to be effective without sight. He refers to something that he was told by a dear friend, "Once you get out of school, the only challenge you'll have is the same challenge you've been facing your entire life – which is to convince people that you can do what you know you can do."
LEARN MORE:
Faces of LIFE is a story campaign that showcases members of the dynamic LIFE community, including faculty/staff, students, alumni and health science professionals. Interested in being featured or nominating a candidate? E-mail LIFENews@LIFE.edu. Read more Faces of LIFE stories.
Related posts