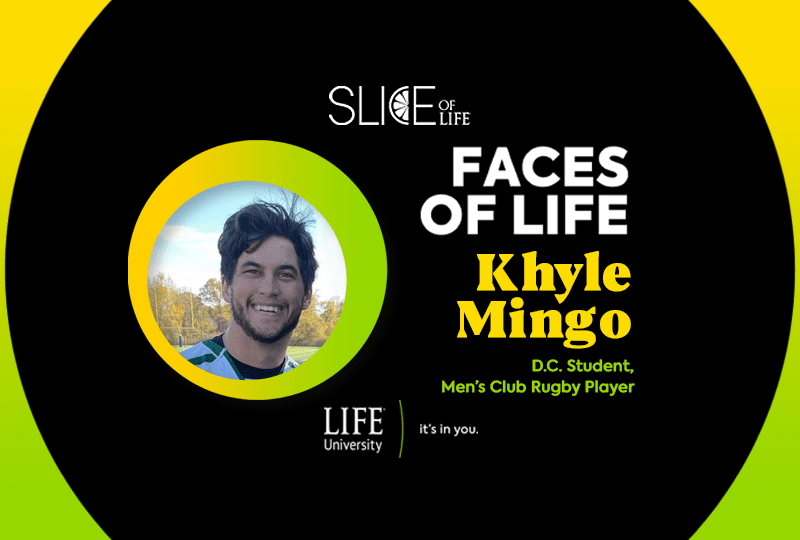 D.C. Student
Men's Club Rugby Player
"A Dedicated Student-Athlete On and Off Lupo Family Field"
Khyle Mingo and his six siblings grew up in the coastal town of Milford, Connecticut. Mingo has the notable distinction of being the oldest boy, with only one sister older than him. His family lived in Connecticut until he was 16 before moving to Charleston, South Carolina. After high school, Mingo earned two bachelor's degrees from Coastal Carolina University, one in Science and one in Public Health.
In his search for personal growth, Mingo attended a LIFE Leadership Weekend and "met some incredible people that really showed him the vitalistic approach to Chiropractic and what Life U offered in that aspect."
"A few of the Student LIFEforce members really convinced me, and one was just like, 'Yeah, you're coming here," remarked Mingo with a chuckle.
Now a Student LIFEforce member himself, Mingo speaks fondly of his time with the organization and the opportunities it has afforded him.
"They have opened their homes to me at some points, brought me over for dinner, out to different events. It's a family vibe. I originally thought it would be just another club for networking, but it's really introduced me to how people interact in a vitalistic approach," said Mingo.
Academic rigor is never in short supply at Life U, but it is encouraging to see young people like Mingo who not only accept the challenging aspects of their programs, but in fact relish the chance to prove themselves and learn.
"I love that it's challenging. There is never a dull moment in this program where I feel like it's become easy. It's always pushing me to study something different, to always read ahead and never become complacent," said Mingo.
Speaking of challenges, as a player on the Life U Men's Club Rugby team, Mingo has a lot to manage to stay in tip-top shape athletically and scholastically.
"It's a balancing act between our lifting sessions, which are in the middle of the day. While some students are eating at Socrates, I'm in a squat rack, so it is an adjustment in that aspect. And then on top of that, we have five practices a week, we have travel and we have matches," said Mingo.
When asked about what new or prospective students should know about Life U, Mingo suggested to "come in with an open mind. Don't come in with any preconceived notions about what the program is about."
Mingo admitted he originally had some ideas in his head about the difficulty of the D.C. program, and having those past ideas of what to expect made it harder to adjust. Looking back, Mingo noted that it would have been simpler to just take things in due course. But as they say, it's not about how you start; it's how you finish. And Mingo appears to be headed for a fine finish at Life U that will open many doors.
Faces of LIFE is a story campaign that showcases members of the dynamic Life U community, including faculty/staff, students, alumni and health science professionals. Interested in being featured or nominating a candidate? We want to hear from you! Email Marketing@life.edu. Read more Faces of LIFE stories.
Related posts