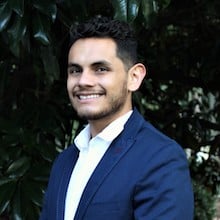 Javier Del Hoyo
A True Sense of Dedication
Student: Doctor of Chiropractic
September 2017
Like many others, Javier Del Hoyo's initial experience with Chiropractic came from a traumatic experience. Del Hoyo was involved in a car accident at eight years old when he received care from a chiropractor for the first time. However, the next time he encountered chiropractic care in his late teens, with experience and understanding, he became convinced of the vast benefits it provided.
Now a student at LIFE, Del Hoyo is pursuing a bachelor's degree in biology and on the pre-D.C. track. Originally from Zacatecas, Mexico, his family moved to the Boise, Idaho area when he was four years old when his mother fell ill and her only treatment option was available to her in the U.S. He says that, thankfully, his mother is doing quite well now.
Before making the transition to LIFE, Del Hoyo attended Treasure Valley Community College in Ontario, Oregon, where he had received a full scholarship for track and cross country. When he was a sophomore, he was injured in a track competition and returned to the chiropractor, Dr. Rosie Main, for help. His spine was out of alignment, and he had a hip impingement for which he was supposed to get surgery, but decided instead that he wanted to seek a different treatment option.
About Dr. Main, he says, "We knew her … and she happens to be the only Latin chiropractor in our area. It was an amazing experience, and I did not need surgery after seeing her. With her help, my body was realigned, and I was strong and healthy again."
Apparently, Del Hoyo's health improvement was so impactful that he then decided that he wanted to work with Dr. Main. She is a Maximized Living chiropractor, and he felt immediately at home in that environment. Maximized Living focuses on "The 5 Essentials" – maximized mind, maximized nerve supply, maximized quality nutrition, maximized oxygen and lean muscle, and minimized toxins – to give the body the keys to unlocking its power so that it can return to a state of optimal health.
About the practice, he says, "We took our patients through a process that truly changed their lives. We saw people with cancer and diabetes improve so drastically that these diagnoses were removed. I felt that I always wanted to be a doctor, but after seeing what could be accomplished through Chiropractic, I realized then what type of doctor I was meant to be."
Del Hoyo was fortunate to be sent to a Maximized Living seminar in Florida where, coincidentally, Dr. Guy Riekeman was on the panel to speak. "I had already fallen in love with Chiropractic, but this helped me to make the decision to attend LIFE. As a matter of fact, LIFE was the only school I ever seriously considered after that."
And, after attending a LIFE Leadership Weekend, Del Hoyo said that he knew he had made the right decision. "I just chose LIFE and never looked back. There's nothing like it anywhere – the vitalistic philosophy, the campus environment, the people here – it all drew me in."
Not long ago, Del Hoyo lost his grandmother, whom he affectionately referred to as "Quenita." About her death, he says, "I wanted to drop out of school after Quenita died because everything became overwhelming. But, knowing that she wouldn't have wanted me to quit and that she was so proud of me helped change my mind. I feel like I am doing this now in honor of her."
Watching and learning from his mentor, Dr. Main, and seeing her drive and the love that she has for her patients has sincerely influenced Del Hoyo. "She had an amazing dedication to helping and caring for them that I want to emulate one day in my own practice," he says.
Bringing that sense of dedication to LIFE, Del Hoyo serves as president of the Campus Activities Board (a student group that plans and facilitates events), as well President of the Gay Straight Alliance (whose mission is to bring together LIFE's students from all walks of life and give them an inclusive, open environment to be themselves without judgement). He says, "I feel a responsibility to give back to my community and support others, just as I will with my future patients."
Speaking of his future, Del Hoyo says that he feels his community back home is where he can really make the most difference in the world. "I think they are the ones who deserve to be served by what I will have to offer. In that community, Chiropractic is not well understood, so their connection to it is not a strong one. I want to change that since a lot of people there are farm workers and are in serious pain from the strenuous work that they do."
Del Hoyo hopes that he will be able to educate them on Chiropractic's benefits. "I feel I can make a good connection to them since I also once worked in the fields doing everything they do. I started at fifteen and worked just as they do now – picking fruits and vegetables. I've been there, and I know how hard their work is."
As for life on the University's campus, Del Hoyo says that it is such a distinctive experience. "For a prospective student considering LIFE, I feel that the community and support that you will find here from fellow students, administrators and professors is unmatched. If you're trying to find a university where you will be successful, LIFE is the place to go."
LEARN MORE:
Faces of LIFE is a story campaign that showcases members of the dynamic LIFE community, including faculty/staff, students, alumni and health science professionals. Interested in being featured or nominating a candidate? E-mail LIFENews@LIFE.edu. Read more Faces of LIFE stories.
Related posts