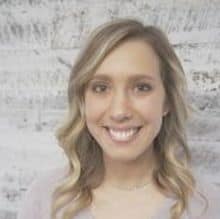 Kelly Cottos
Enjoying Every Step
Student: Doctor of Chiropractic
December 2018
From studying exercise physiology as an undergrad to studying Chiropractic here at Life University, Kelly Cottos knows about helping the body achieve its optimum health.
Equipped with a degree in exercise physiology from Ohio University, Cottos set about looking for a job in the profession for which she trained. Originally, she planned to become a physical therapist, but when she looked into it by shadowing a physical therapist at an assisted living facility, she realized that it just was not meant for her after all.
After finding that she had to regroup but knowing that she still very much wanted to help people, her task was to find the right niche for her. While continuing her search for meaningful work, she was offered a job in a local chiropractor's office. Her initial response, "Why not," then turned into a year and half with the practice. She thought it would be something new and interesting to find out about since she says she knew nothing about it at that time. However, she adds, "I could tell you that within a month of being there, whatever they were doing just seemed to make sense to me. And the results that I was seeing in the patients, even after just one visit, were astounding."
Cottos remembers one example very clearly of a young woman who walked in hunched over and complained of severe pain when she tried to pick up her child. The doctor took her to his treatment room, and when she emerged, she was walking with a straight back and a smile on her face while telling the doctor how appreciative she was of what he was able to do for her. Cottos says, "I was so intrigued by what had happened and how he was able to help her. I had to know what this chiropractic stuff was all about."
So, after that year and a half, she decided that she was ready to apply to chiropractic school and find out for herself. She says that while researching schools, the basic philosophies of Chiropractic truly started making sense to her, and as she puts it, "It's natural with no drugs, and you can do it with your hands, so you aren't limited in where you can treat someone."
Interestingly, Cottos had a couple of friends who were already attending LIFE's chiropractic program, and when she contacted one of them, he had nothing but incredible things to say about the University. He even added, "You've got to come here. There's no other place to go if you're interested in Chiropractic."
After Cottos did her own research into LIFE, she admits that it is the only school to which she applied since she was enamored from the beginning. She says she did not want to go anywhere else but wanted to at least take a tour of the campus. She notes, "I didn't even go to a LIFE Leadership Weekend, just a tour, and I was sold just by how I felt here. I loved it from the beginning!"
Cottos acknowledges, however, that no matter how much she loves Chiropractic and Life University, it is still very hard work to obtain her degree. She cautions others who may be thinking about pursuing a degree in Chiropractic that they have to be truly committed to it. She feels that this is not a field where someone can just obtain a degree, get a job somewhere and then they are done. She explains, "Students should only study Chiropractic because they genuinely want to help people. If they do not have the motivation to help someone, then their patients don't deserve 'less than,' but 100 percent commitment to helping them get better."
When queried as to where a committed chiropractic student should attend school, Cottos responds emphatically, "Obviously, Life University!" She continues by saying that LIFE offers nothing but the best education along with an inclusive sense of community. She does, however, recommend that prospective students visit other schools as each may have its own outlook or philosophy, and students do need to discover what best fits them. Cottos says, "And LIFE certainly fit mine because not only are we taught the science and art of Chiropractic, but the founding philosophy behind it all as well."
All in all, Cottos says that her three years here so far have been incredible. Soon enough she will graduate and start her own practice, but for now says, "Being here at LIFE, I've enjoyed every step of the way."

LEARN MORE:
Faces of LIFE is a story campaign that showcases members of the dynamic LIFE community, including faculty/staff, students, alumni and health science professionals. Interested in being featured or nominating a candidate? E-mail LIFENews@LIFE.edu. Read more Faces of LIFE stories.
Related posts