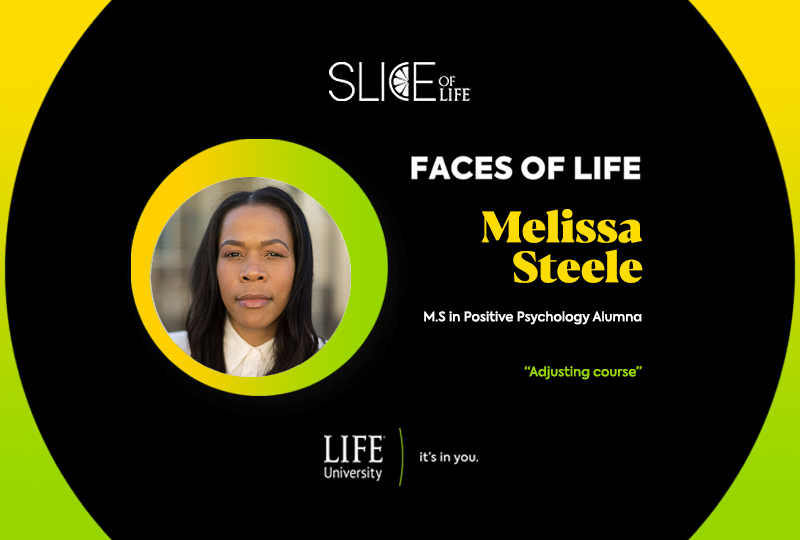 M.S. in Positive Psychology Alumna
"Adjusting course"
Chicago suburb transplant Melissa Steele has spent her personal and professional life serving others and helping others in their development. Steele was raised by her grandmother and considers her grandmother to be her "anchor of faith." Steele now lives in Norcross, Georgia with her husband and her 16-year-old son who recently received his driver's license, certainly a daunting proposition for most parents.
In her career, Steele has been on "an 18-year career experiment," as she has worked her way up the ranks at Verizon. Her current role as a Global Finance Manager has her focused on "senior executive communications strategy and support, process engineering, project management, branding, product development and deployment oversight," according to her LinkedIn profile description.
"I have found that the core of all my career exploration has been in the development space of others. […] I decided that I wanted to invest in that coaching and development passion that I had in a more formalized way," said Steele. "Of course, I've read the books; I've been in leadership trainings all of my life, but I really wanted to bring forward a skill that was repeatable. And that was the thing that I thought that was missing."
In her search for an educational paradigm that suited her goals, Steele came across Positive Psychology and its "methods and approach," becoming "completely intrigued" to learn more. Luckily for Steele, she found a one-of-kind online program based out of nearby Marietta, so she enrolled in the M.S. in Positive Psychology program at Life University (Life U) in October 2021. Steele felt that her personal faith gave her confidence in the decision to go back to school. Determined to absorb as much as she could in a short period of time, Steele opted for the accelerated 9-month program, which she completed in June 2022.
"It was the best decision of my life. […] I would not have changed a thing. I was really the use case for testing the theory that I was learning at the time, with all of the meditation training and some of the other positive psychology theoretical trainings including the PERMA model. I was clearly in pressure points and really was able to stretch and test those theories not only for me, but for those that I coach," elaborated Steele.
Today, Steele strives to apply all that she has learned to continue to empower success within the Verizon organization. She has also applied for an LLC to officially launch her own coaching business.
Faces of LIFE is a story campaign that showcases members of the dynamic Life U community, including faculty/staff, students, alumni and health science professionals. Interested in being featured or nominating a candidate? We want to hear from you! Email Marketing@life.edu. Read more Faces of LIFE stories.
Related posts