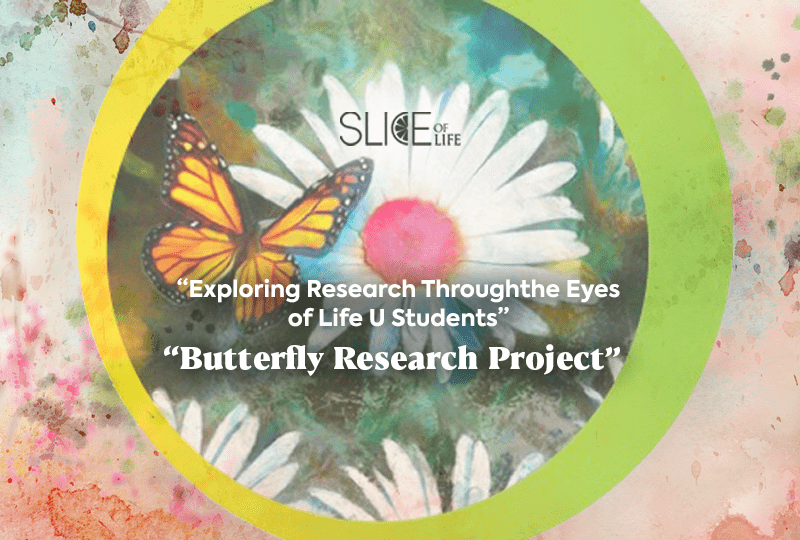 Life University (Life U) Research Series
From Your Extraordinary LIFE (YEL) 2022 Edition
"Exploring Research Through the Eyes of Life U Students"
College of Graduate and Undergraduate Studies
Jazmyne Hambrick (Graduated in Fall of 2022), Human Ecology Student, Dr. Stephanie Wakefield, Program Coordinator + Assistant Professor | Human Ecology Program, Research Chair
"Butterfly Research Project"
In 2022 Life U decided to explore the vast amount of research that our students have been conducting. Over the next several Wednesdays we wish to share that information with all of you, so that we can expand upon and give you even more detailed information regarding the amazing research happening on our campus that was originally shared in the YEL 2022 edition.  This week we will be focusing on our College of Graduate and Undergraduate Studies Human Ecology major research regarding butterflies and their importance to our environment.
Jazmyn Hambrick, who recently graduated with a Human Ecology degree wants to let people know that butterflies are not only pretty, but they are also vital to our future. Restoring these lovely creatures back into the environment is not about cosmetics and beauty, but they serve an important purpose in sustaining our environment. Butterflies help us sustain our food supply, as well as other plants.
Currently, there has been a great decline in the butterfly population in Georgia. At least 75% of the world's plants require some type of pollinator — of which butterflies are an important one. With that in mind, Hambrick's research project involves building a butterfly garden on the Life U campus and to help repopulate the butterfly population in Georgia.
Hambrick's most important lesson working on this project was the sustainability of butterflies and that they actually serve a purpose in our environment. Her goal with this project is to help begin to restore their population and to bring awareness to others of how important butterflies are to the environment.
If you wish to create your own butterfly garden here is what you will need.
How to build a butterfly garden
Provide the butterflies with nectar – sugar and water on a sponge of some type and this will automatically draw them in.  There must also be some type of netting near the sponges so that the butterflies and caterpillars have a shelter to grow without being destroyed due to their delicate nature.
This article was originally published in Your Extraordinary Life (YEL), Life University's Alumni and Friends Magazine, 2022- Volume 15. YEL started in 2009 as a twice-per-year publication before moving to three issues per year from 2010-2017. In 2018, University leadership made the decision to publish a larger, more elegant version of the magazine just once per year that our alumni and friends could be proud of. YEL features an in-depth look at all things Life University, from alumni and student human interest stories to recaps and previews of the University's biggest events. If you are a proud Life University alumni, friend or supporter, this publication is one you can't miss!
Read the latest issue and past issues at this link or pick up a print copy on campus.
Related posts