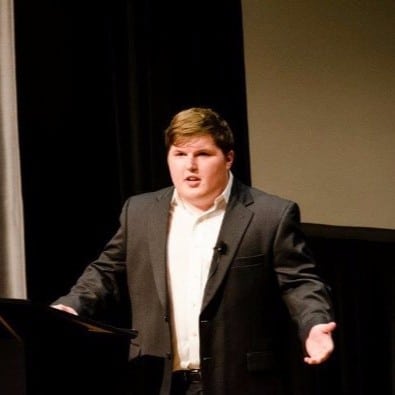 Gabriel Kelly
Serving Marietta with Lasting Purpose
Student: Doctor of Chiropractic
June 2020
Gabriel Kelly shares Life University's hometown of Marietta, Georgia. His father was a LIFE student when he met Kelly's mother, who was completing her medical residency.
Kelly came to LIFE after five years in the workforce, and found that returning to student life was a challenge.
"It was hard going from five years of not studying anything to, 'You better hit the books again,'" Kelly said. "The first couple quarters, I was still living my life, going out, going to restaurants, having a social life. The first couple quarters were just acclimating, but now that I'm in it and I've refocused on it, it's a blast."
Kelly said becoming a chiropractor has been a lifelong goal.
"From my earliest memories, I wanted to be a chiropractor. That was it," he said. "I had no idea what it was, I just knew my dad did that so that's what I'm going to do."
Kelly emphasized the importance of getting involved on campus.
"It's that feeling that you've gotten so much that you want to give back to it," he explained. "I love this community, I love this campus. I love the people that teach us and support us, and I love being an advocate for my peers — to be able to go to the staff and administration and say, 'Here's what we're thinking.' And I also love being able to take what they say and go back to the students. I feel that I've had experience being that intermediary before, so I feel I'm suited for the role."
After graduating from LIFE, Kelly plans to stay in Marietta and join his father's practice. He has found Lasting Purpose through giving back to the community.
"To me, it's about being constantly present, being able to show the community and everyone around you, 'We are here. We're going to serve our community and we're going to provide great chiropractic care for as long as we possibly can,'" he said. "I've lived in that my whole life so it kind of feels like second nature."
Kelly encouraged his fellow students to stay focused, especially in times of challenge.
"When you put your nose down and you really work hard, and you put yourself into the material and put yourself into the work, it's the most rewarding and satisfying thing," Kelly said. "You're going to come to these roadblocks where you're going to think, 'There's no way I'm ever going to get past this.' There were classes in Third Quarter when going into the final, I thought, 'This is the class when I'm going to drop out, this is so hard,' that now, a year and a half later, I can rattle that stuff off in my sleep."
LEARN MORE:
Faces of LIFE is a story campaign that showcases members of the dynamic LIFE community, including faculty/staff, students, alumni and health science professionals. Interested in being featured or nominating a candidate? E-mail Natalie.Esparza@LIFE.edu. Read more Faces of LIFE stories.
Related posts