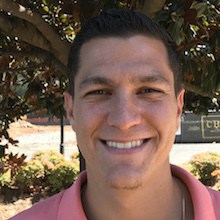 Dillon Feierstadt
Participating in LIFE to the Fullest
Student: Doctor of Chiropractic
October 2017
Dillon Feierstadt, currently in his twelfth quarter pursuing a Doctor of Chiropractic degree, is also obtaining a Sport Health Science Master's Degree in the Chiropractic Sport Science track at the same time. He has taken this route since he is most interested in sports and movement and knows that he will eventually be involved professionally in a sports-related career.
Feierstadt says, "I've always been involved in and enjoyed watching sports, and my aim in Chiropractic is to be involved in both the wellness and fitness aspects. Although being a team chiropractor would be incredible, just making sure everyone stays healthy and keeps moving is my ultimate goal." To aid in this goal, he says that if someone is not able to move well, he plans to discover the underlying cause, not only realigning the spine, but also delving more deeply into their muscular foundation.
From Coral Springs, Florida, Feierstadt graduated from the University of Central Florida with a pre-clinical sciences degree. His mother always encouraged him to go into the medical field since she felt that it is in such high demand. He says, however, that nothing in that field really interested him until he looked into Chiropractic.
Nonetheless, by the time he decided upon Chiropractic, it was not his first exposure to it. His older cousin was a chiropractor who had passed away when Feierstadt was in the ninth grade. A LIFE alumnus, Dr. Brad Timpf was tragically killed in 2006, and when Feierstadt attended his memorial outside of Dr. Timpf's practice, he was overwhelmed by the sheer number of people gathered and by the outpouring of love and respect that they had for his cousin. "I got to see how much of an impact he had on his community. That was so important to me that I wanted to also pursue Chiropractic so that I might also make such an incredible impact one day. Plus, I also felt the deep need to honor him by carrying on the tradition of Chiropractic."
Feierstadt notes that the fact that Dr. Timpf chose to attend LIFE also influenced his own choice of schools. "I didn't look at any other schools or apply anywhere else. I knew that if I wanted to be a chiropractor, LIFE was the only place to go. It's the biggest and the best, and I wasn't interested in going anywhere else."
He says that he now knows he made the right decision as LIFE's healthcare philosophies truly speak to him, and the "above down, inside out" philosophy speaks loudest. When he is assessing a problem, he likes to start from the outside, take everything in and then develop his own interpretation of the information gathered.
After graduation, Feierstadt hopes to return to Florida and work as an associate with a well-established doctor before he opens his own practice. "I feel that most of the knowledge and experience that I've gained is through the process of working with others, so there's nothing like working with a better-established doctor to pick their brain and learn even more." His initial practice will be more general and benefit everyone in the community, but gradually he wants to create a more sports-focused practice. "My end goal is to work with a professional sports team as their chiropractor."
Feierstadt's love of sports runs deeply within him. As a matter of fact, his first quarter at LIFE was during basketball season. He is a basketball fanatic, and while attending a game, the announcer asked if any fans wanted to try to shoot a half-court shot for a chance to win a gift card. He volunteered to try first and shot the ball right into the basket. The coach was so surprised that someone pulled off the shot, that he did not even have a gift card to give away, so he asked Feierstadt to come to his office the following week to pick one up. "When I went there, he said that he'd seen me at a few games and asked me if I'd be interested in working through the Work-Study program at the games. I seized that opportunity, and I've been doing it ever since. It's a good thing I made that shot – it got me into something I really love!"
Also as part of the University's UCREW, Feierstadt supervises and officiates at intramural sports events. This campus program encourages students to play a variety of sports, and Feierstadt helps to program and referee the games. He knows that it is just another chance for him to be involved at the school. "I really like to joke and have a lot of fun with it. Sometimes I even work the grill making hamburgers and hotdogs. It's important to me because I get to meet a lot of people doing it, and it relieves the stress that comes from tough classes. And even if I wasn't involved at that level, I would still be sitting in the stands cheering on the teams."
Giving back to his peers and the University itself certainly mirrors the philosophy of Lasting Purpose. Feierstadt says about LIFE's guiding principle, "It's just something that you should do … and have no expectation of getting something in return. That's the way it should really work."
Feierstadt is an amazingly giving participant here on LIFE's campus and leaves us with one final thought, "I'm truly proud to be a part of LIFE."
LEARN MORE:
Faces of LIFE is a story campaign that showcases members of the dynamic LIFE community, including faculty/staff, students, alumni and health science professionals. Interested in being featured or nominating a candidate? E-mail LIFENews@LIFE.edu. Read more Faces of LIFE stories.
Related posts