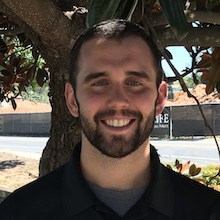 Todd Strong
The Ripple Effect of LIFE
Student: Doctor of Chiropractic
June 2018
Todd Strong always knew that he wanted to go into health care, and at one time, even considered the path of physician's assistant. While working in a local family practice, however, he saw how the traditional medical system worked and became discouraged with many of its aspects, mostly regarding how patients were treated as if on an assembly line.
Strong may not have realized it at the time, but his healthcare journey had actually already begun years before when he, at the suggestion of his mother, had been adjusted by a chiropractor for an athletics-related injury when he was a teenager. Just a few years later, he had another injury to his shoulder and went to see Dr. Nathaniel Maynard in Cookeville, Tennessee. He remembers, "With just one adjustment, my pain went from an 'eight to a three,' and I decided then and there that I was going to go to school to become a chiropractor."
When seeking information on where he should attend school, he asked Dr. Maynard who, interestingly, attended Palmer College of Chiropractic, and he "instantly said 'Life University' since he believed in the school's philosophies and Dr. Riekeman's leadership." Strong also heard great things about the University's clubs that provide abundant opportunities for students to gain skills and abilities that could not be achieved at other schools. He knew this would help him broaden his experience with various treatment protocols to expand his wellness care toolbox.
Next, Strong had to apply to LIFE and fund his educational journey. He attended a campus tour and immediately realized that LIFE was exactly where he was meant to study. He says, "The school has such a unique draw … the forest, treehouse and little village and philosophy all drew me in. Plus, I had already done some research and saw that the pass rate for boards was extremely high. It all just came together for me."
Strong notes that being from the small farming community of Celina, Tennessee, he did not necessarily have as much financial stability as some individuals do. Therefore, funding his degree was a major concern for him. "Luckily, the University has a scholarship portal that has an entire bank of resources that I searched through to find which one truly spoke to me. So, instead of my having to search the internet for scholarship opportunities individually, they were all right there in one place. That is especially important since each one is different, and you can easily find the one that is best for you."
Strong was awarded the Brandon Michael Hauser Memorial Scholarship, which he says made a tremendous impact on his life, and he gives credit to it as the support that he needs to continue his essential education. Awarded to Doctor of Chiropractic students, the scholarship was established by LIFE Alumnus Dr. Stu Hoffman ('81) in memory of his business partner's son who passed away.
Strong feels that because of this generous help, he is now not only able to invest in his current education, but also the future that it will afford him. "The opportunity has allowed me to have so much less stress about my financial obligations and increase the time that I am able to focus on my studies. One more benefit … it has allowed me to find my own Lasting Purpose by giving me the time to transfer the education that I'm receiving to the students I help in clubs. Then they are better equipped in their own classes and clinics, and not only do they become better chiropractors because of it, but I do as well. It's a ripple effect."
He adds, "And it's so important that we continue this giving tradition because there may be other students out there who do not have the financial ability to pay for school, yet they would make brilliant practitioners. Their positive influence on their patients' health care and wellness would be lost, and I believe the profession would suffer."
He says that when he thought about Dr. Hoffman's generosity in setting up the scholarship, that he became inspired as well. "I want to have that same giving and caring attitude that Dr. Hoffman does, and the fact that he recognized me with this gift is such an honor. It is also so gratifying that I can now use it to help others … and that's my Lasting Purpose. From learning how to be an excellent chiropractor, to then sharing my knowledge with others, it all comes down to giving back to leave a positive mark on the world."
He adds that people like Dr. Riekeman and Dr. Hoffman give back to students every day, and each student they help will now be better equipped to help others in turn. This makes a ripple effect that resonates throughout the world and helps make it healthier and more vibrant – giving it life, so to speak.
"Life University has been an oasis in the desert for me. It's been a big eye opener to see what true health care should be. And the opportunity to attend LIFE with the generous help of this scholarship is something for which I will always be grateful. I've thought about it quite a bit and know that if I didn't have these scholarship funds, there's no way I'd have the opportunity at such a world-class education to become the best doctor that I can be and share this gift called Chiropractic with the world."

LEARN MORE:
Faces of LIFE is a story campaign that showcases members of the dynamic LIFE community, including faculty/staff, students, alumni and health science professionals. Interested in being featured or nominating a candidate? E-mail LIFENews@LIFE.edu. Read more Faces of LIFE stories.
Related posts