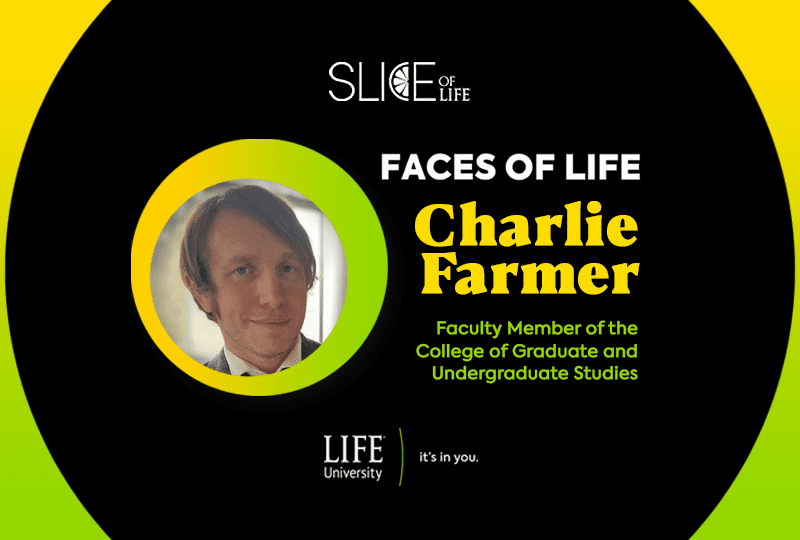 Faculty Member of the College of Graduate and Undergraduate Studies
Charlie Farmer celebrated his 20th year teaching by receiving two unexpected awards. Farmer was both surprised and honored to receive the 2022 Vulcan Materials Company's Teaching Excellence Award and Life University's (Life U) Athletic Professor Award for his work with student-athletes. He has made great connections with many students in his English classes and in the Writing Center, which he manages.
"It was a shock that I received the award [2022 Vulcan Award], and I also won the Athletics Professor of the Year Award from the athletes, who got together and nominated me," said Farmer. It has been one heck of a year!"
Speaking about his supervisor Dr. Alan Wells, who, along with other faculty, nominated Farmer for this award, Farmer said, "That meant a lot coming from him. He is the best boss I ever had; he's passionate about his job, he respects his employees and to have the recognition and acknowledgment from him means the world."
Farmer grew up in Forsyth, Georgia and received both his bachelor's and master's degrees in English from Georgia College in Milledgeville, Georgia. He worked for 12 years teaching English at Georgia Military College before spreading his wings and taking on several different adjunct faculty positions across the state of Georgia before coming to Life U. Farmer was also a lead singer and guitar player in a band during his early years of teaching, stretching his creative skills. He no longer plays in a band but still writes poetry and does some songwriting in his spare time.
Farmer lives with his wife, his 19-month-old daughter and his 14-year-old stepdaughter. When he first met his wife, she was practicing as an attorney, but she eventually decided she too wanted to teach English and is now teaching high school English.
The College of Graduate and Undergraduate Studies (CGUS) is a close-knit group of people according to Farmer, and he is enjoying going into his third year of teaching at Life U. He knew immediately during his interview that Life U would be a great place to work because it was like no interview he had ever had. Farmer said that they had great conversations about teaching and were sharing ideas. For Farmer, this was a perfect fit.
Farmer also shared what is so special about Life U students. "The students show up prepared; they're engaged; they want to learn. These students [athletes] want to succeed in the classroom as well. […] Having students from all over the world, that is very nice too. I think the blend of cultures, I haven't seen anywhere else, and that's been fantastic. I never know what kind of perspective I am going to get, and I think the students benefit from that worldly perspective as well."
Related posts