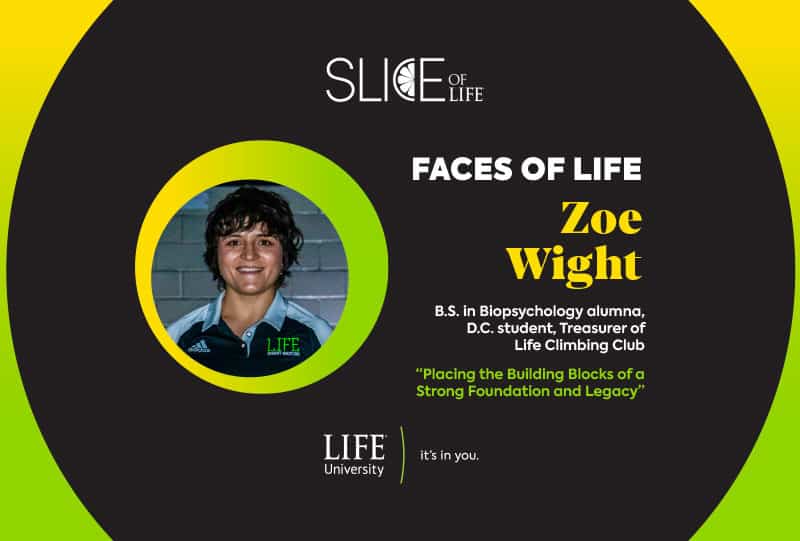 Faces of LIFE- Zoe Wight
B.S. in Biopsychology alumna, D.C. student, Treasurer of Life Climbing Club
"Placing the Building Blocks of a Strong Foundation and Legacy"
Zoe Wight attended Gulf Breeze High School in Pensacola, Florida and competed with her school's wrestling team. In a funny twist of fate, Wight skipped her high school graduation to compete in a Southeastern wrestling conference and ended up being recruited by Life U's first Women's Wrestling Head Coach James Paul. She considered other schools but ultimately felt that Life U was a great place to wrestle; it was close to home and located on a scenic campus in Marietta, Georgia.
"Zoe actually means life in Greek. I'm kind of embarrassed, but I thought 'It's my name; it would be silly to go anywhere else," said Wight.
Wight competed with the burgeoning Life U Women's Wrestling program for four years and then later worked as a graduate assistant for the coaches to help facilitate student-athlete success for three more seasons. She worked closely with now-Head Coach of Life U Women's Wrestling Ashley Flavin. Though not directly connected to the program anymore, Wight still keeps up with how the program is doing and cheers on the Life U Running Eagles.
She claims her time with the wrestling program might not be as relevant now and that she is even "a dinosaur," as she came to Life U in the program's second year when it was just starting to grow and become competitive. However, a more complimentary view might see Wight and her teammates as pioneers providing a foundation for the future.
"Along the four years of my own competition, I watched [Coach Flavin] place the building blocks of a really strong foundation for a program, and I fully wanted to become a part of that. I tried to be a leader on the team, I was a team captain for a couple of years, just trying to be a part of what [Coach Flavin] was building," explained Wight.
Eventually, Wight was ranked 4th in the nation in wrestling her senior year, a distinction she was proud to achieve, "to be able to come from nothing and achieve something." She expressed joy and gratitude to see how the program itself has grown from the bottom up and turned into a legacy that she and other athletes can claim with pride.
Now as Wight approaches her pending graduation this month (December 2022), the idea of leaving behind a valuable legacy is something that comes to her mind with some frequency. One unexpected legacy that Wight will be leaving behind is her role as Treasurer of Life U's newly formed Climbing Club. Her friend Lucas Van Hoey approached her about the possibility of forming a Climbing Club at Life U as Wight is also a climber and well-connected in the local climbing community. She wholeheartedly agreed and now helps Van Hoey to grow awareness for the group, which now has a little over 30 members.
"I've made a lot of friends with Life Climbing Club. It's not anything I envisioned myself doing, but it's been fun introducing people to the sport, seeing people that are already better climbers than me, and then they are teaching me things," remarked Wight.
Currently, the group meets at Stone Summit Kennesaw, a top-rated climbing gym nearby that has an arrangement with Life Climbing Club for a 10% discount on top of their discounted standard student rate. Additionally, the hope is that the University may eventually have on-campus climbing equipment such as a climbing wall that the club can utilize. A hanging board will soon be available on campus for students to practice and grow strength in their arms and hands. The club is a great place to get active and meet new people, so learn more at the Engage site. The club is also looking for dedicated and passionate individuals to step into executive leadership roles such as Wight's Treasurer position, so please contact the Life Climbing Club if interested.
Wight plans to do her PEAK internship in California. And after her PEAK hours are complete, Wight intends to take three months off to travel, expanding her horizons and enjoying herself before settling down into a practice, as she is already fielding a few job offers in far-off places nationally and internationally.
Faces of LIFE is a story campaign that showcases members of the dynamic Life U community, including faculty/staff, students, alumni and health science professionals. Interested in being featured or nominating a candidate? We want to hear from you! Email Marketing@life.edu. Read more Faces of LIFE stories.
Related posts