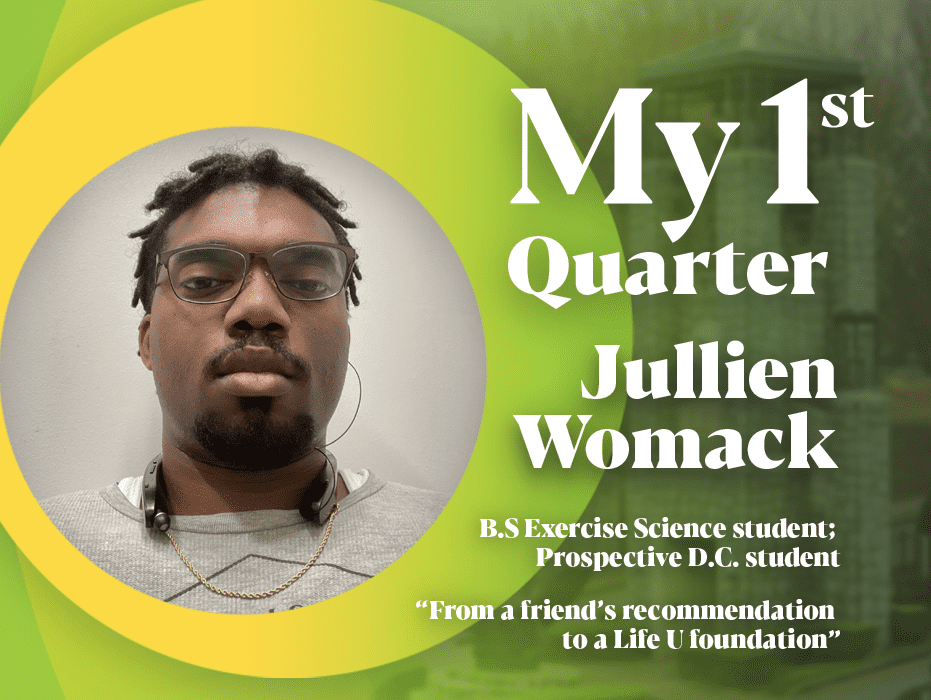 B.S Exercise Science student; Prospective D.C. student
"From a friend's recommendation to a Life U foundation"
Jullien Womack is a fun-loving husband, father and Army veteran who is excited to continue his educational journey at Life U.
What made your first quarter at Life U so memorable?
 Two things, really. First, the walks around campus, the trails and the free [chiropractic] adjustments.
What surprised you during your first quarter at Life U?
The quarter system surprised me. [The University] has a waterfall, so that surprised me. The gym is nice as well.
 What led you to Life U?
I reached out to a friend. I said 'Hey, I know you are a Doctor of Chiropractic.' She confirmed, and I asked 'What do I need to do [to become one myself]? She told me she graduated from Life U, so I said 'Shoot, okay, too easy.'
So, I submitted my Veterans Affairs (VA) information, and everything was late, getting it all in over Christmas Break. Then I got in this quarter—when I thought I was going to have to wait.
What do you enjoy about your current program?
The teachers, faculty and advisement that I have worked with are all cool people. It's nice. I like the environment. 
What advice would you give to new or prospective Life U students?
I would advise you to meal prep, bring some water, buy comfortable shoes.
Get adjusted to the quarter system, stay on top of your work. Be clear with your instructors, whether it is good, bad or ugly. Have some kind of relationship with them, so when stuff comes up, they can understand or will be more understanding than if you are just a body in a seat.
My 1st Quarter is a campaign featuring students reflecting on their 1st quarter of studies at Life University and why it was so special and unique. All University students (undergraduates, graduates and D.C.) are encouraged to share their experiences in order to help those in future incoming classes get a real-life glimpse of what they can expect as they start a new chapter of their education journeys at LIFE. If you would like to be featured or have a suggestion, email Marketing@life.edu.
Related posts