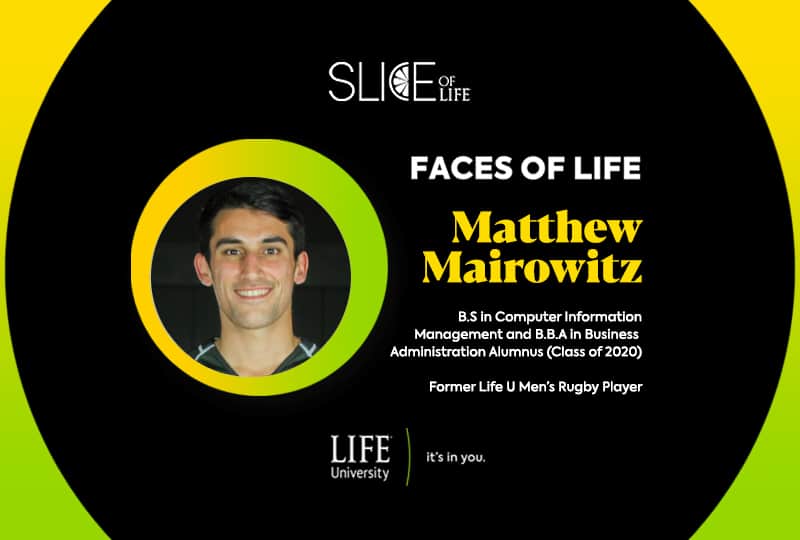 B.S. in Computer Information Management and B.B.A. in Business Administration Alumnus (Class of 2020), Former Life U Men's Rugby Player
Matthew Mairowitz first came to Life University (Life U) in 2016, eager to tear up the rugby pitch and learn useful tools as a double major (B.S. in Computer Information Management and B.B.A. in Business Administration). His journey at Life U, especially as a student-athlete, made a lasting impression on him. So much so that Mairowitz recently published an article on LinkedIn titled "My experience as an Under-Graduate Rugby player at Life University," cataloging his time here as a student-athlete.
"The motivation to achieve greatness in everything I pursued was reborn after my first quarter at Life U, transforming me from an average smart guy who was underachieving in many aspects into someone who wouldn't settle for anything shy of perfection," said Mairowitz in his article.
Mairowitz expressed appreciation for his small class sizes and being able to work with teammates in the same academic programs. He also enjoyed the fact that he often had some of the same professors for different classes, so he was able to build those meaningful relationships over time. Yet any dedicated student-athlete at Life U will tell you that the lifestyle of the true student-athlete is not for the faint of heart.
Mairowitz goes into detail about the struggles of the student-athlete in his writing, explaining how his peers would sometimes grumble about "the early morning lifting sessions, long classes and brutal practices" that comprised their days. Yet the people that stuck it out, "that stayed and thrived in that environment, were unique and great people on and off the rugby pitch."
"Each year at Life proved to me that hard work pays off. Getting recognized for our efforts in the classroom while being able to excel through the competition and make it out of playoffs on the pitch is an amazing feeling. The combination of excitement and nerves is contagious; everyone on the team knows what's at stake," elaborated Mairowitz in his article.
Mairowitz of course had his own battles to face, including injuries to his knee and his shoulder that required surgeries, rehabilitation and frustrating breaks from play. And like many of our students, Mairowitz mourned valuable playing time lost due to COVID-19 restrictions as well. Despite these challenges, Mairowitz contends that he "wouldn't change a thing about it."
As a student finishing up school, Mairowitz started work as a Program Associate and remote intern for Mimecast, an advanced email and collaboration security company. He began to work full-time for the company in his senior year and works there today as a Marketing Strategy Manager, contributing to its win/loss analysis program as well as market research that results in competitive intelligence used to develop assets that better position Mimecast's products and services in the marketplace.
"From an education perspective, the Computer Information Management [now Computer Information Systems & Technology] major helped me. It's not super specific in one area, but you get a really good overview of that world in a lot of different ways – a bit of programming, a bit of information systems, design and that kind of stuff," said Mairowitz. "So getting into the workplace, I had a lot of different roles and things I had to do as an intern. I've had a few different positions, and the background of the Computer Information Management major helped me a lot, in more ways than I had thought."
Mairowitz also described his Business Administration education as a nice complement to his Computer Information Management degree, "[…] because, obviously, it gives you a good idea of how the business world works." The future looks bright as Mairowitz keeps his eye on ways to continue to grow professionally and personally. Mairowitz currently lives in sunny Miami, Florida and plays with a club rugby team, occasionally traveling for matches as well as to visit friends and family around the world.
Faces of LIFE is a story campaign that showcases members of the dynamic Life U community, including faculty/staff, students, alumni and health science professionals. Interested in being featured or nominating a candidate? We want to hear from you! Email Marketing@life.edu. Read more Faces of LIFE stories.
Related posts