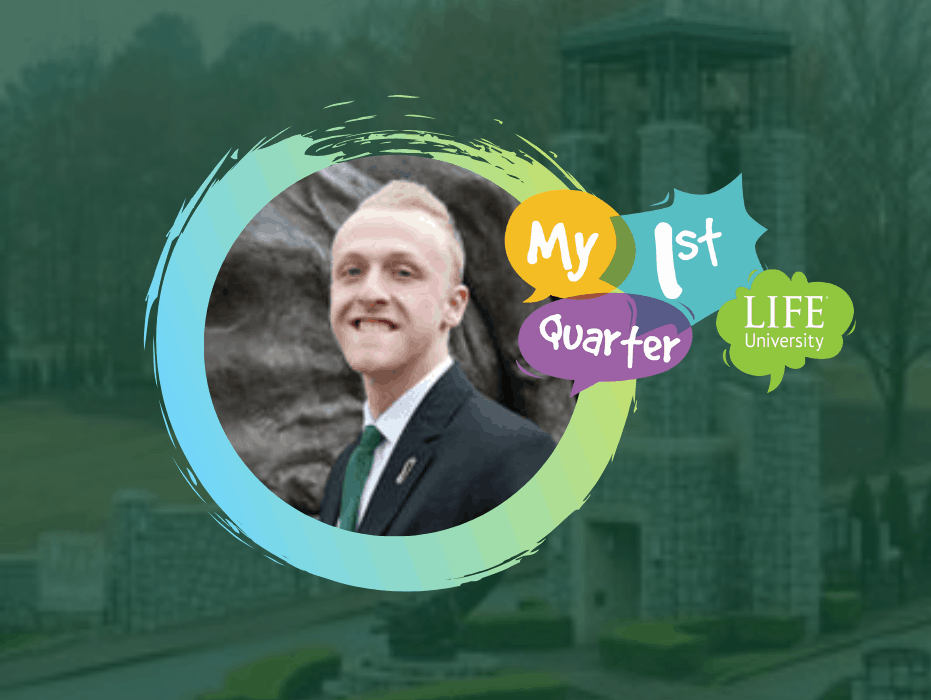 What is your name, the degree you are pursuing at Life University (LIFE)?
My name is Nick Shelby, and I am pursuing a Doctor of Chiropractic (D.C.).
What made your first quarter at LIFE so memorable?
Good friends. I made a number of them. I got paired up with a really, really awesome roommate – his name is Dr. Tyler Stewart, now he's practicing up in Wisconsin. We ended up being great, great friends throughout the program. And at Orientation, we also met a guy named Jack Goss. And he was a chiropractic kid as well, so we kind of hit it off. Those two guys, that first quarter, really made that quarter memorable.
What surprised you during your first quarter at LIFE?
Two things that would be closest to it – one, how small my classes were. I ended up really liking it, because I was able to have that relationship with my professors and everything like that, but First Quarter walking in — going from my freshman year at University of Cincinnati where we had lecture halls of hundreds of people to walking in to your first class [at LIFE] and there's like 20 people there. That was a pleasant surprise.
Probably the second thing would be just how like-minded everyone was when it comes to being proactive with your health, preventative versus reactive health care. That was a really, really enjoyable experience. I knew that I would walk into that, but it was like every time you had a conversation with someone new, you started to realize like okay, we're on the same page here. And that was a super cool experience and that allowed me to really, really learn from a lot of people and really further my understanding of chiropractic health care and vitalism.
What advice would you give your younger self?
Being okay with the idea that you're going to come out of school with some debt, and that the purpose of school is not to graduate with as little debt as possible but to be as valuable and as capable a chiropractor as you possibly can, so that you can pay back those loans quickly.
How would you describe your first quarter in three words?
Fun, challenging and fulfilling.
My 1st Quarter is a new campaign featuring students reflecting on their 1st quarter of studies at Life University and why it was so special and unique. All University students (undergraduates, graduates and D.C.) are encouraged to share their experiences in order to help those in future incoming classes get a real-life glimpse of what they can expect as they start a new chapter of their education journeys at LIFE.
Related posts