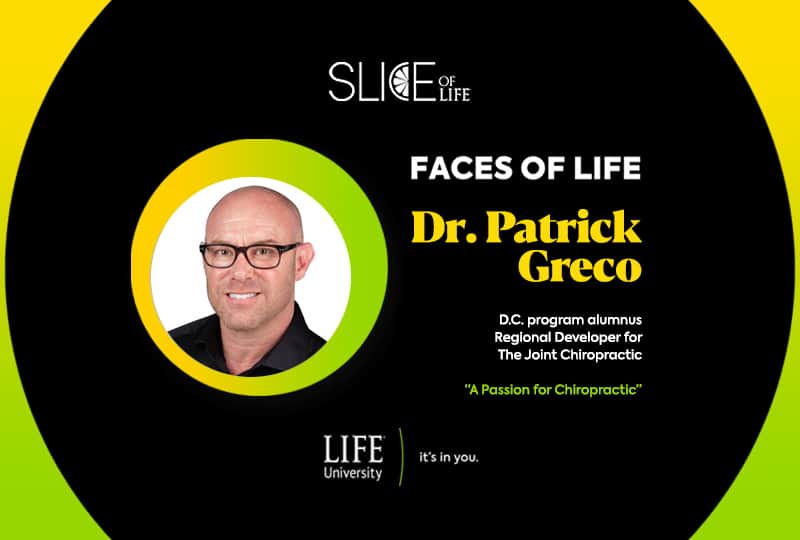 D.C. program alumnus, Regional Developer for The Joint Chiropractic
"A Passion for Chiropractic"
Dr. Patrick Greco graduated from Life University (Life U) in December 1998 with a Doctor of Chiropractic (D.C.) degree. He is originally from New Jersey and an only child. He comes from what he lovingly and humorously refers to as a "great family, Italian background from Northern New Jersey, total Sopranos."
When Dr. Greco first moved from the Northeast to Georgia, he was confused by the cultural differences, especially in religious backgrounds. The Northeast has very large Catholic and Jewish communities, but in the South, it is much more varied with many Baptist, Southern Baptist, Presbyterian and Pentecostal communities. "And you know, where I am from," said Greco, "you're either Catholic or Jewish."
Having lived in Northeast New Jersey, originally from Belleville, right outside of Newark, and then moving to Totowa, New Jersey, which is right outside of Patterson and 25 minutes west of Manhattan, Dr. Greco experienced a traditional Italian northeast lifestyle, so moving to Georgia was a new experience. Nevertheless, it was one which Greco embraced and continues to live in today.
Dr. Greco began his college career at Seton Hall, what he refers to as a "good old Catholic University," located in South Orange, New Jersey.
"I remember as a freshman, I was 18 years old, sitting in economics class, and I had no idea what the professor was talking about, and I'm like, 'this isn't for me,' but I was really into exercise and fitness and working out, so I pivoted and got my degree in health and physical education, but I didn't want to be a teacher. I wanted to have a background for something – a platform to build off of," shared Dr. Greco.
Dr. Greco's family had a good family friend whose uncle was a chiropractor, and this family friend decided he too was going to study to be a chiropractor. Dr. Greco was intrigued by this and decided he would do some investigating of his own to learn more about the profession. He shadowed a chiropractor and found it to be an extremely interesting experience. Dr. Greco was fascinated by the difference between this chiropractic office compared to a medical office. It didn't have that antiseptic smell or odor, and patients were happy to be there.
These patients' reactions to their adjustments were something very special to Dr. Greco, and he began researching chiropractic colleges. He had a friend who was planning to attend Life U, and he liked the idea of living in the South in warm weather, so he thought he would give it a try. He laughed about his geography being a bit off, as he thought he would be able to take a day drive to the beach, only to find out when he moved to Atlanta just how land-locked he was. After moving to Georgia, Dr. Greco found the people and the culture to be wonderful, and to this day still loves living here in the South. He and his husband Jimmy Stanton currently live in Madison, Georgia.
Dr. Greco was a student at Life U during Dr. Sid E. Williams' presidential term. At that time, Dr. Sid would speak to the students at each Assembly because of what Greco refers to as "Dr. Sid's magnetic personality." Whether he always agreed with Dr. Sid or not, he realized later was not the point. What was important was "agreeing to disagree because his message was very powerful."
At the time of Dr. Greco's graduation, it was one of the largest graduating classes at Life U with approximately 500 students. Dr. Greco noted that he was impressed how Life U overcame its major obstacles, transformed and continues to thrive better than ever.
Once Dr. Greco graduated from Life U, he began his private practice. At first, he absolutely loved it. He became certified in as many techniques as he could to offer to his patients. Eventually, he found that every December he would get a knot in his stomach because he knew that January was coming, and as a chiropractor who accepted every insurance and was in-network, it meant that the deductibles would have to be met and copays would have to be fulfilled. This meant working with insurance company's third-party administrators each year, who would define the allotted reimbursement amounts and modalities that were allowed for each patient.
"This became a daunting process, and I started noticing that I was working twice as hard and making half as much," Dr. Greco shared.
He concluded that it was time to diversify and began looking around at franchises. Dr. Greco sold his practice and eventually opened two Massage Envy clinics. When the CEO of Massage Envy, John Leonesio, sold his business , another new avenue opened up for Dr. Greco. An investment firm had just acquired The Joint Chiropractic and wanted Leonesio to run the headquarters, which was moved back to Arizona. Dr. Greco knew the history of The Joint Chiropractic, which had been founded in 1999 by Dr. Fred Gerretzen and his wife Anne. They had started in Arizona but then sold and moved to Vinings, Georgia where they began franchising it, according to Dr. Greco.
Dr. Greco knew people who had moved from Massage Envy to The Joint Chiropractic with Leonesio, and he also knew Leonesio's sense of business branding and style from Massage Envy. When The Joint Chiropractic was looking for regional directors in Atlanta, that cinched the deal for Dr. Greco. He and his husband decided to fly out to Arizona and discuss with Leonesio the regional development of The Joint Chiropractic in the Atlanta area. Upon returning, he had purchased 30 licenses for The Joint Chiropractic in the Atlanta area. At first, this was just a business transaction for Dr. Greco, but as his business grew and he gained a better understanding of the branding and concept of The Joint Chiropractic, he embraced it.
"We're a disrupter; The Joint Chiropractic is a disrupter in the chiropractic industry. Many owners are not chiropractors but investors who are business owners, and they understand how to run a business," said Dr. Greco. "As a Regional Director, I bought the rights to the territory that is Atlanta. I bought 30 licenses, and I sell to our area developer or master franchisers, but my job is to sell licenses and franchisees, help them develop their location and then help them with operational support," explained Greco.
He goes in every quarter to every six months to all the franchises under his area and reads through their patient evaluation assessments (PEAs). Dr. Greco has a checklist for each franchise to ensure it is in compliance with the company branding standards, and he evaluates them for overall wellness and health, including the business and physical space. The young man who thought that he wasn't any good at business is now running a major corporation very successfully.
Since first joining The Joint Chiropractic, Dr. Greco has purchased additional licenses for the entire state of Georgia and has partnered with two other franchisees. They now have the rights to Alabama, Mississippi and Louisiana.
This all sounds wonderful from a business standpoint, but you may be asking yourself how is this benefits Chiropractic. Dr. Greco shared the mission and purpose of The Joint Chiropractic and how they wanted to make chiropractic care affordable to all. He is also diligently working to connect with other chiropractors so that they can work together as opposed to competing against each other. Dr. Greco shared that there are many benefits to be gained by both the individual chiropractic office, The Joint Chiropractic and, most importantly, the patient.
The Joint Chiropractic does not offer X-rays, and Dr. Greco said that the easiest way to refer their patients for X-rays is to refer them to other chiropractors. He would like to build relationships between other chiropractors and The Joint Chiropractic on other levels as well. The Joint Chiropractic does not handle accident cases and, in fact, because they are a wellness practice, any patient who needs to be seen as an accident case would end up being denied their claim if they received care from The Joint Chiropractic. Instead, Dr. Greco would like to partner with other chiropractors who specialize in personal injury so that they could refer patients to them.
"Our mission at The Joint Chiropractic is to improve patient's quality of life through routine and affordable chiropractic care. We make Chiropractic accessible to everyone," said Dr. Greco.
The patient comes in for their initial visit, and the cost is $29 for an evaluation, exam and an adjustment. The patient is then given a treatment plan based on the findings of the exam. The most traditional plan is the $79 per month plan, which includes four visits per month. If additional visits are needed, there is a $10 out-of-pocket cost for those visits that month. The focus of care at The Joint Chiropractic is on the spine and the adjustment – an in-and-out-the-door, strictly chiropractic visit.
Dr. Greco also discussed his relationship with Life U and how important it is to him to give back because he believes that the Life U mission is in line with mission of The Joint Chiropractic.
"The research is so important to get out there, so we can educate the public and let them know the benefits of routine wellness care, preventive care, because that's what Chiropractic is. It's not about headaches; it's about focusing on the subluxation and connecting that and maintaining it to prevent illness and disease," Dr. Greco said.
According to Dr. Greco, research is the best way to educate the public about Chiropractic, but in order to do this, there needs to be scientific proof that what we say in Chiropractic is true. He loves the research that is being done at Life U.
Dr. Greco is also very grateful for his relationship with Life U, and he gives back through his membership in the President's Circle and with larger donations through The Joint Chiropractic. They donated a scoreboard to the newly-renovated Upper Athletic Field, have sponsorships with Life U during LIFE Vision Extravaganza and continue to be very involved in investing in Life U and its future growth.
"I love the fact that [Life U] is going outside the box and really developing the undergraduate program and the athletic program, which is amazing, because what it's doing is such a great avenue to attract potential students and new students who may not even know what Chiropractic is and introduce them to our profession."
Faces of LIFE is a story campaign that showcases members of the dynamic Life U community, including faculty/staff, students, alumni and health science professionals. Interested in being featured or nominating a candidate? We want to hear from you! Email Marketing@life.edu. Read more Faces of LIFE stories.
Related posts