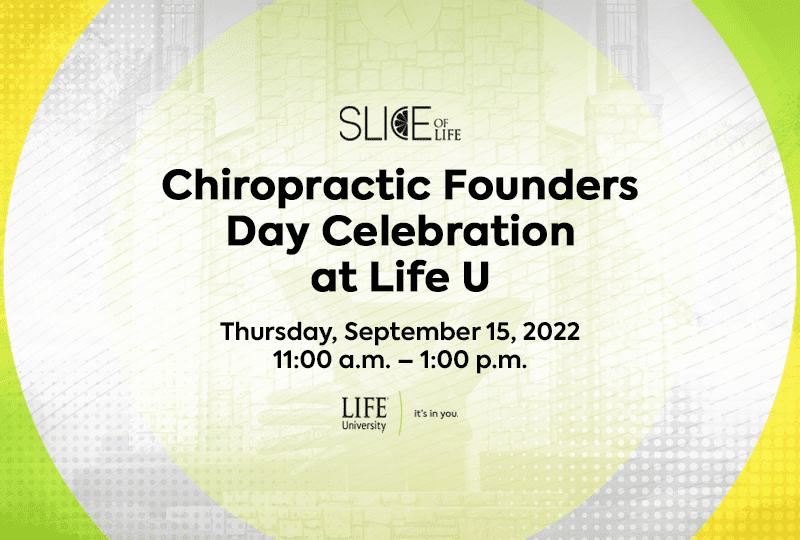 Thursday, September 15, 2022 – Week 10
11:00 a.m. – 1:00 p.m.
Outside RCCE Building
Rain Location (Atrium RCCE Building)
Founders Day is officially September 18, which celebrates the birth of Chiropractic and the founders who began this extraordinary journey we call the chiropractic profession. This  begs the question, however, of why students who are not studying Chiropractic would want to attend this celebration. These College of Graduate and Undergraduate Students (CGUS) have an excellent reason for attending. In fact, they are just as much a part of this special day as all our chiropractic students.
"It is a great opportunity for all of our students to come and find out what's unique about Life U and how we come upon these ideas of Vitalism, how we interconnect in so many different professional concepts and ideas. Having the opportunity to have an online positive psychology program, having internships, having the kinds of housing and the different kinds of nutrition and food sources that we have here all relate to the same concept of looking at wellness," said Dr. Lisa Rubin, CARE Case Manager, Student Ambassador Advisor and Adjunct Faculty for the College of Chiropractic.
Student Ambassadors began hosting this event in 2015 and always coordinate the celebration date that works best for students due to final exams normally falling on or around the annual celebration. This year, Student Ambassadors with the help of Dr. Rubin and the full support of Dr. Rob Scott, President of Life U, reached out to Student LIFEforce and asked that they cohost this event, to which Student LIFEforce readily agreed. There will be large birthday cards for everyone to sign, Life U giveaways and fun trivia about ChiropracTIC educating all about the beginning of the profession and the journey its founders took to get here. They will also be serving free popsicles; a photographer will be on hand to capture special moments, and there will be many fun opportunities for selfies to be taken and shared. People will also be able to receive mini pamphlets of Green Books, which are used worldwide in learning about the history of Chiropractic.
"We really want to bring leaders together with leaders. And also, this is our beginning initiative to help to share with our LIFEforce doctors and chiropractors around the world to remind them of the significance of September 18," said Dr. Rubin. "Dr. Scott has been an incredible advocate to make sure that Founders Day keeps getting shared and keeps getting pushed out there."
Dr. Rubin wants to help students be in a place of gratitude and remind them about not only Chiropractic, but also how Vitalism is interwoven in every single program and course at Life U. That is why she would like to see everyone come out to celebrate this special day. It is not just for chiropractic students. It is about celebrating our university, legacy, mission and philosophy. Life U has a unique healthcare system on campus with a chiropractic clinic on-site, which all students, faculty and staff can benefit from, in addition to the general public. Athletes are able to receive chiropractic care and get involved with all that Chiropractic has to offer, helping them improve their performance. In fact, all of our professions on campus are about wellness and supporting each other. This celebration is a reminder for all students to connect with something bigger than themselves, and Dr. Rubin wants students to understand their purpose and why they are doing what they are doing.
Slice of LIFE is an invitation to and extension of everything happening at Life University. Whether you are a current student, a potential freshman or a proud alum, Slice of LIFE can help keep you connected to your academic community. Know of a compelling Life U story to be shared, such as a riveting project, innovative group or something similar? Let us know by emailing Marketing@life.edu.
For more information about Life U's Doctor of Chiropractic program, visit life.edu/academic-pages/chiropractic-program/doctor-of-chiropractic/
Related posts