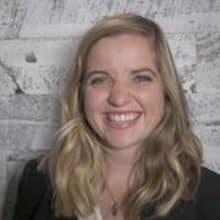 Hannah King
A LIFEtime of Impact
Student: Doctor of Chiropractic
November 2018
"I was working in the athletic training field, but I found that it was too slow paced for me and had begun thinking of alternatives. I asked my stepdad for advice, and he talked to the (traditional medicine) doctors that he works with and asked what they would do if they could do it over, and the majority of them said that they would be chiropractors!"
And that is why Hannah King decided to look into Chiropractic. With a degree in athletic training from Georgia College and State University in Milledgeville, Georgia, King says that at that time, she was not at all familiar with Chiropractic. She knew she had a struggle ahead to start on the road to a new degree and change careers, but somehow it just felt right to her to make the transition.
As a matter of fact, she says that when she first started at Life University, she had only been adjusted a couple of times, in great contrast to most chiropractic students who have been adjusted a great many times. For her, she says instead that she fell in love with the philosophy of Chiropractic – "that the body is going to heal itself and you don't need all of the extra things that you're putting in it just to try to force healing."
Once her mind was made up, King had to choose a school for her chiropractic education. She says while she "kind of looked into Palmer," it was never really an option for her, and once she attended a LIFE Leadership Weekend (LLW), it "absolutely sealed the deal." "I had already fallen in love with the philosophy of Chiropractic, but when I came for LLW, I had no idea what to expect at all. Even while being very tired from traveling, after I heard Dr. Eric Plasker tell chiropractic stories that absolutely touched me, it energized and motivated me and made me want to do that in other people's lives as well."
King adds that she also learned about another key element of Chiropractic that weekend – Vitalism. She says she had not even heard the word before, but that once she learned about the vitalistic lifestyle being promoted at LIFE, she had to ask herself how she had lived this long without it!
After making the decision to become a chiropractor, she says that while her family was supportive, they told her to make very sure that this is what she really wanted to do. "But there was never a single doubt in my mind. It's absolutely amazing at LIFE, and it has exceeded all of my expectations," King says. She adds that being here with her two best friends, Kain Queck and Spencer Surmont, and getting involved with Student LIFEforce (SLF), has made her purpose even that much more meaningful. She explains, "When you can go to class every day knowing that you're working so hard toward this goal to change the world someday … it's a good feeling, and that's what Life University has given me."
Speaking of Student LIFEforce, King says that she got involved in the organization during her first quarter here at LIFE when her friend, Spencer Surmont (whose mother was an executive member on the SLF team), introduced her to it. They both made the decision to become involved with it, especially since it focused greatly on communication and spreading the chiropractic message. King says that its mission resonated with her, and since she wants to be the best chiropractor that she can be, she knew that she could not do that without being able to effectively communicate Chiropractic to others.
Another very positive reason for which King says she joined SLF is that when first starting her LIFE education, she was a little too focused on her studies. She acknowledges that, of course, focusing on your studies is very important, but so is having a balance in your life. She believes that the things that you get involved with outside of class are just as important as what you accomplish in class. To that end, King says she also has Magi Rodgers, Director of LIFEforce and Enrollment Strategic Initiatives, to thank. About Rodgers she says, "Magi is one of the strongest, most professional and organized women I know. I'm her Work-Study student, and she amps me up for LIFE and makes me so excited about SLF and being a chiropractor."
When asked about continuing her Student LIFEforce commitment and becoming a LIFEforce doctor once she graduates, King says emphatically, "1,000 percent yes!" She says that she sees the impact that LIFEforce doctors have had on prospective students when they hold Student Recruitment Events (SREs). She notes that even if they truly connect with just one person at an SRE, it could have a ripple effect. She believes that by holding an SRE and bringing students to Life University, it will build an even larger tribe of chiropractors – vitalistic and principled chiropractors – who will spread their chiropractic philosophy to the entire world. King adds, "And I think it's important to get that vitalistic education and philosophy from Life University because it's the best school that you're going to get it from."
King believes that the chiropractic profession is going nowhere unless the entire world learns of its importance and value. She says, "So it all goes back to the LIFEforce and Student LIFEforce motto that 'We will not stop until every person on the planet has access to chiropractic care and a chiropractic education if they so choose.'" She feels that her Lasting Purpose will be bringing the most people that she can bring to Life University because of the thousands that they in turn will then be able to impact.

LEARN MORE:
Faces of LIFE is a story campaign that showcases members of the dynamic LIFE community, including faculty/staff, students, alumni and health science professionals. Interested in being featured or nominating a candidate? E-mail LIFENews@LIFE.edu. Read more Faces of LIFE stories.
Related posts