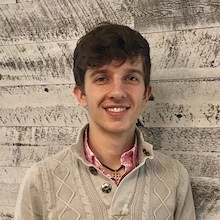 Spencer Surmont
Stronger Together
Student: Doctor of Chiropractic
May 2019
From Detroit, Michigan and working on his bachelor's degree in Exercise Science, Spencer Surmont is also on the pre-D.C. track here at LIFE. Even though arriving on campus just out of high school, Surmont knew long before he got here that Chiropractic would be in his future.
Having his first experience with Chiropractic at the age of eight with long-time Life University friend, sponsor and board member Dr. Joe Lupo, Surmont says that it was a "fun experience" for him at that age. Later though, as he started going to LIFEforce Student Recruitment Events (SREs) that Dr. Lupo hosted, he started experiencing awe as he learned how the body could heal itself through the assistance of Chiropractic. He notes, "As I started applying what I learned to my own life, the more I realized how different I was from everybody else." He says he then stopped using pain killers for a headache, as an example, and started viewing the body in a very different, more self-maintaining manner.
Around the same time that his thinking was changing, very interestingly, all four of his elder brothers moved to Georgia to start school at LIFE. Then, when it was Surmont's turn to join LIFE, his mother came with him … to also start school here! He notes, "Chiropractic is most definitely a family affair for us!"
Surmont says that while they may have dreams of one day working together in the same office, more likely they will live and work closely to each other so that they may realize another dream – an umbrella practice with one main practice location and satellite offices specializing in different chiropractic techniques.
Even though Surmont always intended to attend LIFE and become a chiropractor, he did still come to an informational, inspirational LIFE Leadership Weekend (LLW) where he felt even more called to serve through his future profession. He notes that Dr. Lupo's mission trips also played a part in his thinking at that time as Surmont saw how providing chiropractic care to those who would never usually be able to experience it, really hit home with him and he knew that he also needed to provide people with this kind of help.
Surmont says that when attending his LLW, he was able to become fully immersed into the culture and lifestyle of Chiropractic and was stunned at being surrounded by so many like-minded individuals. He also notes that while at LLW, he had a valuable opportunity to speak with doctors whose passion for LIFE and for Chiropractic reassured him that LIFE was the perfect place for him.
Plus, he noted that if he were to attend LIFE, he would be able to pursue his undergraduate degree while also in a pre-D.C. program, allowing him to accelerate his future transition into the regular D.C. program. He says, "If I were to go to any other chiropractic school, I'd have to get a four-year degree, graduate and then move over to that school. Here, I can get it done in a year and a half. I knew I wanted to be a chiropractor, so I figured, what's the point of waiting?"
After Surmont had been on campus for a while, he decided to join Student LIFEforce. He says that after seeing them on campus and noticing the great relationships its members had with established doctors, that he wanted those same valuable relationships for himself. He says that the members were all so well spoken, kind and inviting, and he thought, "I just have to be a part of this because this is where I will grow the most and help ensure that I will be the best doctor that I can be."
About his future after graduation, he says, "Without a doubt, once I get into practice, I will be a LIFEforce Tribe member." He says that being part of LIFEforce has given him a revelation of sorts. He feels that while he will be fulfilling his passion through Chiropractic, if he does not inspire anyone to also become a chiropractor, then he would have failed as one.
Through his experience with LIFEforce, he says that he has learned how vital it is to keep growing the profession. He adds, "It's so important because when we unite, we are so much stronger than when we are off in our own little parts of the world. When we come together, we can inspire each other and be that much stronger together."
If you are interested in knowing more about how to get involved with this vital student organization, contact Student LIFEforce at StudentLIFEforce@LIFE.edu.

LEARN MORE:
Faces of LIFE is a story campaign that showcases members of the dynamic LIFE community, including faculty/staff, students, alumni and health science professionals. Interested in being featured or nominating a candidate? E-mail LIFENews@LIFE.edu. Read more Faces of LIFE stories.
Related posts