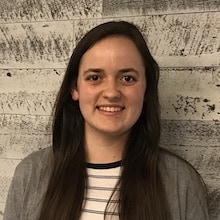 Demaris Hunger
Multicultural Road to Nutrition
Student: Dietetics
August 2019
Demaris Hunger attributes her health-oriented mindset to growing up as a Seventh-day Adventist and being raised on a vegetarian diet. Her choice to study Dietetics at Life University was a winding road, both culturally and academically.
Hunger was born in Germany and lived there for a year before her family moved to Austria for nine years and then Georgia for the last 11 years. "I speak Spanish, German and English, and I was raised in so many different cultural environments that I identify with a lot of them, and that allows me to reach out to more people," Hunger says.
Hunger was a non-traditional high school student and did dual enrollment full-time since her junior year, which allowed her to get a head start in college and get associate degrees in both science and music. Originally she was pre-med, then pre-nursing. When she applied to nursing school, she didn't get accepted, but realized she wouldn't be happy there. "I respect the traditional medical field, and there is definitely a place for it, but I feel like we are overlooking the whole lifestyle aspect," Hunger says. "Since I am altruistic and want purpose in my career, I think focusing on a healthy lifestyle and prevention before getting to the stage of needing medical help is important. I realized I wanted to be part of the real solution."
After getting both her associate degrees, Hunger wasn't sure what her next step was going to be. She started with an internship in Chile at a vitalistic health clinic. Hunger helped with revising a book and translating it into English from Spanish. It was during this internship that Hunger discovered her passion for nutrition. "I wanted a practical knowledge that I could apply in any kind of healthcare, and I wanted something that focused on lifestyle and prevention," Hunger says. "That is how I decided on dietetics at Life University."
Something that has really inspired Hunger was looking at Dan Buettner, National Geographic's researcher, who did a longevity study called the "Blue Zone" study. He looked at populations around the world that live the longest without disease, and the only one that was in the United States was Loma Linda, California. That population is mainly Adventist. It struck a chord with Hunger that those raised with Seventh-Day Adventist values were ingrained with the idea that they only have one complex and amazing body, and that it's an honor and responsibility to take care of it.
Hunger has been studying at Life University for a year and a half and describes her experience as fast-paced and busy, but she is learning a lot and enjoying all of it. "I've been active on campus in student life in the Nutrition Club and Multicultural Club, and I work on the Engage team and Career Services." She enjoys being surrounded by people who seem to live what they learn out of a sense of purpose.
After finishing her degree at LIFE, Hunger wants to focus on educating people to help them live longer and prevent disease, and even reversing chronic illnesses by focusing on changing their lifestyle. "While I don't know exactly what I want to do, I know I want to get some higher education and know that nutrition is a practical tool in my skill box. I feel like nutrition is a way that I can be involved in other people's lives and help them regain control," Hunger explains.

LEARN MORE:
Faces of LIFE is a story campaign that showcases members of the dynamic LIFE community, including faculty/staff, students, alumni and health science professionals. Interested in being featured or nominating a candidate? E-mail LIFENews@LIFE.edu. Read more Faces of LIFE stories.
Related posts