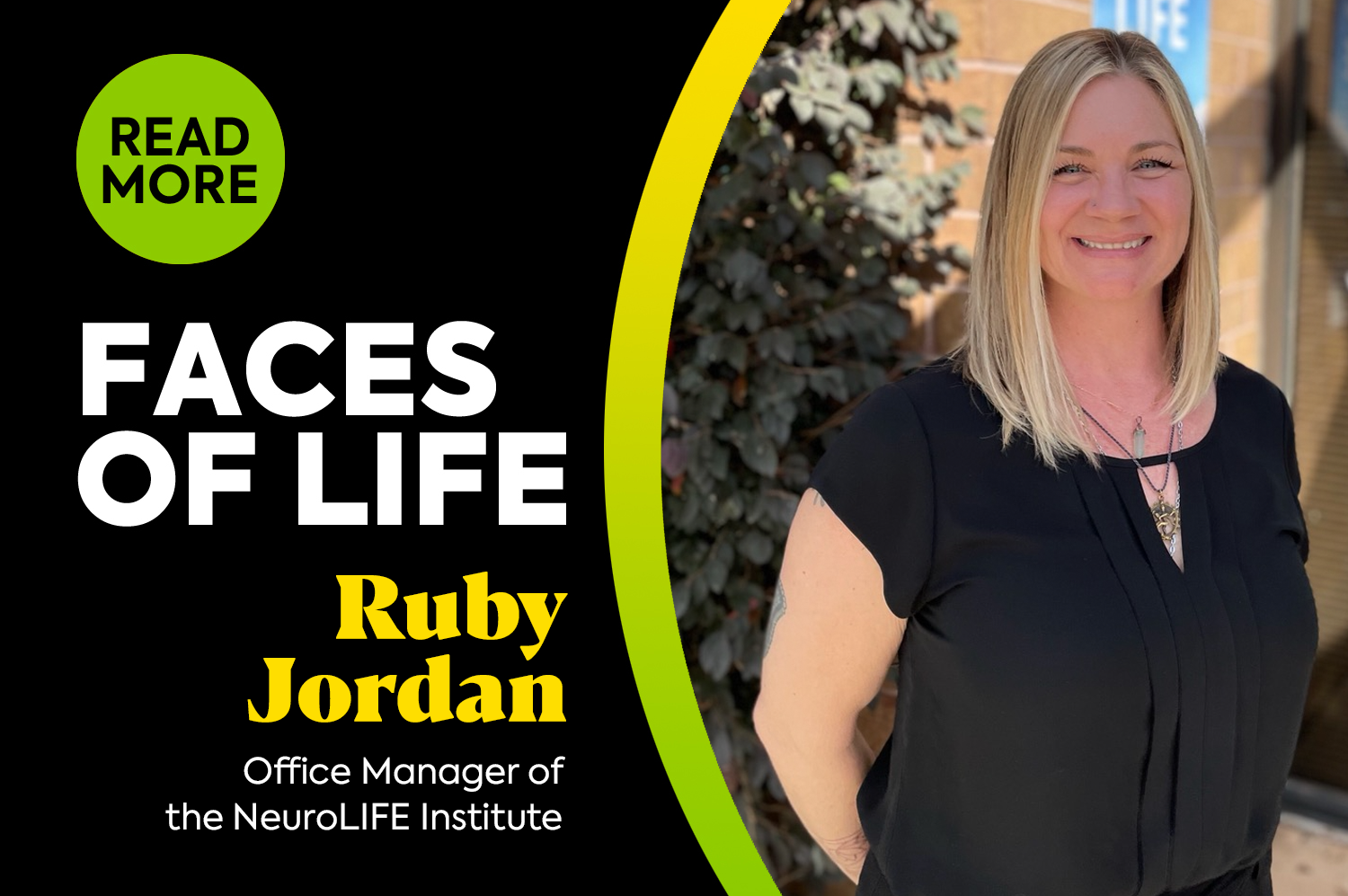 Meet Ruby Jordan, the Office Manager of the NeuroLIFE Institute (NLI).  She was born in Buffalo, Texas and lived there until she was 7 years old, when her family moved to Sandy Springs, Georgia where her grandparents lived. Jordan has two beautiful sons, ages 18 and 14. She loves working for the NLI, especially since she gets to work alongside Dr. Cynthia Boyd, Director of Special Projects; Dr. Michael Longyear, NLI Director; and Dr. Dominic Fetterly, NLI Clinician. Their extensive knowledge and commitment to making the world a better place is what feeds her mind, body and spirit.
Life University is a special place to work because of its mission and its commitment to vitalistic change in the world beyond its doors. This mission that is so unique to Life U is what brought Jordan to work at the NLI. She has always wanted to live through the perspective of "Lasting Purpose: To live an inner-directed life, to give, to do, to love, to serve, out of your own abundance." This guiding principle was always inside Jordan well before she ever came to Life U; she has always wanted to serve others.
Jordan found her niche to serve others through studying yoga. Yoga has been a vital part of her life for 20 years, and in 2013, she received her yoga teaching certification. One year into teaching, Jordan received her spiritual name, Shiva Dasi Jaya from her Guru, Ma Jaya Sati Bhagavati.
"The most important piece during the first couple of years committing to spiritual life is service to others," Jordan. "The drive to serve others is also one of the biggest draws to working at Life University. My friend and I created a hug line at a homeless shelter in Atlanta, and we were known as 'the huggers'. Once a week we would give hugs to the homeless who came to the shelter for lunch. I loved it because it connects me."
Jordan continues to serve now by teaching yoga at a Juvenile's detention center in Marietta. She has also studied photography since high school and has her Journeyman Plumber's license.
Jordan began working at the NLI in March 2019, but this was not her first experience with Life U. She previously had been getting adjusted at the Center for Health and Optimum Performance (C-HOP) clinic. She was a CrossFit coach at a CrossFit Gym, and one of the coaches who worked for her was also a D.C. student and her intern at C-HOP. While he was completing his PEAK requirements at the NLI, the Office Manager position became available.
"He put me in touch with Dr. Longyear when the job opened. It was a God transaction," Jordan said. As the Office Manager at NLI, she manages every aspect of the Institute's office by making sure all the patients' records are organized and that the clinic runs smoothly. She oversees all the records, is the continual contact with every patient and manages the research program and all facilities management. The NLI recently began a podcast series, and Jordan also manages it along with all social media for the Institute. Additionally, she works closely with the Life U Athletic Department to help athletes with concussions, as well as serves the public and the Life U community on all communications from the NLI. Furthermore, Jordan also manages all the interns and the student shadowing.
Jordan's advice to her Life U family is to "meditate and do yoga; the definition of yoga is a simple one – the union of mind, body and spirit, and I love that simplicity. When you can live life in alignment with yourself, it doesn't matter what you're doing because it will bring you peace and happiness."
Faces of LIFE is a story campaign that showcases members of the dynamic Life U community, including faculty/staff, students, alumni and health science professionals. Interested in being featured or nominating a candidate? We want to hear from you! Email Marketing@LIFE.edu. Read more Faces of LIFE stories.
Related posts