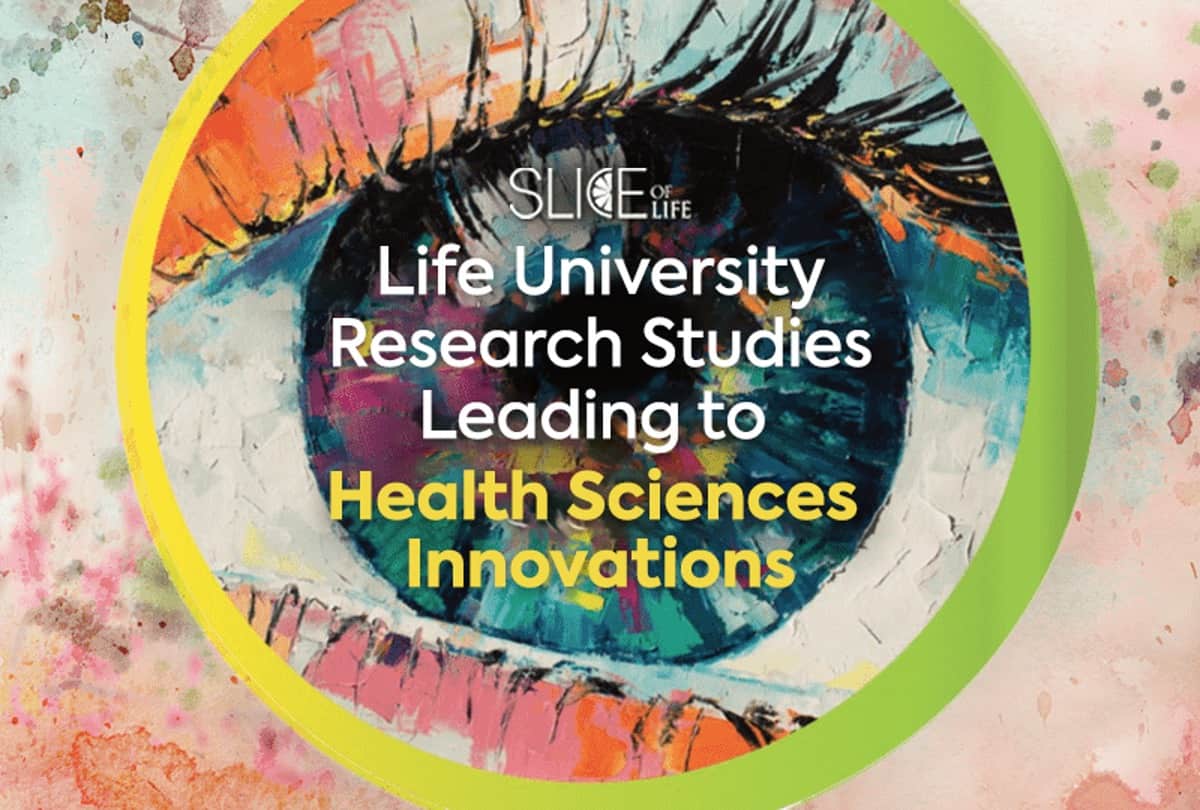 Life University (Life U) Research Series
From Your Extraordinary LIFE (YEL) 2022 Edition
Exploring Research Through the Eyes of Life U Students
"Life University Research Studies Leading to Health Sciences Innovations"
Over the past nine weeks, we have shared with all of you the remarkable research that is currently being conducted at Life University (Life U). From chiropractic innovations to climate change and COPD coaching, our university is putting in the work required to positively change the world. As we continue to grow our research efforts, we must acknowledge all of the faculty and leadership who make this possible, along with our amazing RISE students who continue to learn and grow through their comprehensive work.
Today, let's quickly review what important research is being done here at Life U!
Abigail Bachman, Human Ecology Student, Dr. Stephanie Wakefield, Program Coordinator + Assistant Professor | Human Ecology Program, Research Chair
"How do Biodegradable Plastics Effect Soil Quality?"
Bachman's project involves using organic soil and three different types of biodegradable plastic bags. Using three separate containers, Bachman put in two inches of organic soil, then the bags and covered those bags with another layer of the organic soil. These containers will be kept in a greenhouse for six months, and then Bachman will do soil testing to see what, if any, chemicals have seeped into the soil from the plastic bags.
Jazmyne Hambrick (Graduated Fall 2022), Human Ecology Student,
Dr. Stephanie Wakefield, Program Coordinator + Assistant Professor | Human Ecology Program, Research Chair
At least 75% of the world's plants require some type of pollinator, and butterflies are an important one. With that in mind, Hambrick's research project involves building a butterfly garden on the Life U campus and helping repopulate the butterfly population in Georgia.
Courtney Bliese, D.C. (Life U '22), COC Research Track; Faculty Advisor Emily Drake, M.S., Research Scientist and Neurophysiology, Dr. Sid E Williams Center for Chiropractic Research
"The Relationship Between EEG (electroencephalogram) Patterns, Heart Rate Variability, Single Session of Chiropractic Care and Stress Scores"
This study looks at how a single session of chiropractic care changes the brain, using a couple of different electroencephalography (EEG) techniques. Researchers hoped to answer the question, "How does the brain respond to unique stimuli?" Once there is an understanding of what the changes in the brain are and how these changes influence the physiology of the body, then researchers can go back and review any specific patterns occurring in the brain to see how and if these patterns do affect the physiology.
Kaitlin Ivey, B.S. in Human Ecology (expected graduation in Fall 2023), Advisor Dr. Stephanie Wakefield, Program Coordinator + Assistant Professor | Human Ecology Program, Research Chair
"Sustainable Development to Positively Make an Environmental Impact"
Regenerative farming practices and sustainable living habits are better for the environment. Kaitling Ivey wants to share with students that there are many different types of food sustainability, and this is one type. Another goal is to be able to share her findings with the Life U Nutrition Department and perhaps share how permaculture could be implemented into the Life U garden.
Destinee Rivera, Double Major: Biology & Human Ecology, Advisor Dr. Stephanie Wakefield, Program Coordinator + Assistant Professor | Human Ecology Program, Research Chair
Destinee Rivera's goal is to create a rainwater garden on the Life University campus, creating a green infrastructure by the Ian Grassam Treehouse. She will have six types of plants, including three types of flowers, two different types of shrubs and grass. The natural beauty of this garden will add to the pretty landscape of our environmentally friendly campus and serve an important purpose.
Shaleigh McBride, D.C. (Life U '22),
COC Research Track; Faculty Advisor Christie Kwon, M.S., D.C., MPH, Assistant Professor, Division of Chiropractic Sciences and Research Chair, College of Chiropractic
"The Implementation of Chiropractic Care in a Long-Term Residential Addiction Recovery Program: Pilot Study to Identify the Benefits of Utilizing Chiropractic in Addiction Recovery Treatment"
Dr. McBride is hoping to incorporate chiropractic care into an inpatient treatment program to support clients and hopefully make a difference in their recovery. Her research project included 16 participants out of the 53 men enrolled in the clinic. A chiropractor volunteered his time to serve these patients during the 12-week study. Those receiving care were adjusted one time per week.
Dr. Tom Le Lievre, M.S. in Exercise Physiology; Advisor Stephanie Sullivan, D.C., Ph.D., Director, Dr. Sid E. Williams Center for Chiropractic Research
The aim of the study is to objectively track how patients respond to chiropractic care. Among other health metrics, the WHOOP Band measures Heart Rate Variability (HRV), used to objectively view how a person's autonomic nervous system is functioning. Knowing a person's HRV, resting heart rate, heart rate during activity, body temperature and oxygen saturation all give the clinician objective measurements instead of subjective measurements, such as how the patient is "feeling."
Mackenzie Keller, D.C. Student; Brent Russell, M.S., D.C., Professor, Life
University, College of Chiropractic; Chair, Institutional Review Board; Dr. Sid E. Williams Center for Chiropractic Research
"Angular Kinematics of Chiropractic Supine Cervical Adjustment"
"The basic question for this research was 'How much rotation does occur [during a chiropractic adjustment]?' Excessive rotation is claimed to be the culprit causing injuries during cervical adjustments. In this study, we found, on average, a little over 30 degrees of rotation (as a comparison, when a person looks over their shoulder, the normal limit is about 70-80 degrees). There wasn't much difference in the rotation (two-three degrees at most) between the DCs performing adjustments on other DCs and thrusts performed on PAT by DCs or students at either level," said Dr. Russell.
Dr. Maria Benzo, Master's in Positive Psychology (Graduated Fall 2022), Advisors, Dr. Richard E. Shook, Assistant Professor, Psychology, CGUS, Dr. Peggy Samples, Assistant Professor of Psychology, COE
"Training the Trainer, Chronic Obstructive Pulmonary Disease (COPD) Coaching"
Dr. Maria Benzo's research project involves creating an online training program for health coaches to help their Chronic Obstructive Pulmonary Disease (COPD) patients cope with their disease using positive psychology techniques. Benzo's area of expertise is COPD, and she is a medical doctor at the Mayo Clinic as a Research Associate in the Pulmonary Research Department. Benzo does health coaching for COPD and has a background in mindfulness and motivational approaches to therapy.
Why visit this information again? Because our researchers are on the cutting edge of technology, chiropractic and environmental research to change the world. In the coming months, we will share more Life U research.
Here is a sample of some ongoing research projects.
Assessment of inter-limb symmetry in walking: establishment of methods (phase 1).
The Effects of Chiropractic Care on Quality of Life from Ages 0-18
Seasonal Infectious Disease Patient Reported Outcome (SID-PRO)
A Retrospective Analysis of Pregnancy Outcomes from Women Under Chiropractic Care
How prisons affect one's moral identity, and how "moral injury" affects workers in prisons
"An Application of Mathematics to Music Composition." Study of the composition of musical canons with monophonic texture. Math and music research-related video game development.
Portions of this article were originally published in Your Extraordinary Life (YEL), Life University's Alumni and Friends Magazine, 2022- Volume 15. YEL started in 2009 as a twice-per-year publication before moving to three issues per year from 2010-2017. In 2018, University leadership made the decision to publish a larger, more elegant version of the magazine just once per year that our alumni and friends could be proud of. YEL features an in-depth look at all things Life University, from alumni and student human interest stories to recaps and previews of the University's biggest events. If you are a proud Life University alumni, friend or supporter, this publication is one you can't miss!
Read the latest issue and past issues at this link or pick up a print copy on campus.
Related posts