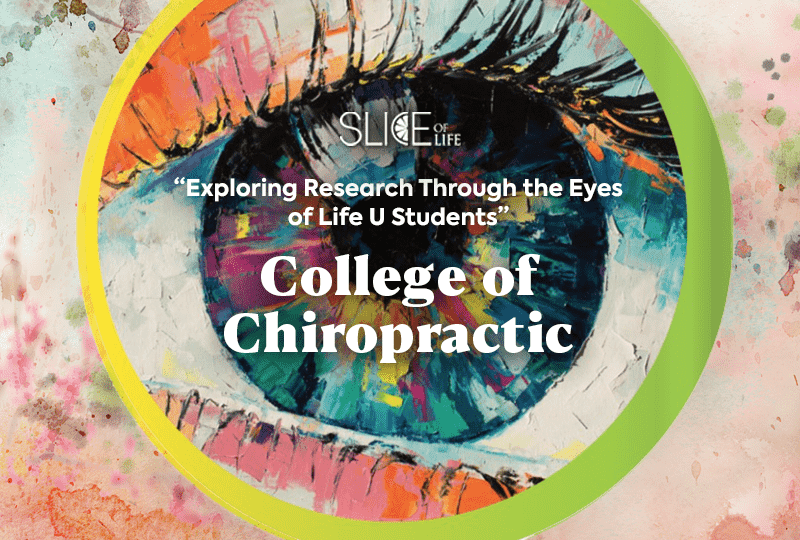 Life University (Life U) Research Series
From Your Extraordinary LIFE (YEL) 2022 Edition
"Exploring Research Through the Eyes of Life U Students"
College of Chiropractic
Shaleigh McBride, D.C. (Life U '22),
COC Research Track; Faculty Advisor Christie Kwon, M.S., D.C., MPH, Assistant Professor, Division of Chiropractic Sciences and Research Chair, College of Chiropractic
"The Implementation of Chiropractic Care in a Long-Term Residential Addiction Recovery Program: Pilot Study to Identify the Benefits of Utilizing Chiropractic in Addiction Recovery Treatment"
Dr. Shaleigh McBride, who worked in a recovery inpatient treatment center while attending Life U, has a background in counseling and a master's in clinical mental health. Her goal was to work with patients to see how Chiropractic could be introduced to help in a drug treatment facility. She originally worked as a therapist and specialized in behavioral disorders before she transitioned to working with clients who were suffering from drug addiction. She first became interested in the research track when she attended a research track assembly and connected with one of the students, now alumnus, Dr. Kain Queck. This track intrigued her because she herself had previously done some research. McBride met Faculty Advisor Dr. Christie Kwon in her seventh quarter when Kwon was the professor of one of her classes.
Dr. Kwon shared, "The ultimate goal for the research track students is to design a project, go through the full approval process and carry out the full project all the way to writing a manuscript. And we will be working on editing that paper and submitting it for publication."
The Research Track for Doctor of Chiropractic students who apply happens during the second half of the program, allowing students to engage with research. This track gives students the skill set to incorporate research into their future practices with the goal of adding to the chiropractic profession. Life U has five funded research track positions.
Dr. McBride worked every weekend while she was a Doctor of Chiropractic student at a long-term, inpatient drug rehabilitation treatment facility doing initial assessments of patients. She also worked at a couple of psychiatric hospitals taking initial assessments. She began understanding the philosophy of Chiropractic and doing her own literature research while there. Dr. McBride then connected with the CEO of the rehabilitation clinic where she worked, and she proposed her research project to him. His response was 'Absolutely! Let's start evolving what treatment is.'
"I saw a need for something else. The definition of insanity is doing the same thing over and over and expecting a different result," said Dr. McBride.
From this project, Dr. McBride is hoping to incorporate chiropractic care into an inpatient treatment program to support these clients and hopefully make a difference in their recovery. Her research project included 16 participants out of the 53 men enrolled in the clinic. A chiropractor volunteered his time to serve these patients during the 12-week study. Those receiving care were adjusted one time per week.
Many addicts have severe pain, and the opioids they were originally given to combat that pain have now caused their addiction. With this study, Dr. McBride's goal was to have these clients receive chiropractic care to help manage their pain and help with their overall quality of life and well-being during their recovery journey. Another major complaint from these clients was poor gut health, as drugs such as opioids and alcohol destroy the microbiome. Of the 16 clients, 50% suffered from cannabis use, 5% opioid, 40% alcohol and 50% polysubstance. And of the polysubstance, the majority were opioid and alcohol use. The average time frame of drug use in this study was 23.5 years, and the average age at the time of the study was 39 years old.
Dr. McBride shared the following results of her study.
"Eighty percent of men (16 out of 20) that were participants in the study completed the addiction treatment recommendations compared to those that were not receiving chiropractic care, in which only 55% completed addiction treatment and recommendations. Of the 16 initially enrolled, 11 participants followed through with their adjustments and completed all pre- and post-study paperwork. Of the 11 participants that followed through with all study requirements (adjustments, pre- and post-paperwork/ re-examination), all 11 were compliant with treatment and after-care recommendations. All participants were required to complete self-reported assessment tools both before and after to track the severity of their pain," said Dr. McBride. Patients were also given chiropractic referrals at the end of this study.
Once this research project is published, the next goal for Dr. McBride is to bring in permanent chiropractic care to the facility where she conducted her study through a permanent chiropractor on-site or a contractor who will come treat patients on a regular basis.
Click here for more student opportunities in conjunction with the chiropractic research track.
This article was originally published in Your Extraordinary Life (YEL), Life University's Alumni and Friends Magazine, 2022- Volume 15. YEL started in 2009 as a twice-per-year publication before moving to three issues per year from 2010-2017. In 2018, University leadership made the decision to publish a larger, more elegant version of the magazine just once per year that our alumni and friends could be proud of. YEL features an in-depth look at all things Life University, from alumni and student human interest stories to recaps and previews of the University's biggest events. If you are a proud Life University alumni, friend or supporter, this publication is one you can't miss!
Read the latest issue and past issues at this link or pick up a print copy on campus.
Related posts