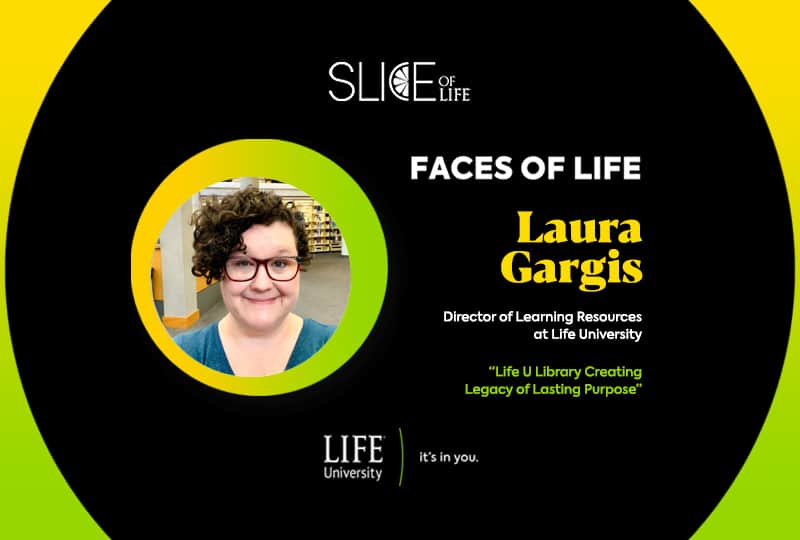 Learning Resource Director at Life University (Life U)
"Life U Library Creating Legacy of Lasting Purpose"
Serving with Lasting Purpose is how Laura Gargis approaches her role at Life U. She believes in open access to books for everyone and in diversity and inclusion so that each and every person knows there is "a space for everybody to come to get what they need."
"I like the standards of Lasting Purpose because those kinds of inclusive service-minded [spaces are what] I feel are important to have in life and Life U," shared Gargis.
When Gargis was applying for the position at Life U, she did her research and learned about the university's philosophy and mission. Since joining the University, Gargis has become involved with the Gender and Sexual Diversity Committee and works with Rebecca Koch, Life University Director of Services Initiatives, on several service projects.
Gargis wants people to know who she is and what the Learning Resource Center can do for them. In that vein, Gargis makes it a point to be very visible on campus and visits many departments to introduce herself and to familiarize them with the Library and its mission.
"Part of my goal with being the library director for the Drs. Sid E. & Nell K. Library is to get out into the campus community to get as many people to know me as possible. I feel strongly that library intimidation is real both for students and faculty and staff. And so, the more I feel I get my face out there as a representative of the Library, the more I feel that we can do good work as the Library for Life U," said Gargis.
Born and raised in Texas and living there through college, Gargis did not start out wanting to be a librarian. She was an English major in undergraduate school with the plan of becoming an editor for a major publishing company. Her dream was to move to San Francisco and become an editor. Instead, her life's path led her in a different direction, and she moved in with her mother, who was living in Las Vegas, Nevada at the time. As Gargis was contemplating her life's plan, she got a job at a customer service call center and worked her way up to department manager, finding she enjoyed the management role.
When her family moved southeast to the South Carolina and Georgia area, Gargis followed a year later to be near them. She and her family have always been close, and this seemed the next right step. Gargis was introduced to work in higher education at a small for-profit college, which is no longer in existence.
"But I still felt a little lost career wise," Gargis shared about her higher education job. "My mom used to say when I was stressed out, 'that you should go to the bookstore because you are always more calm around books. It finally clicked, librarian!"
Gargis received her master's in library information studies from Florida State University.
Life U was not unknown to Gargis when she applied for the Learning Resource Director. She described it as being a touch point in her life for several years because she knew several people who worked at the University.
"Having met those people I knew were happy here helped, [as well as] the opportunity to advance in my career.  And to be at a unique institution; I'm coming from the University System of Georgia. I was at Georgia Highlands College for seven years and just the opportunity to work in a different type of environment and different type of position [interested me]," said Gargis.
When Gargis is not working she is spending special time with her eight-year-old son, who she glowingly spoke about as such a joy to be raising and how much she loves being a mother.
The biggest takeaway Gargis wants the entire Life U community to understand is that the Library is more than just a building with books. Also, she wants everyone to take advantage of it for not only research help, but also for events. Human Resources uses the Library for new employee orientations and, recently, faculty headshots were hosted .
"Utilize the Library; we are great partners for events and programming and space. We just offer so much to students, faculty and staff. I would encourage everybody to just come visit us, to ask those questions. The Library is happy to partner with people to make things happen."
Slice of LIFE is an invitation to and extension of everything happening at Life University. Whether you are a current student, a potential freshman or a proud alum, Slice of LIFE can help keep you connected to your academic community. Know of a compelling Life U story to be shared, such as a riveting project, innovative group or something similar? Let us know by emailing Marketing@life.edu.
Get connected to The Drs. Sid E. & Nell K. Williams Library here,
Related posts