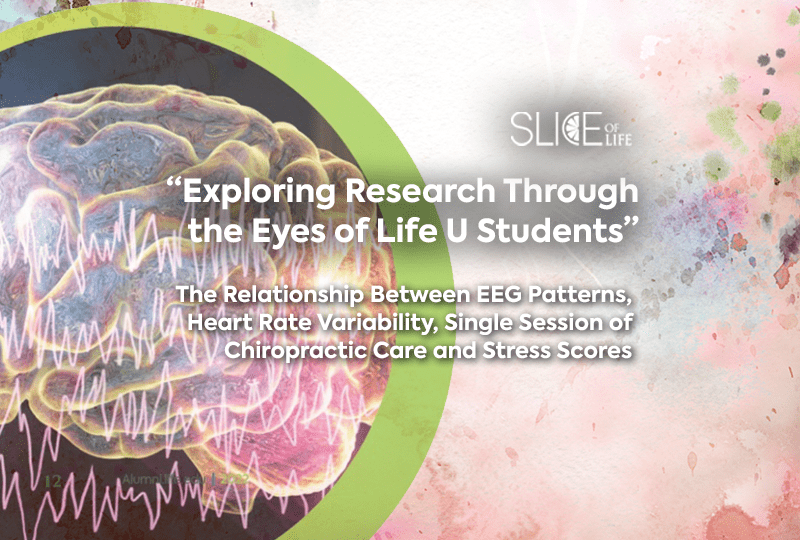 Life University (Life U) Research Series
From Your Extraordinary LIFE (YEL) 2022 Edition
"Exploring Research Through the Eyes of Life U Students"
College of Chiropractic
Courtney Bliese, D.C. (Life U '22), COC Research Track; Faculty Advisor Emily Drake, M.S., Research Scientist and Neurophysiology, Dr. Sid E Williams Center for Chiropractic Research
"The Relationship Between EEG (electroencephalogram) Patterns, Heart Rate Variability, Single Session of Chiropractic Care and Stress Scores"
Courtney Bliese, D.C., decided to attend the Life University (Life U) Doctor of Chiropractic (D.C.) program because of her wonderful experience with a chiropractor. She experienced bad migraines until receiving chiropractic adjustments. After graduating in June 2022, she began her chiropractic career working at Minnesota Family Chiropractic. While a student at Life U, Bliese participated in the research track and studied stress scores for her research study. She began this project in her seventh quarter and finished it in her 13th quarter, collecting the data in June 2021.
This study looks at how a single session of chiropractic care changes the brain, using a couple of different electroencephalography (EEG) techniques. One technique examined the brain during resting state. This is considered the baseline or the starting point from which to gauge. Researchers hoped to answer the question, "How does the brain respond to unique stimulus?" Once there is an understanding of what the changes in the brain are and how these changes influence the physiology of the body, then researchers can go back and review any specific patterns occurring in the brain to see how and if these patterns do affect the physiology.
During this study, each participant sat quietly as their EEG and electrocardiogram (ECG) were recorded. Next, they were given a set of headphones to listen to auditory sounds, and again they just sat quietly while they were monitored simultaneously using the EEG and ECG. A series of the same sound (common sound) was played over and over until a unique, "oddball" (a different sound on a different frequency) was introduced. This "oddball" sound was thrown in intermittently to gauge a person's brain response time. The ECG recording was synced to the brain recordings, allowing investigators to determine if relationships exist between brain activation patterns, chiropractic care and cardiovascular responses such as heart rate variability (HRV).
There were 22 participants, with an average age range in their 20s, involved in this study. Half of the participants were from Life U, and the other half were from the local community. Each participant came in for two visits over a one-week period. In between the two visits, each participant received one chiropractic adjustment so that measurements could be taken a week later with the same tests to see how an adjustment affects brain response time and the body's physiology.
"Preliminary data suggests that there is a decrease in the amount of time it takes the brain to respond following chiropractic care, which has been suggested as a good thing," explained Dr. Stephanie Sullivan, Director of Life U's Dr. Sid E. Williams Center for Chiropractic Research.
This article was originally published in Your Extraordinary Life (YEL), Life University's Alumni and Friends Magazine, 2022- Volume 15. YEL started in 2009 as a twice-per-year publication before moving to three issues per year from 2010-2017. In 2018, University leadership made the decision to publish a larger, more elegant version of the magazine just once per year that our alumni and friends could be proud of. YEL features an in-depth look at all things Life University, from alumni and student human interest stories to recaps and previews of the University's biggest events. If you are a proud Life University alumni, friend or supporter, this publication is one you can't miss!
Read the latest issue and past issues at this link or pick up a print copy on campus.
Related posts
Academic News
,
blog
,
Campus
,
CCR
,
CGU
,
CGUS
,
College of Online Education
,
DC Program
,
Education
,
Faces of LIFE
,
FACES of LIFE FRIDAY
,
Faculty/Staff
,
Lasting Purpose
,
Master's in Positive Psychology
,
Master's in Sport Health Science
,
Masters
,
Slice of LIFE
,
Student Affairs
,
Student Success Center
,
Students
,
Undergraduate
Faces of LIFE: Academic Learning Center