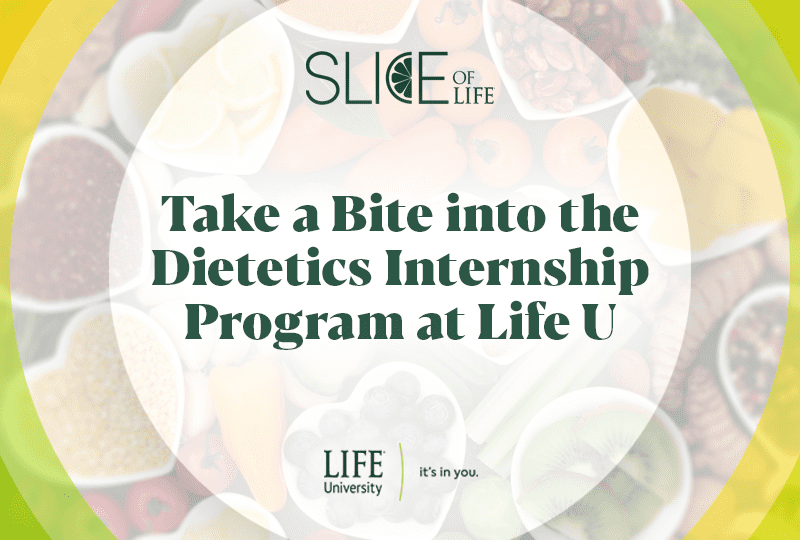 To become a registered dietitian requires dedication, skill and hands-on experience. The Dietetic Internship (DI) Program in Nutrition and Dietetics at Life University (Life U) is a postbaccalaureate, non-degree graduating, nine-month program beginning in early September and ending by May. It consists of 1096 total hours broken down into 280 hours of didactic and 816 hours of supervised practice.
The mission of the Dietetic Internship (DI) program is to ensure graduates are adequately prepared through didactic and supervised practice for entry-level nutrition-related positions where they will apply evidence-based practice to promote the health of both communities and individuals.
The program provides interns with the necessary knowledge and skills to be eligible to sit for the national registration exam for dietitians and to pursue a variety of career opportunities in the field of dietetics. Up to 16 interns are admitted to the program annually.
All learning experiences and supervised practice are designed to meet competencies outlined by the Accreditation Council for Education in Nutrition and Dietetics (ACEND).
Aizya Ali, an M.S in Clinical Nutrition student, recently completed her dietetics internship program this May 2022.
"[The Dietetic Internship] kind of helps you bridge together what you are learning in your books to the real world. So you just start going out to different areas of nutrition, and it helps you figure out what you might want to do when you finish," said Ali.
Recent DI program graduate Vivechana Parajuli made her way down to Georgia all the way from Texas to participate in this comprehensive program, after doing some personal research and finding this internship to be the best professional education experience to continue her studies from her undergraduate, complete her required hours and prepare for the National Dietetic Registration Examination.
"This program is very organized and I was looking for a program that is more clinical, and the main focus is on clinical. They have different rotations with an extra hour for the clinical focus […] They prepared us and provided all the materials. It helped me become more confident," said Parajuli.
DI Learning Experiences
 Didactic – Orientation, modules, presentations, assigned projects, debates, exam preparation and career week. (280 hours).
Food Service Management – Exposure to different areas of food service, including purchasing, inventory, production, safety, quality measures and customer service (264 hours).
Community – Exposure to community nutrition in various settings, including senior centers, state department of health, department of education, school nutrition, food banks and other community organizations (256 hours).
Clinical Acute Care – Exposure to different areas of clinical nutrition, including acute care, long-term care, renal, oncology, general medicine, endocrinology, critical care, etc. (264 hours).
Clinical Capstone Project – Clinical patient case study presentation and paper (15-20 of the didactic hours).
Special Interest Rotation – Special interest/Electives may be extraordinary to the offerings of clinical, food service and community (e.g. Sports Nutrition, Diabetes education, etc.). (32 hours). 
Any general questions regarding the DI internship may be sent to LifeUDieteticInternship@life.edu or call 770.426.2736. Learn more at life.edu/academic-pages/dietetic-internship/
Slice of LIFE is an invitation to and extension of everything happening at Life U. Whether you are a current student, a potential freshman or a proud alumni, Slice of LIFE can help keep you connected to your academic community. Know of a compelling Life U story to be shared, such as a riveting project, innovative group or something similar? Let us know by emailing Marketing@life.edu.
Related posts