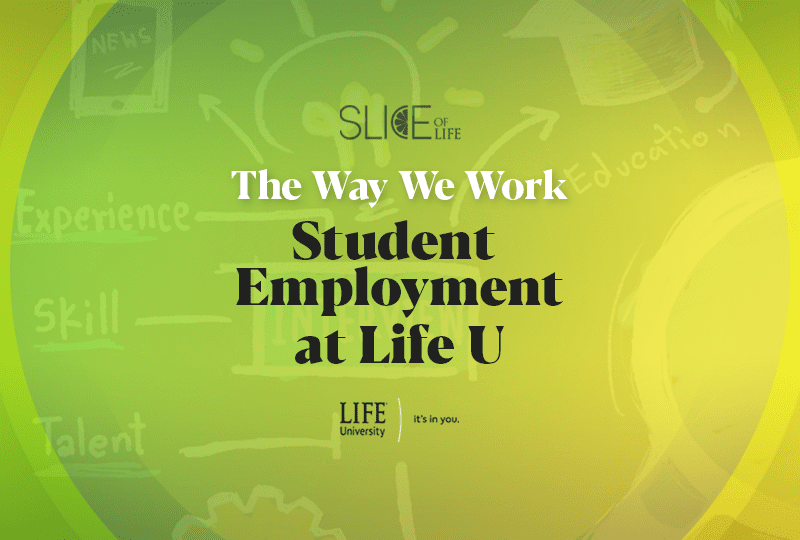 Student employment is the doorway to our student's professional success and can serve as a resource for covering personal and academic expenses, a tool to promote time management skills, growth of job employment history for résumés, development of career readiness competencies and more! Life University (Life U) offers student employment for both Work-Study candidates and part-time student positions. Let's kick off your student job search!
Work-Study Opportunities
Federal Work-Study is a federally funded program that provides part-time job opportunities for eligible undergraduate, graduate or professional students with financial need. It allows them to earn money to help pay for educational expenses. The program encourages community service work and work related to students' course of study. Completion of the FAFSA, enrollment status and Satisfactory Academic Progress (SAP) determine eligibility. Only students qualified by Financial Aid are eligible to participate in the program at Life U.
If a student is awarded Work-Study funds and chooses not to apply for a job, that will not affect their current financial aid package or future eligibility for Work-Study. Students can view their financial aid award/offer, which includes if they received Work-Study funds, through EagleNet. Please contact your Financial Aid Counselor if you have any questions about your current award, potential earnings or being awarded the opportunity to receive Work-Study funding.
Part-Time Employment Opportunities
Part-time employment opportunities are available for students who are seeking employment on campus. These opportunities are available for both domestic and international students who are eligible to work in the United States. International students must work with the institution's Coordinator of International Programs before proceeding with employment opportunities.
Explore current open part-time employment and Work-Study opportunities on the ADP website.
Explore off-campus opportunities on Careers4LIFE site.
Important things to know about Student Employment
Students are permitted to work no more than 20 hours per week.
All on-campus screening opportunities require an interview and a drug screen. Off-campus community service opportunities require an additional background check.
Standard identification documents and eligibility documentation in physical form will be required to comply with Federal I9 requirements.
Students are permitted to work only one student position at a time. There are limited exceptions with approval.
On-campus job wages range from $9.50 per hour to $20 per hour.
International students must work with the University's International Coordinator to verify employment eligibility and obtain necessary employment documentation.
Slice of LIFE is an invitation to and extension of everything happening at Life University. Whether you are a current student, a potential freshman or a proud alum, Slice of LIFE can help keep you connected to your academic community. Know of a compelling Life U story to be shared, such as a riveting project, innovative group or something similar? Let us know by emailing Marketing@life.edu.
Related posts