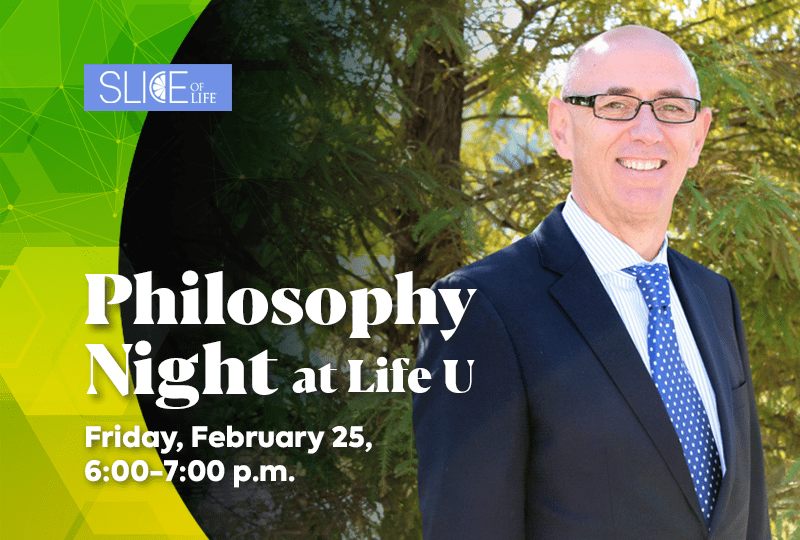 Philosophy Night at Life U- Dr. Gilles LaMarche reflects on past events and looks forward to many more.
If you are currently studying Chiropractic at Life U or have been around the campus in the last three or four years, you have probably heard about Philosophy Night. This much-missed event returns on February 25, 2022 from 6:00-7:00 p.m. in the Guy F. Riekeman, D.C. Center for Chiropractic Education (CCE), Rm. 127. Dr. Gilles LaMarche will speak on "Chiropractic Philosophy- The Foundation for Practice Success."
But what exactly is Philosophy Night, and why should students consider attending? In short, Philosophy Night is a no-cost speaker series hosting chiropractic leaders full of passion and insight to bestow on the next generation of chiropractic practitioners. Dr. LaMarche, the Vice President of University Advancement & Enrollment, is the founder of Philosophy Night at Life U, which gives students additional time outside of class to dive into what they hope to do in the world of Chiropractic and why they aspire to those goals.
The first ever Philosophy Night at Life U was held at Lyceum Park, featuring three dynamic speakers and more than 300 estimated students in attendance. Eventually the event was moved into an indoor classroom and put on hiatus due to COVID-19, but Dr. LaMarche and many others are excited to see it come back.
According to Dr. LaMarche, the purpose of Philosophy Night is "to inspire students to always be their best and remember why they chose to become a chiropractor, or why they were chosen. They are inundated with the required academic work, and sometimes lose sight of their 'why.' Philosophy Nights help them be clear and stay clear."
Philosophy Night has allowed chiropractic trailblazers and Life U chiropractic alumni to connect with D.C. students and encourage them in their professional journeys. The past three Philosophy Night events were held in 2020, each focusing on a different keynote speaker and riveting focus topics. Dr. Eric Russell spoke in April 2020 about "How to Communicate the Philosophy of Chiropractic Authentically"; Dr. Samantha March-Howard spoke in July 2020 about how to "Rock Chiropractic Your Way"; and Dr. Stephen Franson spoke in October 2020 on Applied Philosophy: "How Old School Philosophy Builds the New School Practice."
These supplemental educational moments prove invaluable to student growth.
"I had one student tell me that they were thinking of leaving the program because they had forgotten why they were studying to be a chiropractor, but after hearing the speakers that night, they recommitted to be passionately involved with the University, their fellow students and their chosen profession. That alone inspires me to put in the effort to host these," noted Dr. LaMarche.
"[Philosophy Night] allowed me to see different things about Chiropractic that I hadn't really thought about before," said Citlali Salas-Abrego, a Life U student recently profiled in Life U's Slices of LIFE blog.
Dr. LaMarche has an exciting and informative discussion in store for February 25. Here is a little teaser of what to expect.
"During this hour, I will share my passion for Chiropractic and what is possible in the life of every chiropractor. I am as passionate about Chiropractic today as I was the day I got accepted to chiropractic college in 1975, and I have been blessed to understand and live this lifestyle since the age of 12," said Dr. LaMarche. "My presentation will be weaved with stories that will inspire the attendees to see what is possible and increase their commitment to themselves and their future patients."
Life U has a unique commitment and emphasis on chiropractic philosophy that sets this University apart. Life U's educational and clinical philosophy is based on Vitalism—our recognition that the Universe itself is self-conscious, and as such, creates itself as a dynamic system wherein living organisms are self-developing, self-maintaining and self-healing.
"Our goal is to discover whether there is interference between the brain and the body or the body and the brain, and if there is, correct that interference for allowing the human organic system to be self-developing, self-maintaining and self-healing. That's at the core of the philosophy of Chiropractic and everything we teach at Life U," explained Dr. LaMarche.
Events like Philosophy Night serve to reinforce those ideals. So, whether you are a chiropractic student or just curious about Chiropractic, make a point to attend a future Philosophy Night. For more on Dr. LaMarche, tune in to "Today's Conversations on Leadership," a podcast he hosts powered by Life U that invites local business and community leaders to reflect on what makes them successful.
Slice of LIFE is an invitation to and extension of everything happening at Life University. Whether you are a current student, a potential freshman or a proud alum, Slice of LIFE can help keep you connected to your academic community. Know of a compelling Life U story to be shared, such as a riveting project, innovative group or something similar? Let us know by emailing Marketing@life.edu.
Related posts