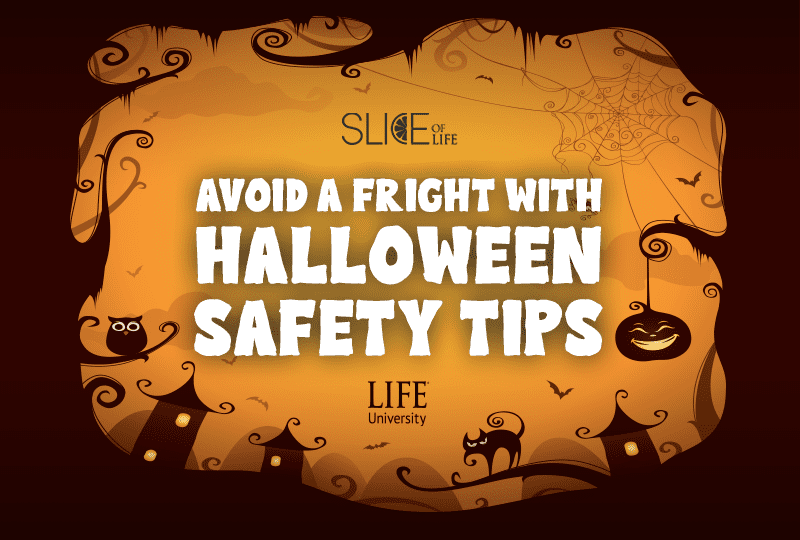 Avoid a Fright with Halloween Safety Tips
What's not to love about Halloween? Crazy costumes, fun food and parties galore! It's a great time to let loose and forget about the real world for a while, but like most major holidays, Halloween also poses an array of safety concerns to consider. Lots of people will be out and about, many of them drinking and therefore not thinking as clearly as normal. Keep in mind some of these helpful safety tips to have a Happy Halloween.
Safety Tips for Students
In State University.com's "12 Halloween Safety Tips for Students" blog, it outlines several smart ways to keep things spooky but safe.
If dressing up, wear something that you can move in. Stiletto heels and snug dresses can restrict movement. Masks and wigs can accidentally cover your eyes, impairing your vision.
Be mindful of the law and campus regulations. This is important of course to avoid arrest, injury or jeopardizing your place at school.
Keep an eye on your drink. Don't accept any kind of beverage from someone you don't know and don't leave your drink unattended. It's better to get a new beverage if you are at all unsure than to risk it. It's very easy for people with bad intentions to slip something into your cup or bottle.
Mind your limits. It's not necessary to get drunk to have a good time at a party, and binge drinking has dangerous potential consequences.
Bring your buddy. The buddy system is a good tool to keep you safe, so don't go to a Halloween party without a trusted friend. Commit to arriving and leaving together and be sure to keep tabs on each other throughout the evening. If walking after dark, stay with at least one other person and on a well-lit path.
Stick with people that you know. Use caution meeting people that are not easily identified, in outfits that hide or distort their voices. It's possible that persons such as these could intentionally be disguising themselves to get away with questionable behavior.
Your phone needs to be fully charged and accessible, with the volume on. Make sure you know where it is, as it could be very useful in an emergency. It's not a bad idea to carry emergency cash as well.
Trust your gut. If something doesn't feel right, then it may very well not be. Safety is more important than a party or annoying a friend.
Here at Life University (Life U), the safety of every member of the Life U community is top priority. On Halloween or any other day of the year, Life U students can receive emergency assistance on campus. Life U's Campus Safety also provides the LiveSafe App, which students should download for virtual safety escort services and many other convenient safety features.
Safety Tips for Party Hosts
The U.S Army outlines prudent guidelines in their blog titled "SMDC Safety: Halloween Party Safety."
Valuables and breakable possessions should be put away. If holding a party at a friend's house, the host should make sure to move any breakable pieces of furniture or knick-knacks to another room where they can't get broken. If a sentimental fragile piece hits the floor, it could ruin the night for the host and cause a safety hazard.
Take care with decorations. If using dry ice in a punch bowl, make sure to use a large punch bowl and a smaller one that fits inside. The smaller one holds the punch, the larger one is to put the dry ice and hot water in. Keep them separate, as dry ice is not for ingestion and can cause serious damage to internal organs if swallowed.
Use artificial lights and candles instead of real candles; these are safer to use.
Clear the yard and sidewalk of anything people can trip over. Costume masks make it harder to see.
Friends don't let friends drive drunk or tipsy. If hosting a party, remind guests to plan for how they are getting home. Advise them to select a designated driver or to plan to call for an Uber or other rideshare or taxi service. It's also a good idea to offer non-alcoholic beverages at the party and encourage people to drink water as well. 
Tips for Guests
If you plan to drink alcohol, designate a sober driver beforehand, unless of course you want to use a rideshare service. Never ride with a driver who has been drinking.
If it makes sense, you may wish to consider an overnight stay instead of traveling that night. If attending a party at a friend's home, consider asking to stay overnight. If celebrating in a downtown or commercial area, look into hotel accommodations within walking distance. Many hotels offer special Halloween weekend rates and promotions.
Proceed with caution when driving. When possible, avoid traveling through residential areas or cutting through residential areas where trick-or-treaters are likely to be present. If giving directions to a party, try not to route guests through residential areas unnecessarily.
Keep an eye out for children in the street. Excited kids may have their vision obscured by masks, darting out into traffic. Kids can get single-minded while trick-or-treating and may not pay attention to traffic and might cross mid-block or between parked cars. Drivers must scan far ahead when driving in residential areas, watch for children and cautiously monitor their actions while proceeding at a slow pace.
Observe the speed limit. When driving through residential areas where trick-or-treaters are likely out, consider driving five miles per hour less than the standard speed limit.
Slice of LIFE is an invitation to and extension of everything happening at Life U. Whether you are a current student, a potential freshman or a proud alumni, Slice of LIFE can help keep you connected to your academic community. Know of a compelling Life U story to be shared, such as a riveting project, innovative group or something similar? Let us know by emailing Marketing@life.edu.
Related posts