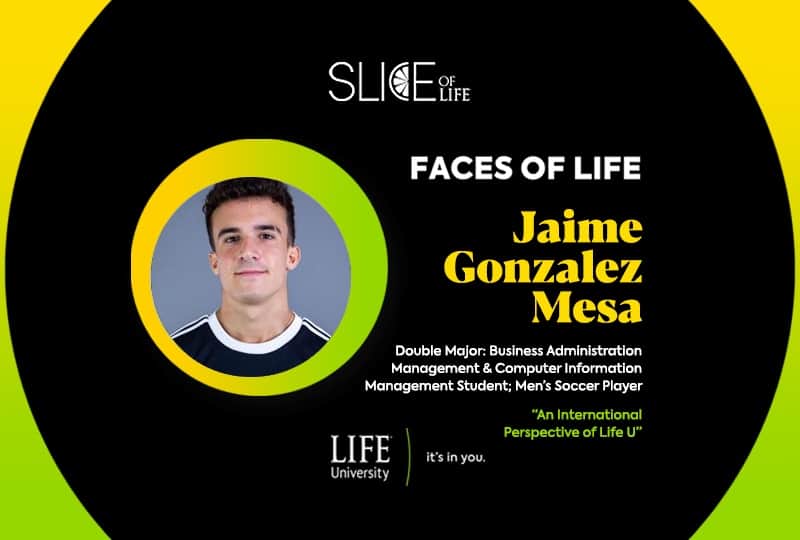 Double Major: Business Administration (B.B.A) & Computer Information Systems &Technology (CIST) student
Men's Soccer Player
"An International Perspective of Life U"
Mesa came to Life University (Life U) from Valencia, Spain because of the flexibility in studies offered here at Life U, including the ability to complete a double major.  He is a student-athlete on the soccer team and a RISE Award recipient. RISE awards are quarterly awards given by Athletics to the two athletes who most dramatically improved their performance in the classroom each quarter. Mesa said that he appreciates the athletic coaches for their mentorship, not just on the field, but also for their academic guidance. This award has given him more motivation to succeed academically.
Mesa experienced a very difficult first quarter when he arrived in the United States. It was the Summer Quarter, and Mesa actually came to the U.S. three weeks after classes had started. It was a very difficult time, but he overcame the hurdles he faced that quarter. In the beginning, it was very difficult for Mesa to learn while professors were speaking all English. In Spain, he always attended a bilingual school, but it was not the same as speaking English in America. It was very scary for him, as he didn't feel he was on the same level to be able to explain himself to others as if he were speaking Spanish, his first language. He also struggled to understand American accents, but he built relationships with other students, both international and American, and things became much easier. Mesa said taking English courses in his first quarter, such as English Composition, also helped, as well as watching movies in English.
As an international student, he has had a great experience at Life U.
"It is really exciting because you meet people from all the places in the world. I am really excited because we can learn a lot about different cultures, different places, different ways of doing things. At the same time, that gives you the opportunity to maintain that relationship with them. Why not someday go visit them, or they can come to your house. I went to the Netherlands this past spring because I could go to [a fellow Life U student's) house and visit them there, and that I think is exciting and is one of the best things about being an international student,' said Mesa.
He now has both Spanish and non-Spanish speaking friends and loves that they help each other learn a new language. He also said that he loves being in the U.S. because the fears he had about traveling here were unfounded, and it turned out to be a very special experience. Mesa also shared that during his first soccer season, the Life U team made it to Nationals and traveled to Miami, Florida for four days. It was another great experience for him, even though they lost in the first round. However, just just days after that, he found out he was receiving the RISE Award. Mesa feels really good about his work both on and off the field.
In his spare time, he enjoys hanging out with his friends, playing any sports for fun, facetiming with his parents and, especially, spending time in Spain with his twin brother. He also has two older brothers.
Mesa's future plans include working for a company in the U.S. to gain experience. He believes that he will become a better employee through learning from others in business in America. Eventually, Mesa plans to return to his home in Spain, bringing with him all of the knowledge and experience that he learns. His estimated graduation date is the 2025 Winter Quarter; however, he believes he will be able to complete this at least one quarter earlier.
Mesa's advice to other international students is to "[…] be themselves – be how they have always been and don't change and don't hesitate to make it here (in the U.S.), because I think it is an amazing experience."
Faces of LIFE is a story campaign that showcases members of the dynamic Life U community, including faculty/staff, students, alumni and health science professionals. Interested in being featured or nominating a candidate? We want to hear from you! Email Marketing@life.edu. Read more Faces of LIFE stories.
Related posts