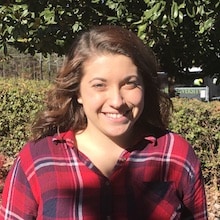 Samantha Silliker
Good Nutrition IS Good Health
Student: Dietetics
January 2018
When Floridian Samantha Silliker was looking for a place to obtain her education, she applied to only one school – Life University.
Now at LIFE pursuing a Bachelor of Science Degree in Dietetics, Silliker says that she has always known that she wanted to do something in the healthcare field. As a matter of fact, she originally wanted to go into nursing and even obtained her CNA (certified nursing assistant) certification while in high school. However, she said that she did not like it after doing some rotations in a hospital close to her home. She adds, "So, I just really didn't know what to do for a career where I could help people, but at the same time, not take such an invasive approach."
In her quest to find a purpose, Silliker attended the University of Central Florida where she started her education with the usual lineup of general education courses and, unfortunately, realized how unhappy she was in her new environment. She explains, "My family encouraged me to be active and involved, and they always cooked meals every night for the family that fostered healthy eating habits. However, when I went off to college, I didn't always practice those healthy habits, and I ended up gaining a large amount of weight."
In consideration of her new environment, lack of career path and weight gain, Silliker started contemplating different majors and eventually found nutrition and dietetics. She says that she really enjoys cooking and is extremely interested in food, its preparation and nutritional values. She considered staying at the University of Central Florida, but they did not have the type of program for which she was looking, and she was also discouraged by its size – with more than 60,000 students, some of its classes would have upwards of 900 students. All of the other schools that she considered in Florida also did not appeal to her due to their large size as well. She says, "I really wanted to get into a smaller school environment that I was more comfortable with."
So, she says that she just "moved up a state" and looked at the schools that Georgia had to offer. She says that she already knew that LIFE had a program for nutrition and dietetics, but it seemed to her to be more comprehensive and, since it required a nine-month internship, would offer more credentials to "help get you through the door" to start your career.
She continues, "LIFE also stood out online because of its philosophy, which was a huge pull for me, but when I saw the preventive health aspect of LIFE imbued even in the website, it clicked for me right away." She assures that she has never been one to make a rash decision, but the night she found the website, she read every page and applied immediately. It was only after she heard that she had been accepted to LIFE that she told her father of her plans. She adds, "He didn't even have a doubt in his mind, and that's how I was even more reassured that this was the right place for me."
Silliker explains that what brought her to a dietetics program in the first place was just how important good nutrition is and how small an amount the majority of people actually know about their food. She adds, "It scares me how aware people are of the ill effects that drugs and alcohol have on the body, but we put food into our bodies multiple times a day, every single day, and don't even know what goes into that food." She wants to help educate those individuals to think twice about the food ingredients that are deteriorating their health and causing them to become sick so much these days.
Another of Silliker's passions is reducing childhood obesity. She observes that it has become an epidemic of sorts and was not nearly so prevalent in years past. She says, "I feel that it is a symptom of how kids are brought up now." She adds that if children are encouraged to go outside to play and exercise and eat right, then we could move forward in reducing this problem. She would like for parents to cook more meals for their children and then eat together, instead of running through the fast food drive-thru so often. She continues, "I want to teach people the correct way to take care of their body, and their children's bodies, because we only get one. My philosophy is to educate people on what food serves to do in the body, thus starting from the inside out."
Since Life University is known for its holistic wellness education, it is an interesting choice for someone who once aspired to nursing in a traditional medical setting. Silliker says that it is intriguing to see how LIFE approaches health care. She adds, "I'm very open minded, so I am willing to try new approaches, and that's where LIFE opened my eyes to new ways of thinking. I also think it's made me want to raise my future family based on this type of preventive health care."
Silliker encourages prospective students to also be open minded since LIFE will show them a different approach to health care. "And that's why I really appreciate this school because it opened my eyes to unconventional ways of looking at all things health-related, and it will also provide me the tools to teach others about them."

LEARN MORE:
Faces of LIFE is a story campaign that showcases members of the dynamic LIFE community, including faculty/staff, students, alumni and health science professionals. Interested in being featured or nominating a candidate? E-mail LIFENews@LIFE.edu. Read more Faces of LIFE stories.
Related posts