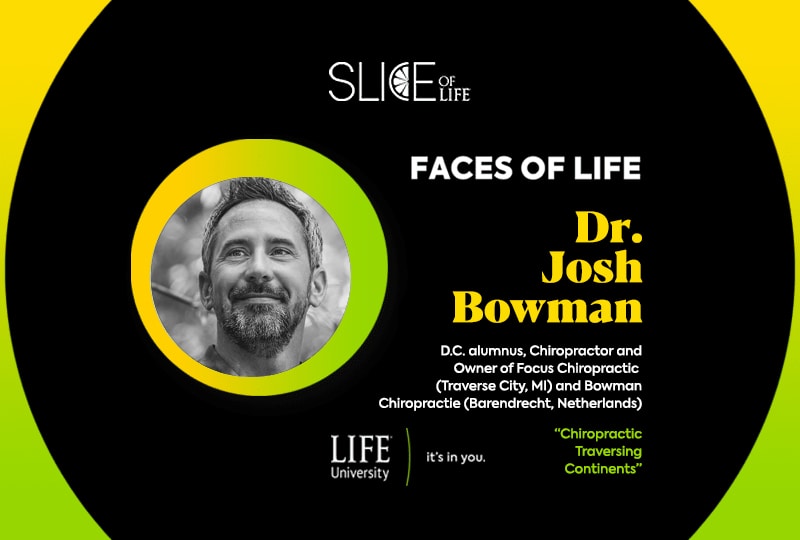 D.C. alumnus, Chiropractor and Owner of Focus Chiropractic (Traverse City, Michigan) and Bowman Chiropractie (Barendrecht, Netherlands)
"Chiropractic Stretching Across Continents"
Sitting still does not seem to be part of Dr. Josh Bowman's DNA. Since graduating from Life University's (Life U) D.C. program in 2009, Dr. Bowman has forged full speed ahead to share his first-hand knowledge of what great things Chiropractic can do. Dr. Bowman suffered from severe migraines and digestion problems at age 12. After a number of pediatric specialist exams offered no answers, his mother took him to a chiropractor to see if that could provide any relief. His symptoms were reduced noticeably from the first treatment, and a lifelong interest in natural medicine and Chiropractic was born.
Dr. Bowman earned his Bachelor of Applied Science in Biochemistry and Psychology from Eastern Michigan University before coming to the Atlanta area to enroll in Life U's D.C. program. Dr. Bowman noted that if he could go back and make changes to his time at Life U, he would have "enrolled in more communications and business courses" to help him get off his feet more smoothly at the beginning of his chiropractic practice. Regardless, he remembers his time at Life U with fondness, continuing to keep in touch with many of his professors and classmates. He reminds young chiropractors starting out to "remember to stay hungry."
The advice to stay hungry seems to be a motto that Dr. Bowman lives out, because shortly after graduating from Life U, Dr. Bowman packed his bags and moved to the Netherlands, where he would have to tackle language barriers and educate the public on chiropractic benefits in the process of setting up his initial practice. Bowman Chiropractie is located in Barendrecht, Netherlands and has been in operation for over 13 years.
"Since the Netherlands are under socialized medicine, it is a bit easier to get treatment started, to be honest with you. Also, Chiropractic is somewhat unknown here, so we get to introduce it to new people every day," said Dr. Bowman.
His practice gives emerging chiropractors from all over the world the chance to grow in their skills. Dr. Bowman is currently hiring new associates as well, so visit bowmanchiropractie.nl to learn more.
Dr. Bowman splits his time between the Netherlands practice and his new practice, Focus Chiropractic, located in Traverse City, Michigan. Dr. Bowman and his family moved to Traverse City in December 2021 because they "were taken away by the combination of pure Michigan nature with the down-to-earth, friendly people in the area," according to Dr. Bowman's personal bio on The Focus Chiropractic site.
Dr. Bowman and his practices serve patients from all walks of life, offering chiropractic care as well as other services, such as massage therapy, Decompression Therapy and SoftWave Therapy.
Faces of LIFE is a story campaign that showcases members of the dynamic Life U community, including faculty/staff, students, alumni and health science professionals. Interested in being featured or nominating a candidate? We want to hear from you! Email Marketing@life.edu. Read more Faces of LIFE stories.
Related posts