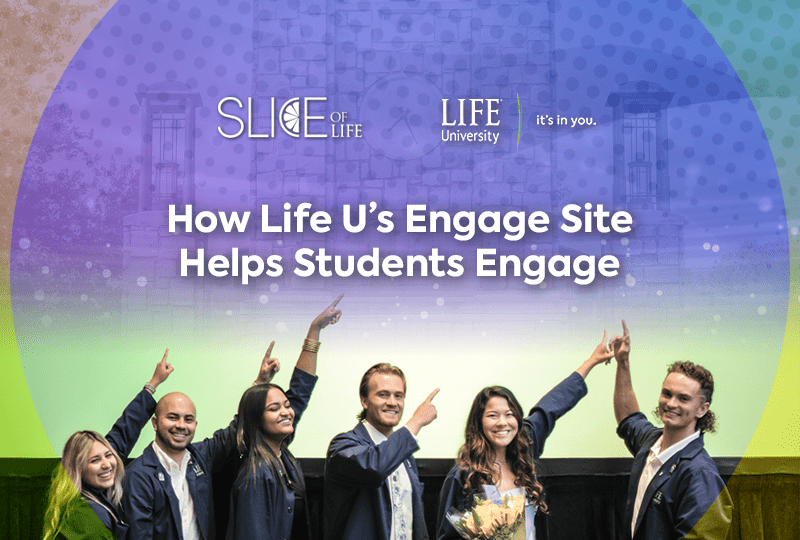 There is a secret weapon that student leaders at Life University (Life U) know quite well, and students who want to be in the know of the latest events around campus familiarize themselves with: Engage.
Located at Engage.life.edu, Engage is Life U's handy and easy-to-use portal letting the Life U community know about organization and club events. The site also allows interested participants to register for events that organizations and clubs have posted.
To log in to Engage, you must first create an account using your Life U student credentials. Once you have done so, you will have access to the Engage platform and its useful tools. The home page welcomes you to "Explore Life University," featuring events coming up soon. The page also lists news items and important campus links.
But let's head on over to the menu bar on the left-hand side or at the top of your browser window to take a closer look at all that Engage has to offer.
Events Calendar
The events calendar can tell you about most of the official public happenings hosted on campus and online. The calendar also boasts a ton of filtering capabilities to narrow down the items of most interest. For example, if you are really looking for something to plug into quickly, you can select the "Tomorrow" or "This Weekend" tabs. Otherwise, you can customize your search by selecting starting date in the "Ending After" prompt, which will give you results of all events following that date. Alternatively, it is also possible to look at past events for historical purposes.
If you are looking for virtual events, be sure to hit the "Online" tab. Some events are hybrid, meaning they meet in person yet also offer a Zoom option. Check specific event descriptions for guidance.
Other ways to identify your next event are searching based on themes, categories and perks. Available themes are cultural, social and learning. Categories is a bit broader, listed as CAB (Campus Activities Board), Chiropractic, Communication, Student organization or club, and Teamwork. And of course, perks is pretty self-explanatory, but these filters allow you to search for credit opportunities, free food and free stuff.
Lastly, there is the standard search bar to use keywords to find something more specific.
Organizations
Listed in alphabetical order, the Organizations page tells you about all the officially recognized clubs and groups on campus and provides resources to learn more and connect. Similar to the events calendar, this page allows for different kinds of filtering; in this case, it divides into branches and categories. The possible branches are Departments and Committees, Residence Life, Student Engagement and Leadership, and Volunteer Opportunities. Categories include Academic Support, Chiropractic, Chiropractic Technique, Faith-Based, Leadership Programs, Multicultural and Pre-Professional. There is also a standard search bar.
Here at Life U, we love seeing new and exciting ideas take hold. To that end, if you have an idea for a great new student organization, there are some things you will need to prepare before submitting your proposal through Engage and Student Affairs.
To start your own organization, the main requirements are:
Three members that will comprise the executive board consisting of a President, Vice-President and Treasurer.
One faculty or staff member who will serve as the organization's Advisor.
A Constitution that outlines the club's policies and bylaws.
10 interested members (this can include your executive board)
News, Forms and Services Opportunities
The news page offers a more in-depth look at important Life U events. The forms pages list many needed forms for important behind-the-scenes functions. And the Service Opportunities page, partnered with GivePulse, lists vital local service opportunities and a way to log service hours by creating a GivePulse account.
Take some time to explore Engage and find your next amazing group or event to connect with.
Slice of LIFE is an invitation to and extension of everything happening at Life University. Whether you are a current student, a potential freshman or a proud alum, Slice of LIFE can help keep you connected to your academic community. Know of a compelling Life U story to be shared, such as a riveting project, innovative group or something similar? Let us know by emailing Marketing@life.edu.
Related posts