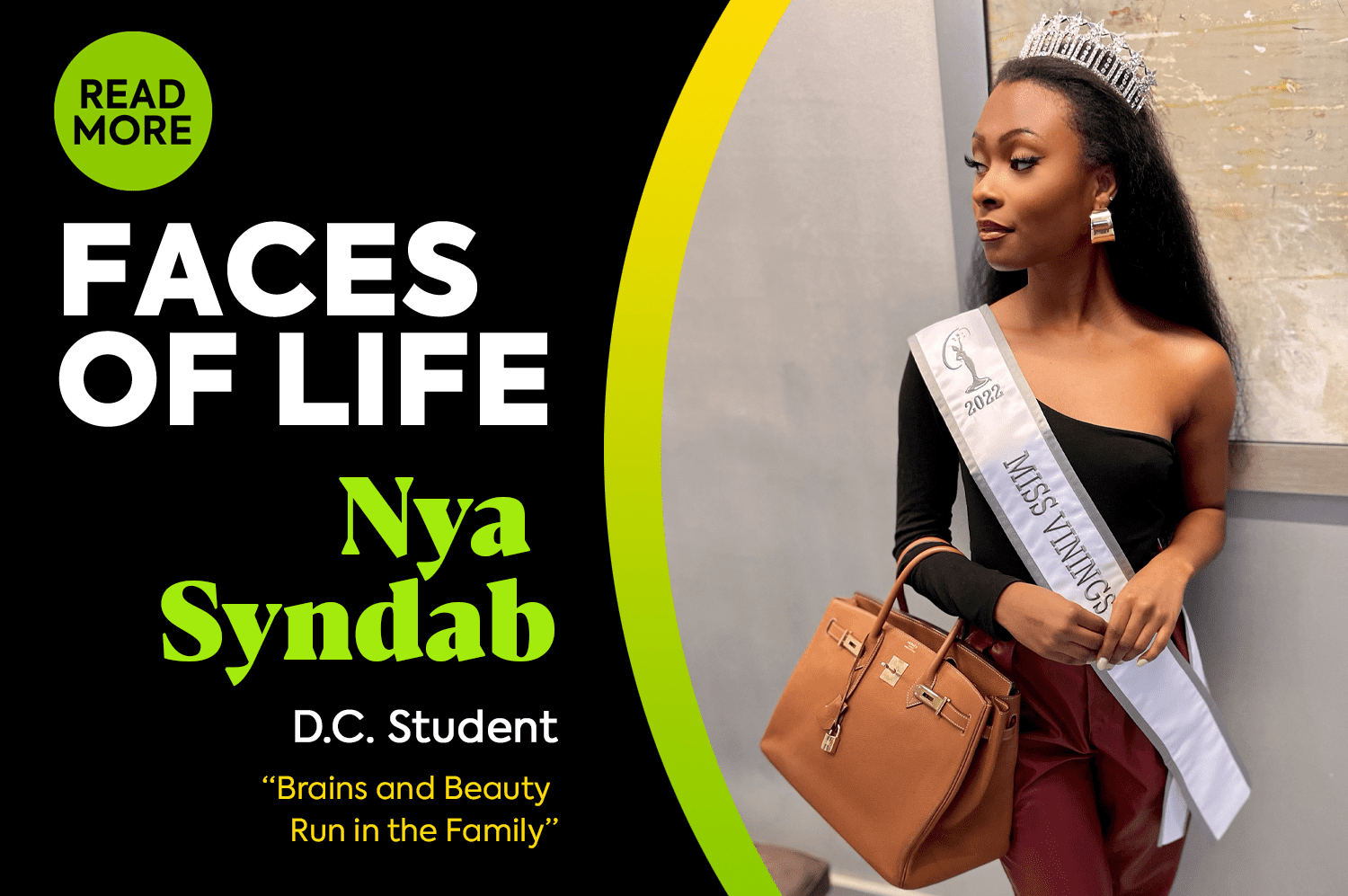 Faces of LIFE – Nya Syndab
D.C. student
"Brains and Beauty Run in the Family"
Newly crowned as Miss Vinings Georgia 2022 and preparing to compete in the upcoming Miss Georgia pageant, Nya Syndab "is living the dream right now." Syndab is currently enrolled as a Doctor of Chiropractic (D.C.) student at Life University, and though they say heavy is the head that wears the crown, Syndab appears to carry her challenges with grace and levity.
Born and raised in South Carolina, Syndab learned strong family values from her mother and father, a teacher and a preacher respectively. Persistence and passion seem to be inherited traits here, as Syndab's mother Stephanie M. Jackson has a notable life journey for which her daughter expresses great pride and admiration.
Jackson raised Syndab and her brother as a single mom. She quit her job as a high school teacher to pursue her educational and career goals, first attending Spelman College and later completing her D.C. degree at Life University at the age of 50. What make that journey extra special is that much of the time she attended Spelman College and later Life University, her daughter was right beside pursuing the same dream.
"I love Life U so much because we have such a diverse background. I went to Spelman College; it was a majority of black women, and coming to Life U and learning from different ethnicities – I love that we all come together to learn for the love of Chiropractic. That is what I really enjoy about Life U," Syndab said.
Syndab makes a point to set aside the time to study and be vulnerable enough to ask for help, as she utilizes the tutoring services Life U offers to bolster her understanding. That same level of dedication that propels her through her studies at Life U will hopefully lead to victory on the runway at Miss Georgia and maybe even the chance to compete in the Miss USA pageant if all goes well.
Syndab began her interest in pageantry from a young age, and it served as a safe space for her while her parents went through a divorce. In fact, she even built her platform around serving children from homes affected by divorce and "to help them have a safe space to talk."
She sees the pageant system as a great way to showcase her philanthropic goals, and to "push past fear" in her own life, to grow stronger mentally and physically.
We at Life U wish her luck on the stage and in the classroom. Syndab shares a fair amount about her pageant journey on her social media platforms, so stay tuned for updates.
Faces of LIFE is a story campaign that showcases members of the dynamic Life U community, including faculty/staff, students, alumni and health science professionals. Interested in being featured or nominating a candidate? We want to hear from you! Email Marketing@LIFE.edu. Read more Faces of LIFE stories.
Related posts