Dr. Nicole McCarty
"Give Yourself Grace"
Alumni: Doctor of Chiropractic
Former Life University Adjunct Faculty
May 2021
Family is very important to Life University alumna Dr. Nicole McCarty. In addition to raising her toddler daughter, Dr. McCarty is a caregiver to her grandparents and her mother, who is in remission from multiple myeloma. She also runs her own practice as an integrative health doctor and wellness coach, helping people with a wide range of concerns including fitness, nutrition and stress management. Dr. McCarty's interest in health and her experience as a teacher and coach eventually led her to LIFE.
"I knew I loved neurology. I loved how the brain worked, and I loved how the body worked. I knew I wanted to pursue my doctorate. I just didn't know what avenue to take," Dr. McCarty explained. "I was in Orlando, and I was coaching girls' track and field and weightlifting while I was down there. One of the area chiropractors would come and adjust the girls."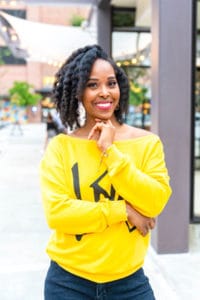 At the time, Dr. McCarty was unfamiliar with Chiropractic.
"I didn't really know anything about it, but he suggested I give it a try, and I did," she recalled. "My hip pains – I haven't had those issues since then, and they were debilitating. They would put me on my back; they were that bad. He said to me one day, 'You know, you were born to do this.' So he handed me a packet for LIFE and said, 'A year from now, this is where you're going to be.' And I laughed, like, 'I'm not moving to Georgia, sir!' But a year from that, I was moving to Georgia, so never say never! And it was the best decision ever."
While at the University, Dr. McCarty completed both the D.C. program and earned a Master of Science in Sport Health Science (SHS), focusing on Sport Injury Management and Sport Chiropractic. She was also a Student Ambassador and later spent five years as an adjunct faculty member in SHS and Clinical Sciences. Now, she considers LIFE to be part of her family.
"I love the students. As goofy and free-loving as I am right now, I'm the same way in the classroom," she said. "It makes it fun when I'm helping them to attain their goals and reach their goals, and teaching them new concepts. You might as well just make it fun, make it entertaining and of course, I would also infuse my real-world experiences. When I was a student, I had certain professors who did that with me, and I really valued that. The ones who still stick out and made an impact were just authentically who they were."
Dr. McCarty said that authenticity can be seen across the LIFE community, grounded by the University's guiding principle of Lasting Purpose.
"When you're at any company, the best teams and the best environments are the ones that foster a culture where you invest in the vision of the visionary," she explained. "I invested in the vision and the principles – to give, love, serve, do, out of your own abundance. Those were a part of my core principles I think before I arrived, so it just gave life to them, being in that environment, which as a student was great. I was able to serve as a Student Ambassador and still experience LIFE as a student and do all these things. I just loved it so much, so when I was asked to teach, I was like, 'Absolutely! I'd love to!' I wanted to be one of those professors who made a difference in the lives of students. Students would say, 'You know what, Doc? You really helped me.' And I think I did that."
While everyone is living increasingly busy lives, Dr. McCarty's advice is, "Give yourself grace."
"There's a lot of pressure to do a lot of things," she said. "You have to give yourself grace to just exist from one moment to the next. We all have a list of, like, ten million things on our to-do list, so if you accomplish just one, then you've made progress. Every day is not going to look the same. One day you might accomplish one; one day you might accomplish 12, but just take each moment as it comes and give yourself grace."
Related posts