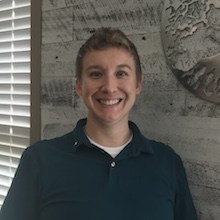 Evann Desjardins
Remember the Past, Advance the Future
Student: Doctor of Chiropractic
October 2018
When Evann Desjardins graduated from Furman University in Greenville, South Carolina with a Health and Exercise Science degree, she knew where she would further her education – a school for physical therapy. Having been a Division 1 soccer player throughout her time as an undergraduate, she was very well acquainted with athletic injuries and subsequent physical therapy visits. Yet, Desjardins ended up at Life University and is now studying to become a chiropractor.
"Chiropractic was never really a part of my life growing up, and yet with all of the athletic injuries I had, it could have really drastically improved my life," Desjardins says about her change of thought and career. After applying to several different physical therapy programs after graduation, and because the field is so competitive, Desjardins had to be placed on several school waiting lists.
She then decided to take a little time off and returned home. While there, she reconnected with a former college soccer teammate whose father is a chiropractor in nearby Lexington, South Carolina. The doctor was looking for a chiropractic assistant, and Desjardins worked there for two years and loved it. But still being a little unsure about the 'Chiropractic versus physical therapy' route, she decided to compare the two by then obtaining a job at a physical therapist's office for a couple years. But, one day she asked herself, "What am I doing here? I want to specialize in the spine and be a chiropractor!" It was then that she made the move to Marietta and started school at LIFE, and she adds, "It's the best decision that I've ever made."
Something else that helped turn Desjardins in the direction of Chiropractic is that when she was taking classes as an undergraduate, her favorite studies were nutrition and lifestyle-based preventive medicine classes. She realized that her personal philosophy much more closely aligned itself with Chiropractic rather than physical therapy (PT) because the PT philosophy is more of a "fix what's broken" instead of the "prevent the break" philosophy of Chiropractic.
She explains, "I've always known that you can live healthfully without sick care by letting the body just do what it was designed to do. I've always had that mentality, but I just never knew that was basically Chiropractic, until I found Chiropractic."
Desjardins says that her parents were not familiar with Chiropractic, and with a grandfather who is a medical doctor, she only knew of the traditional medical model as a child. So now one of her strongest passions is to make people more aware of Chiropractic to help inform them of its purpose and what it can accomplish. She says, "Now, I continually dip my parents and grandfather into the 'chiropractic pool' little by little to ease them into the concepts of Chiropractic."
Desjardins adds that the concept of principled Chiropractic speaks so much to her since, as she puts it, "You can't know where you're going until you know where you came from." She laments that for some, as Chiropractic has evolved, it has lost some of what D.D. Palmer intended to be the "capacity and magnitude of Chiropractic." "It's so important to me because I feel like that's what Chiropractic is really supposed to be, and we should stick to its founding principles."
Desjardins believes that there are incredible opportunities available here at Life University. She says, "We are blessed here, especially as I've realized after talking to students at other schools. We have everything here that you need to prepare for your career, and if you dive into the extracurriculars, you'll also help yourself with your business knowledge, people skills and just about everything else that you may need."

LEARN MORE:
Faces of LIFE is a story campaign that showcases members of the dynamic LIFE community, including faculty/staff, students, alumni and health science professionals. Interested in being featured or nominating a candidate? E-mail LIFENews@LIFE.edu. Read more Faces of LIFE stories.
Related posts