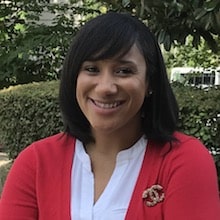 Takieta Clark
The Beauty of Chiropractic
Student: Doctor of Chiropractic
September 2017
"When I did my first adjustment, it was so amazing that I was even tingling all over! That's what this journey is all about … making a difference in the world one patient at a time. But, the best part is that I still get that tingly feeling every time I do an adjustment."
As Takieta Clark speaks those words, she truly exudes joy and says that she feels that anyone meant to be a chiropractor can feel that same joy. Now in the tenth quarter of her pursuit of a D.C. degree, Clark says that she originally just "stumbled" upon Chiropractic, but soon found the beauty in it. With a B.S. in Sports Management from Faulkner University in her hometown of McCalla, Alabama, Clark says that she had not initially planned a path to LIFE.
Before choosing Chiropractic, Clark was working as a paralegal who dealt mainly with auto accident victims. During the course of her work, she reviewed their medical bills and saw the injuries that they had sustained. While she always wanted to be of service to others, it was then that she started feeling the desire to somehow help treat those in need of care.
She started reading what she could on various aspects of the healthcare field and started looking into physical therapy. However, somehow everything fell into place extremely quickly after she discussed her thoughts with her sister – who had previously been looking into Chiropractic as a profession. When her sister found LIFE online, she felt that it was an "amazing school." Interestingly, her sister decided on the nursing field, and Clark decided on LIFE.
While Clark did not attend a LIFE Leadership Weekend, she did perform copious research online. "I read student comments and the University and the education that they were receiving. I could also see how diverse the student body was. I did, however, attend orientation, and that was an affirming event for me. I call it an 'ah ha' moment. I guess it was truly meant to be."
And now with her sister in a traditional medical field, she says that they like to compare notes about their respective fields. She says that her sister is very open minded and recognizes the benefits of Chiropractic. "And I love hearing her side of it, because the fields are similar in that we are both trying to reach the ultimate goal of the very best health of our patients."
Speaking of her family, Clark says that she has received inspiring support from them, but she has a very special booster – her father. "My dad was my very first patient in outpatient clinic, and he drove here every Friday from Birmingham just so that I could do his adjustments." Clark chuckles when recounting this and makes sure to say that she did, eventually, find a chiropractor that was local to him so that he would not have to make the long drive here anymore.
And as far as support is concerned, Clark also says that it is boundless at LIFE. From the camaraderie of her peers at orientation to how everyone checks in with each other now, she says that it is like a family here. "That type of support network really makes a positive difference – especially when you don't have family located nearby. I have my own mini-family here at LIFE."
Clark is now working in LIFE's outpatient clinic and says, "The clinic is really preparing me for becoming a doctor, and I now realize just what type of chiropractor I want to be. I went into clinic with the knowledge and skills of many different techniques, yet as I practiced, I honed them down to a certain few that work best for me … and that gives me the knowledge and confidence to set up my own practice."
About her future practice, Clark says, "I plan to go back home to the Birmingham area and hope to make a difference in my community there. There are some people who are more closed off to Chiropractic and would be more apt to go to the medical doctor before trying it. I feel, though, that if they see that you truly care about them, then that may help bridge the gap, even if it might be one patient at a time." Ultimately, she feels that if she remains open to her patients' needs and health goals, then she can be an instrument in helping them live up to their full potential.
When discussing the success of future chiropractors at LIFE, Clark says, "For those who choose LIFE's D.C. program, I feel they already have a particular philosophical mindset that works well here. I suppose someone without it could be successful, but in a different way. They may be financially successful, but they will never fully feel the joy of Chiropractic, and that is the most important part to me."
LEARN MORE:
Faces of LIFE is a story campaign that showcases members of the dynamic LIFE community, including faculty/staff, students, alumni and health science professionals. Interested in being featured or nominating a candidate? E-mail LIFENews@LIFE.edu. Read more Faces of LIFE stories.
Related posts