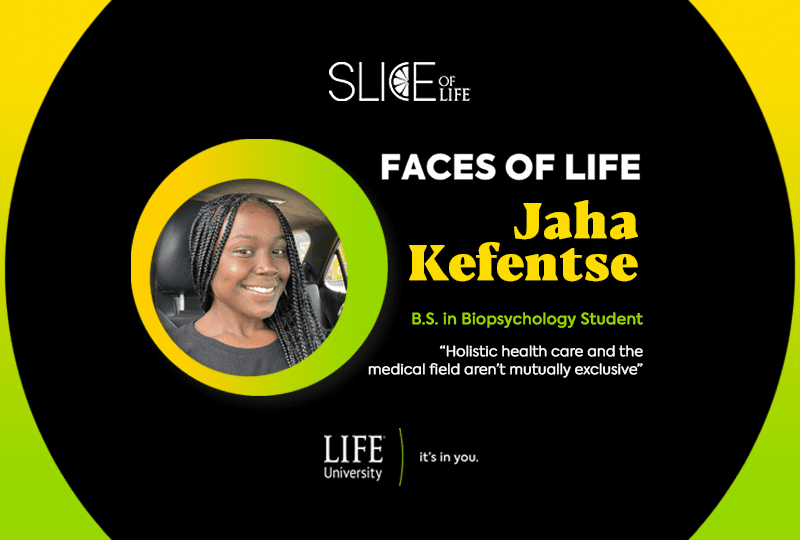 B.S. in Biopsychology Student
"Holistic health care and the medical field aren't mutually exclusive"
Jaha Kefentse is a B.S. in Biopsychology student at Life University (Life U) who grew up in the Bay Area of California with her two older brothers and her loving mom and dad. She also has two other older siblings.
Kefentse played competitive soccer for more than 10 years and travel softball for five years. She loves working with kids, as she grew up babysitting and working as a camp counselor. After high school, she took a year and a half off to take a break before starting college and to think about her future career goals. She knew she wanted to do something in the medical sphere but needed to narrow it down. Kefentse attended Xaxier University of Louisiana before transferring to Life U in 2019, originally as a B.S. in Biology major before switching to Biopsychology.
"What I enjoy most about attending Life U is probably the friendliness, just in passing, people you don't know. Most of the time you are welcomed with a smile. I've always enjoyed nature, so definitely the campus is a nice aspect," said Kefentse.
Kefentse recently discovered that Life U students can receive free chiropractic adjustments through our clinics, so she has started receiving adjustments from a Life U intern.
"It was very helpful. I have a lot of old sports injuries. I played competitive sports for a long time, so things are starting to present themselves, things that didn't use to hurt, but now that I am getting older have started bothering me: aches and pains. I've seen through adjustments I've been getting some ease. It has eased the pain definitely," said Kefentse.
In addition to her studies, Kefentse keeps busy as a Work-Study student in the Admissions Office, assisting prospective students and incoming freshmen through various informational tasks and events. She has decided that she wants to become a pediatrician, and she currently works as an after-school teacher leading STEM projects when school is in session, as well as a camp counselor in the summer.
"Even though I intend on being an MD and going to medical school, […] I want to have holistic aspects and elements to whatever I do because I grew up holistically and believe in the power of the body [to heal itself]," noted Kefentse.
Faces of LIFE is a story campaign that showcases members of the dynamic Life U community, including faculty/staff, students, alumni and health science professionals. Interested in being featured or nominating a candidate? We want to hear from you! Email Marketing@life.edu. Read more Faces of LIFE stories.
Related posts