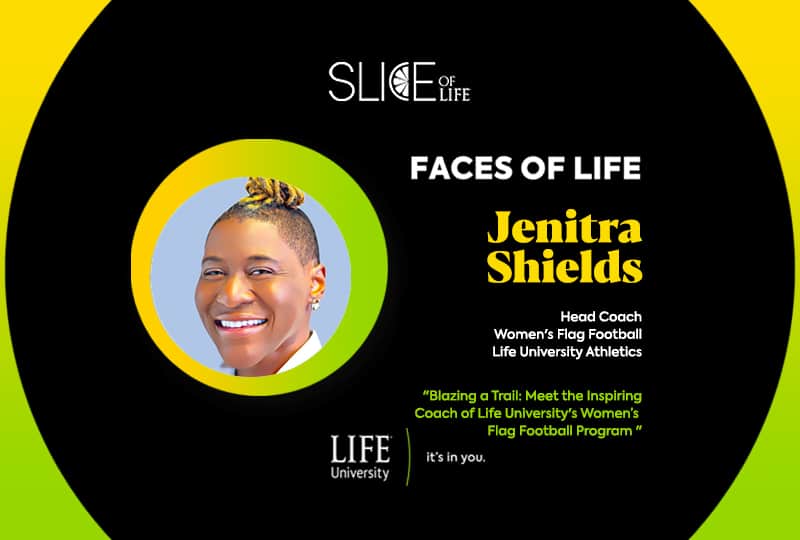 Life University Women's Flag Football Head Coach
"Blazing a Trail: Meeting the Inspiring Coach of Life U's Women's Flag Football Program"
Meet Jenitra Shields, the Head Coach of the Women's Flag Football team at Life University. This team is part of the Sun Conference in the NAIA and is the first of its kind at Life U. Shields began working at Life U in September 2022 and has already been hard at work getting the team ready for the upcoming season. She recently got the schedule for the team, but there will be a few changes to it before it is finalized. Shields is no stranger to starting up innovative programs, as she has taken assignments to do so on both the high school and collegiate levels. She is excited now to be building this inaugural program here at Life U.
"It has been remarkably interesting so far. I am learning something new every day. I feel blessed to have constant guidance, direction and support from our Athletic Director's cadre always on the job. I know we will be successful with the stellar leadership in place and following the examples set for me," said Shields.
This team is being created from the ground up by Shields, and she is tasked with the job of creating a brand for the team, building websites, compiling a contact list and heading up the recruiting process. She is also responsible for gaining partnerships with endorsement opportunities, sponsorships and community relations. Shields is excited to be given the opportunity to create this team from scratch and is looking forward to a successful first year. The team will begin competing in the spring of 2024, which is when the college flag football season begins. Shields is confident that the program will be up and running very quickly.
"It is really a very innovative concept that comes with a new sports team being inaugurated. Lots of eagerness and wonder is circulating regarding the work I am doing to get this program up and running, but everyone is so respectful of my process here, which is what I really love about this university. They give me the time, and I get the results," said Shields.
"One goal is to strategically place our brand across the nation, so people know Life U has a women's flag football program. We want students to come here and enjoy Life U as a school because the school's offered programs are phenomenal, the campus is beautiful and the Athletic Department is top tier. Our Athletic Department has already won 36 national championships since its inception in 1976. So, when Alaina calls you to join a team like that, you say, 'Absolutely, and how can I help?'"
Shields is a Georgia peach with Alabama edges. Raised in Clayton County, Shields attended Moore High School in the 1990s. During this time, Clayton County hosted the 1996 beach volleyball Olympic games. Shields was a state competitive pole vaulter, which earned her over a half-million dollars in scholarship offers as a sophomore in 2002 for her performances at 15 years old. She went on to play Division III volleyball at Albany State and had a track and field scholarship. She then transferred to the University of Arkansas at Pine Bluff to pursue her love of volleyball, graduating with a bachelor's in psychology as a Golden Lion alumna in 2009 as a 3-time MVP at position 3 (Middle Blocker).
Since then, Shields has worked in many sports management roles and camps and was a sight leader for the Atlanta Falcons Summer Camps. She has trained NFL players for football and coached varsity boy's tackle football and girl's volleyball. During the COVID-19 pandemic, Shields learned how to DJ and went on to get her master's degree in entertainment business with a sports management track from Full Sail University in 2021. This combination of talents has enabled her to do her work well. She is the youngest girl of six siblings, with four older sisters and one younger brother.
In 2017, Shields competed in and won the gold medal with Team USA in tackle football. After four years of training and dedication, she was selected to compete in the USA Trials in 2017. Unfortunately, during the All-Star Club women's tackle game in August of that year, she broke her ankle at the age of 27. Despite this setback, she took excellent care of her injury and was ready for the trials the following March. Out of 300 players who tried out, she was one of the 50 selected to make the team. Her coach was so impressed with her defensive skills that he moved her to this position. The team went on to beat Finland, Mexico and Canada to win the gold medal.
Shields is considering obtaining a Doctor of Chiropractic degree at Life University as the program is well established. She loves the science behind how the body works and is eager to further her knowledge in the field of biomechanics and follow in her late father's footsteps in the engineering industry but with a kinesthetic focus instead of mechanical. Shields feels like she has found her tribe at Life U because she can relate to the mission and talk very scientifically. She recently volunteered on campus for the Gender Equity Fair where one of their projects was to work on making words gender-neutral.
"I am human being first before anything else. I care about everybody in the room. Every human deserves to be treated with fairness, equality and respect, no matter who they are, no matter their gender, race – everybody is human first, and that is the motivation of commonality to coexist in peace. Love is an action word, and showing love is everyone's responsibility!"
Shields played football for the first time in 7th grade in 1999 with the boy's tackle football team at Morrow Middle School and was the only girl on the team. She often got compliments on her sharp cutting ability and good footwork on her pigeon-toed stance.
"I got so much heat from the cheerleading team. When I would go into the locker room to get dressed, it was a field day with very pressurized questions. 'Why are you wearing that? What are you doing with those pants?' The football coaches were all men, but they embraced me. They told me how athletic I was and that I had great footwork. By them telling me that, it turned me into a world-class athlete because I was so proud of my footwork. I always wanted to earn faster feet. Good feet, good hips, great athletic performance!"
Knowing that she had great footwork, the technical ability translated to all the other sports that she played. She shared that "all sports come from the feet up."
Her words of wisdom to others, "Serve all humans. If you serve all humans, you do not have to worry about anything because you know you did your best work, you know you served a human that presented themselves to you without prejudices and you also know you did not underserve your own gifts doing the work halfway. You can leave work proud with that mentality every day."
Be sure to follow the progress of the Women's Flag Football team and show your support!
Prospective student athletes for the inaugural Life University Women's Flag Football team can click on this link: https://liferunningeagles.com/sports/wflag.
Faces of LIFE is a story campaign that showcases members of the dynamic Life U community, including faculty/staff, students, alumni and health science professionals. Interested in being featured or nominating a candidate? We want to hear from you! Email Marketing@life.edu. Read more Faces of LIFE stories.
Related posts