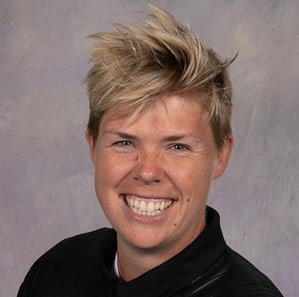 Sam Clark
Embracing LIFE's Challenges
Staff: Head Coach for Women's Soccer
April 2020
"A typical day is always busy. We don't go nine to five, we often work 12 to 16-hour days. We've got to love our families and spouses and kids for understanding that," said Sam Clark, Head Coach for Women's Soccer at Life University, describing her average day at work. "But there is no typical day, and I think that is one of the most intriguing and most wonderful things about athletics – it's always a new challenge."
Sam Clark grew up in Kansas City, Missouri. Her dad is a truck driver, and her mom is a librarian. "We are the good old, classic midwestern family." Clark said. "I moved a lot of places because of soccer, and then I settled in Georgia, got married and have a son."
Clark started working at LIFE in September 2015 and actually started the soccer program at the University. "I was actually a director at a youth soccer club in the Atlanta area, and a bunch of serendipitous events happened that got me here." Clark's boss was running the software at LIFE, and he had heard through the rumor mill that they were planning on bringing men's and women's soccer. "So, he and I were just chatting one day, and he goes 'well why don't I drop your name to the AD?' who at that time was Dan Pane," Clark explained. After that, she was interviewed and got the job. The Women's Soccer team's first competitive season began in the fall of 2016.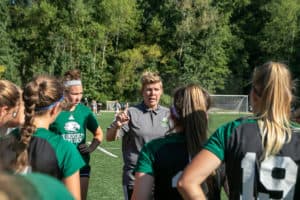 When Clark came in, LIFE had men's basketball and their famed rugby teams, but besides that, the Athletic Department was fairly small. The new athletic coaches introduced women's soccer, women's basketball, and reintroduced men's soccer. "What was neat was being able to start the program and build our own culture from scratch." Clark said. "That was the same for most of the Athletic Department because we didn't' have as many sports as we do now with 19 athletic programs, and we had four programs just four years ago."
"We were allowed to create this great environment at LIFE. All of our teams are doing extremely well; my collogues are dedicated and committed people who really help our athletes shine. We are doing our best to bring in the best student-athletes. We are making strides and are a proper Athletic Department."
Reiterating that no day at work looks the same for her, Clark said, "You can schedule training and weightlifting at a certain time, but we're doing so much more than that. I have 30 kids on my roster, and there is always something that is being dealt with or handled." Clark really loves not having that much consistency in her day because she likes there to be a bit of a challenge and excitement each day she goes to work.
Clark shared that the Athletic Department is always hosting recruits on campus and doing tours. They are also on many committees trying to make things better for all the student-athletes.
Usually Clark doesn't have that much free time, but lately she has a bit more because the team isn't currently doing as much training. "With the current conditions, it's interesting because a lot of our student-athletes are international students and had to return to their home countries for the time being," Clark explained. "We have 13 different countries represented on the roster, so we are still communicating with them. Due to the time differences, it might be at 6:00 a.m. or 9:00 p.m."
"So honestly, what do I do in my free time? I am touching base with my student-athletes and making sure they're okay, that they are registered for classes and have their books," Clark continued. "Other than that, I've been playing badminton with my family. We've been going on lots of runs and walking the dogs a lot. My free time is dedicated to my family."
Clark feels like LIFE's Lasting Purpose is something that drives a lot of decisions that she makes, especially the older that she gets in this profession. She believes it is the foundation for which you should interact with people. "My student-athletes have constant challenges – struggling in classes or family issues – so whenever there is an opportunity to have an interaction with them with Lasting Purpose in mind, I think it makes a world of difference."
Clark shared her words of wisdom to both present and prospective students. "I think one thing that we all need to be aware of is how agile we can be in certain situations. Life will always throw curveballs at you, so be ready to adapt. That is really what life is about no matter who you are."
LEARN MORE:
Faces of LIFE is a story campaign that showcases members of the dynamic LIFE community, including faculty/staff, students, alumni and health science professionals. Interested in being featured or nominating a candidate? E-mail Natalie.Esparza@LIFE.edu. Read more Faces of LIFE stories.
Related posts