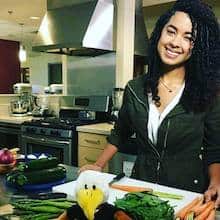 Hellen Diaz
Passion and Purpose
Student: Dietetics
January 2018
Now at Life University pursuing a Bachelor of Science degree in Dietetics, Hellen Diaz has come a long distance from her home of Cartagena, Colombia, by way of Fort Lauderdale, Florida. Graduating next quarter, Diaz plans to pursue a dietetics internship here at the University immediately afterward.
Diaz says that she has always been interested in holistic health care, and even attended school for training in massage therapy in Colombia, but she said that it was not the right fit for her since she felt no "passion" for it. She says, however, "When I had the opportunity to take nutrition classes as part of my training and implemented some of the things that I learned, I was able to see improvements in my clients." She says that she now realizes that good heath is not about aesthetics (what is on the outside), but what is going on inside our bodies. It was at that point that she made the decision to study the science behind nutrition.
The next step that Diaz made was to find a school that she felt comfortable with and one that would give her life more "meaning and substance," as she puts it. She adds, "I decided that since I had to move anyway to pursue my major, I would look for a school that I wanted to attend instead of just settling for one." She says that when she read that LIFE is ranked as one of the top 50 nutrition programs in the U.S. by Public Health Online, that it made a very positive impression on her.
She continues, "I then went to an Eagle Madness and felt that LIFE really aligned with what I was looking for. The philosophy truly spoke to me, so I knew that I wanted to attend." She notes that LIFE was not the first school she visited, but it was definitely the last since the others did not offer nearly as well-rounded a nutrition program. So, it was then that she transferred to LIFE from Fort Lauderdale's Broward College where she had obtained an Associate Degree in Science.
Diaz says that food and nutrition truly are her passion now. She knows that this is what she was meant to do and could not be happier about it. She adds, "Plus, I love to cook. It is also a passion that I discovered later in life since I was never interested in it when I was growing up. And now, it's gotten to the point where I cannot go a day without cooking because I love it so much!" She notes that her cooking has changed since coming to LIFE because she now knows more of the science behind nutrition and is more able to translate that into a recipe. "Usually, people just eat what's on their plates and don't think about it actually being good or bad for them. Most people eat for pleasure or out of necessity and not really to nurture their body, but I want to help change that," she says with a smile.
After graduation and licensure, Diaz's plan is to work in a public health agency or non-profit organization for a couple of years to gain experience. And after that, she plans to obtain a master's degree or Ph.D. in nutrition and food policy to gain the skills necessary to work on larger programs, such as the Supplemental Nutrition Assistance Program (SNAP), so that she can advocate for better food choices for underprivileged individuals.
As she reflects on her time at LIFE, Diaz says, "I definitely owe so much more to the University than I could have ever imagined. When I first came here, I was always very vocal about my opinions, but I never knew how to put my opinions into something productive. So, one of the first things that I did was to get involved with life here on campus." She says that after her first three quarters, she applied to be a Student Ambassador, which has since helped her to grow as a leader, noting that those around her have seen her blossom from the experience.
Diaz is also involved with the Campus Activities Board (CAB) and uses her position to encourage undergraduates to step up and become involved in campus life. She feels that one's career does not start after graduation, but long before as the development of positive traits and a good work ethic can be fostered as an undergraduate.
"As a Student Ambassador, I regularly have the chance to speak with prospective students at LIFE Leadership Weekend and Eagle Madness events, and I always take that opportunity to share my experience with something that attracted me to LIFE – Vitalism," Diaz explains. She goes on to say that she wants all prospective students to understand that while the vitalistic philosophy may have been born of Chiropractic, it is still the underpinning of all of LIFE's degree programs. She adds, "We have a beautiful philosophy here, and we need to make sure to be connected to it from the beginning."
She acknowledges that she does not ever try to "sell those prospects on a school that I do not believe in or that this is a perfect place," because she knows that it may not be perfect for everyone. But for those who do attend LIFE and with whom it resonates, "this is going to be the best four years of your life because you are going to make connections with the most genuine people around you on campus in every aspect, from the faculty to fellow students."
Diaz admits, "There's nothing super special about me, but I feel that I, as everyone else, have characteristics that can develop into something greater … and LIFE has helped develop them in me, and I will be forever grateful for that."

LEARN MORE:
Faces of LIFE is a story campaign that showcases members of the dynamic LIFE community, including faculty/staff, students, alumni and health science professionals. Interested in being featured or nominating a candidate? E-mail LIFENews@LIFE.edu. Read more Faces of LIFE stories.
Related posts