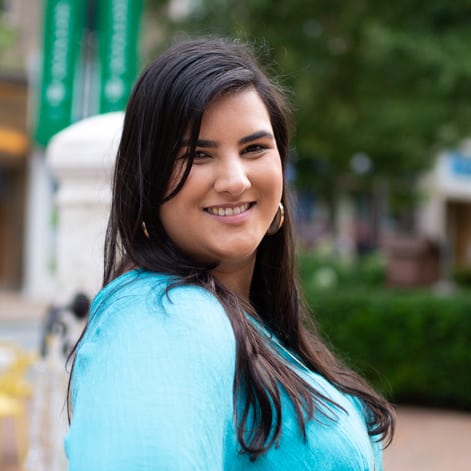 Dr. Dafne Jiménez Pérez
Expand Your Vision
Alumna: Doctor of Chiropractic
February 2021
Dr. Dafne Jiménez Pérez comes from a town in the Central Mountain Range of Puerto Rico called Orocovis, where she grew up with her parents and a younger sister.
"I come from a huge family, and I'm actually the first one who studied further than a bachelor's degree," she said. "It's been exciting to go through this process with all of them supporting me."
Dr. Perez earned her Doctor of Chiropractic degree from Life University in December 2020. She started the D.C. program in 2016 after her best friend recommended LIFE.
"He was the first one who put the 'chiropractic curiosity' in me," she recalled. "I originally applied to med school, and I didn't feel in alignment with everything, because I'm the one in my family who always seeks more natural things for my health. However, I had never heard of Chiropractic before, and he said, 'You should check out Chiropractic – it sounds more like something you would like to do.'"
At her friend's urging, Dr. Perez attended an event in Puerto Rico where she met many DCs and learned more about the profession – including that chiropractors treat children and expectant mothers.
"That was it for me," she said. "It was like, 'This is everything I've always wanted and more, and you can treat moms and kids too? Sign me up!'"
After that, Dr. Perez and her mother attended a LIFE Leadership Weekend on the University's campus where she applied to the D.C. program "right then and there." Dr. Perez emphasized the importance of including her family in the process, especially since they had supported her desire to become a medical doctor.
"I went through that whole process with them, so the sudden change of heart was a bit hard on my family," she explained. "It was literally completely different from one day to the other. I didn't think of it; I didn't question it. It was just something I was drawn into, and I just needed my family on board as well. It was a big deal for me that if I was going to do this, then I had to do it right."
Dr. Perez initially intended to take a full course load in order to finish her degree as quickly as possible. However, when she got to LIFE, she realized how important it was to her that she get involved on campus.
"I wanted to do so many things, because I've always been the girl involved in everything. I just wanted to divide my time properly, and I'm so happy I did that," she said. "I was actually able to travel the world for the school, so it was great!"
One of the organizations she joined was the Life University chapter of the World Congress of Chiropractic Students, which she served as media coordinator and later president.
"I went on to be the Americas Regional Coordinator, which was a big thing for me because I was the first Latina to have that position," she explained. "I was in charge of all the schools in the U.S. as well as Central and South America. It was all very exciting, and I got to meet people from literally all around the world. Learning Chiropractic, learning to adjust was wonderful, and connecting with so many people was one of the most rewarding experiences I had the opportunity to have."
After graduation, Dr. Perez moved back to Puerto Rico to spend some quality time with her family before she starts a job in Ireland this spring. She had two pieces of advice for current and future Life University students.
"I have always been Wonder Woman; I want to do everything by myself, and I want to prove to others that I can do it. In Chiropractic, I learned that it's OK to ask for help. Having a community with me the whole way kept me going in the challenging times," she said. "Also, go to as many seminars and as many clubs as you can, because that's when I actually expanded my vision of Chiropractic. The clubs at LIFE are amazing and have amazing leaders; they're all very passionate about what they do. That's actually the way to find out which niche within Chiropractic is the best for you."
LEARN MORE:
Faces of LIFE is a story campaign that showcases members of the dynamic LIFE community, including faculty/staff, students, alumni and health science professionals. Interested in being featured or nominating a candidate? E-mail Natalie.Esparza@LIFE.edu. Read more Faces of LIFE stories.
Related posts