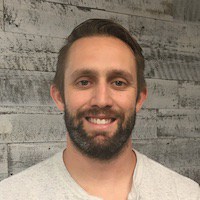 Ben Bayless
Preventing Chronic Suffering
Student: Doctor of Chiropractic
November 2019
Ben Bayless is a fifth quarter D.C. student from Nashville, Tennessee who grew up surrounded by family that suffered from various chronic diseases. Seeing these chronic issues was the catalyst for his journey to Chiropractic. He wanted to explore overall health and wellness and preventive health care became a calling. One thing led to another, "Chiropractic was in line with everything I believed in and everything I was looking for."
During his exploration into preventive health care, Bayless was searching for anything and everything. "I was a fitness trainer for a few years because I believe a healthy lifestyle of exercise and eating well can prevent chronic disease. After a while I wanted to take it a step further and began looking for what came next."
"It was actually my wife that brought up Chiropractic to me for the first time, and she told me she thought I would be a chiropractor," noted Bayless. "It wasn't until then that I even considered Chiropractic, and I started doing my own research and talked to my current chiropractor, who graduated from Life University, to learn more."
Bayless has a lot of family members that are really supportive, but his mother is still a little confused about why she needs to regularly see a chiropractor if she's not currently in pain. "I am doing my best to educate her on why it is beneficial to keep her spine healthy. It's the difference between preventive care versus emergency care."
It was after a LIFE Leadership Weekend here that Bayless was convinced that he was going to go to chiropractic school and attend Life University. I didn't even consider any other schools. "I was recommended a few different schools, but after seeing LIFE and my wife working here for a year, she more or less recommended it for the philosophy and culture." At LIFE Leadership Weekend, Bayless had already been accepted into the school, and it was just a matter of really deciding if he was doing this or not. "I mean that weekend was all it took."
Bayless started at LIFE in October 2018; he moved here from Nashville with his wife literally two weeks before he started school. "I had quit my job in Nashville, my last day was a Friday and the following week was Orientation. So, it was pretty fast."
While Bayless does think the professors are really well versed in what they teach, he wishes the students had more lab work up front. "Every experience comes with its strengths and weaknesses – and I know we have to build a foundation of knowledge from Radiology, Technique or Biochemistry – but it is a lot of lecture, which is really hard to just sit through and absorb." He wishes there was more emphasis on adjusting early and more often in the chiropractic program specifically. "Although we do have lab components, which are good, I always get way more out of lab classes then I do out of lecture. I understand overall there is realistic logistic issues with that though." Overall, he believes this program is a big undertaking, but he knows LIFE has a good reputation for producing really prepared clinicians. Bayless has also learned a lot about work-life balance while at LIFE, especially from his classmates.
"I've learned more in this one year in school than I ever have in my whole life – as far as just being really diligent with learning this brand-new field for me." Bayless came from a health and wellness exercise science background but said a lot of what he is learning is still really new because it's a fresh perspective. "I am learning it through the lens of chiropractic philosophy," he says.
As an extrovert Bayless has really enjoyed helping out on campus and meeting so many interesting people. He is an orientation leader and a Work-Study in the enrollment events office that puts on LIFE Leadership Weekend and Eagle Madness. "The orientation thing was because my wife had worked in the Student Affairs office, and one of the ladies she worked with said they needed orientation leader, and that worked out for me. The Enrollment Events office was a similar connection. I met the person who ran the office at LIFE Leadership weekend, and her connection to both me and my wife led to working with them as well." Working in these two places is how Bayless chooses to incorporate LIFE's Lasting Purpose by serving and giving his time to helping new students.
Bayless hopes to graduate in December 2021, if he graduates a quarter early, or March 2022 at the latest. After graduation, he is not sure where he and his wife will settle down. "I am from Nashville, and my wife is from South Florida; we like both places. My wife's job will probably keep us in Georgia for the immediate future, but after that, we are looking to relocate and are open to wherever that may be."
For prospective or current students, Bayless says, "You have to be wise about your time, get sleep and take care of your body during this process. Everything is doable; it can be a lot, but it's doable."

LEARN MORE:
Faces of LIFE is a story campaign that showcases members of the dynamic LIFE community, including faculty/staff, students, alumni and health science professionals. Interested in being featured or nominating a candidate? E-mail LIFENews@LIFE.edu. Read more Faces of LIFE stories.
Related posts