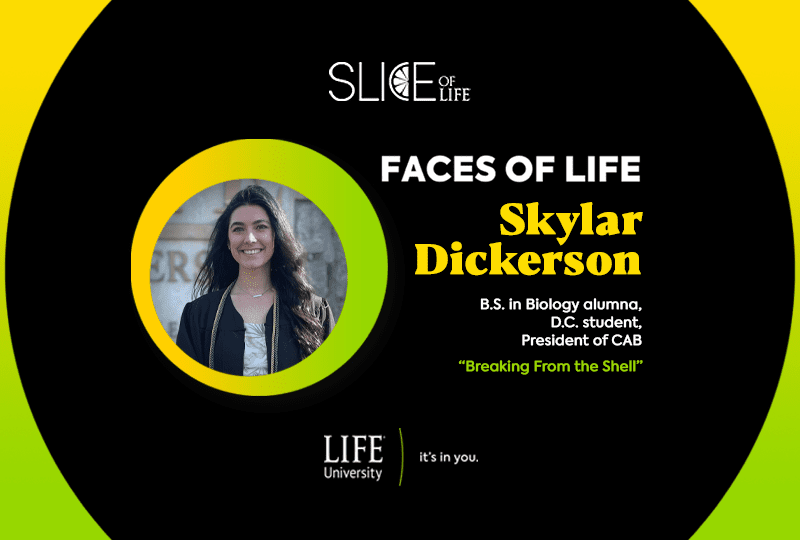 B.S. in Biology alumna, D.C. student, President of CAB
"Breaking From the Shell"
Texan-bred Skylar Dickerson grew up with her family of four, her younger brother and her parents. As an avid participant in several high school sports, Dickerson enjoys staying active but has also learned how to manage the toll that physical activity and injury can take on the body.
Dickerson has a back injury with reoccurring flare-ups sustained from high school volleyball managed through chiropractic care. A Chiropractic Assistant (CA) position opened up while she was receiving care from her chiropractor at West Functional Chiropractic. Her mother worked as a general manager in the chiropractic office at the time and suggested that Dickerson apply. Dickerson agreed and soon enough began working as a CA there.
"When I worked as a CA, it was an amazing experience to work alongside a vitalistic doctor and learn more about what Vitalism is. Seeing new patients come in and being the first person to meet them had given me first-hand experience of watching their journey of health," Dickerson said. "I had just been fascinated in watching patients become completely different people and seeing their transition."
Later on, the office welcomed a PEAK student from Life University (Life U), a senior intern completing clinical requirements in a real-world environment. Through the chiropractic care that she has received and her experiences as a CA, Dickerson developed a genuine interest in Chiropractic as her future career path.
Eventually, Dickerson chose to come to Life U to participate in the Pre-D.C. program, recently completing her B.S. in Biology and now delving into the D.C. program in earnest. She competed with the Life U Women's Volleyball team for a time before her pre-existing back injury prevented her from continued competitive play, though she still plays various sports on occasion for fun. Despite this setback, Dickerson has enjoyed her time here at Life U.
"It's just like a family here, and I really caught on to that. I'm a really shy person; I didn't really go out much in high school. […] But when I came here, it was an instantaneous thing where I came out of my shell," said Dickerson.
Dickerson described attending LIFE Leadership Weekend (LLW) and going to the final testimonial dinner where guests described their experiences with Chiropractic and their future goals. She felt compelled to go up and speak a few words, an unlikely notion for her previously. Since then, she has made an effort to stay involved on campus as President of the Campus Activities Board. As President, Dickerson helps to oversee, create and facilitate student events and programs on campus that are of a fun, educational or stress-relieving nature. Along with fellow CAB Executive Board members, Dickerson also helps to monitor Socrates Café and the Ian Grassam Treehouse as needed. She also serves as an orientation leader.
"I wanted that experience with others because I just love the community here," said Dickerson.
Dickerson is hoping to work toward a leadership role in Student Ambassadors and perhaps Student LIFEforce as well.
Faces of LIFE is a story campaign that showcases members of the dynamic Life U community, including faculty/staff, students, alumni and health science professionals. Interested in being featured or nominating a candidate? We want to hear from you! Email Marketing@life.edu. Read more Faces of LIFE stories.
Related posts