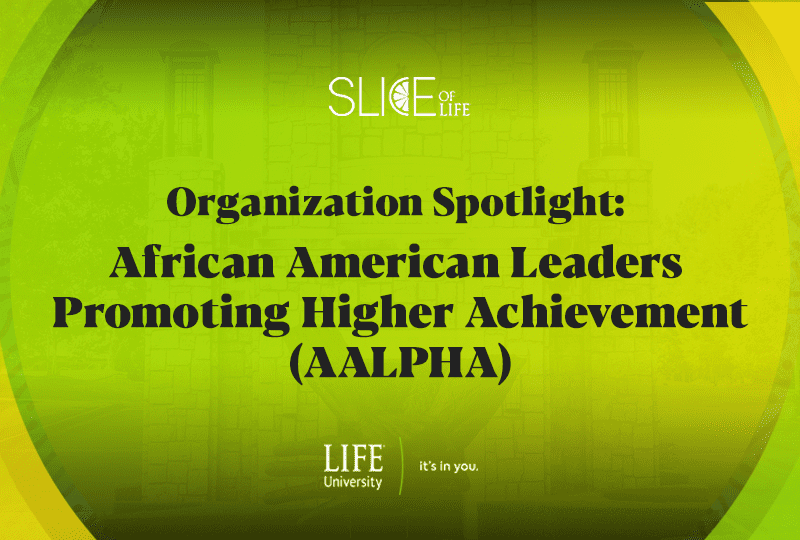 Offered as a designated subsidiary of the Academic Center for Educational Success (ACES) and under the Multicultural Student Academic Support Program, African American Leaders Promoting Higher Achievement (AALPHA) offers academic support resources for students of African, Black descent. This includes undergraduate, graduate and Doctor of Chiropractic students as they transition into a new environment and adjust to their new cultural and academic surroundings. The goal is to guide Life University (Life U) students toward achieving their academic, cultural transition and leadership goals as they join Life U's community.
Mark Pilgrim is an Academic Support Professional who serves as a primary officer of AALPHA. He and the Bilingual Academic Support Professional Kristy Padilla often conduct one-on-one conversations with students to help them understand the lay of the land at Life U and how ACES can support them. It is important to know students on a personal level to better understand what they are hoping to get out of their higher education journey. The other officer on the AALPHA roster is Director of Academic Support Dr. Nicoly Myles, the Director of ACES.
"We want to give [African American students] a connection point and be a one-stop-shop for all they need to succeed," said Pilgrim.
Pinpointing a sense of belonging and acceptance proves paramount to a well-rounded college experience.
"I just enjoyed my time talking to Mark Pilgrim, and he was a confidante for me. AALPHA, in general, was exactly how he described it, programming for us, by us. It is a safe space for [African Americans at Life U]. Mark gives us good insight on what it is to be Black in the business world and education and what it looks like," said student Tyron'E Hawkins.
Hawkins also mentioned how Pilgrim serves as a helpful point of contact for her and other students when issues arise. Student Nickayla Lee expressed similar gratitude for having a sympathetic ear, as well as the various activities that AALPHA offers, such as vision board parties, group study sessions and making stress balls.
"It's helpful because I'm a chiropractic student, and our schedules are super hectic. It's a lot, and they don't really prepare you for how much it is, so having that support of not only the people involved in the group but other faculty, I feel like it is the only reason why I got through the program," said Lee.
Part of the reason that AALPHA and even Pilgrim's position came to fruition had to do with a concern that African American students seemed to be leaving Life U, not because of academic concerns, but simply from a disconnect in the community building aspect.
"[AALPHA] is helpful academically, […] personally, and […] for finding things to do on and off campus," said Lee.
AALPHA works closely with many student clubs and organizations on campus, such as Global Voices, Student American Black Chiropractic Association (SABCA) and the Black Student Union (BSU) in order to find centers of connection and growth for students.
"I try to give students a space and place to ask those questions. 'How can I get involved? Who do I need to speak to for certain things?' The connection piece, that is the difficulty for Black students on campus," said Pilgrim.
Academic Support, Cultural Workshops and Events
AALPHA presents a series of workshops and events each quarter covering relevant topics, designed for students who identify with the experiences of African American, Black cultures. These workshops also discuss topics such as learning styles, time management, reading and note-taking strategies, test preparation, and life skills.
Let's explore some of the upcoming workshops that AALPHA is involved with. Visit the Engage site for the full list.
Food for Thought
May 5, 12, 26, 11:00 a.m. | CGUS 119
Join the Multicultural Academic Support Programs for a five-part series of lunch and learn leadership workshops focused on academic and professional growth. Learn to lead and lead with purpose! The event will have special speakers, snacks, games and prizes.
Thursday Week 5- The Power of Personal Branding by Mark Pilgrim
Thursday Week 6- Public Speaking by Emily Rowland Wells
Thursday Week 8- Pediatrics by Dr. Shannon Good
Green Table Talk
May 9, 11:00 a.m. | Harris Center 138B: ACES Suite Workshop or alternatively tune in via Zoom. Workshops won't be recorded.
Enjoy open dialogue about preparing for life after Life U. Participants will discuss strategies for preparing a healthy and well-rounded portfolio.
Affirmations with AALPHA
May 4, 18. Noon | Harris Center 138B: ACES Suite Workshop or alternatively tune in via Zoom. Workshops won't be recorded.
With midterms on deck, living the "new normal" and our everyday challenges, this workshop will help train your mindset to prepare for the future.
For more information about AALPHA and how to get connected, send a message to AALPHA@life.edu.
Slice of LIFE is an invitation to and extension of everything happening at Life University. Whether you are a current student, a potential freshman or a proud alum, Slice of LIFE can help keep you connected to your academic community. Know of a compelling Life U story to be shared, such as a riveting project, innovative group or something similar? Let us know by emailing Marketing@life.edu.
Related posts