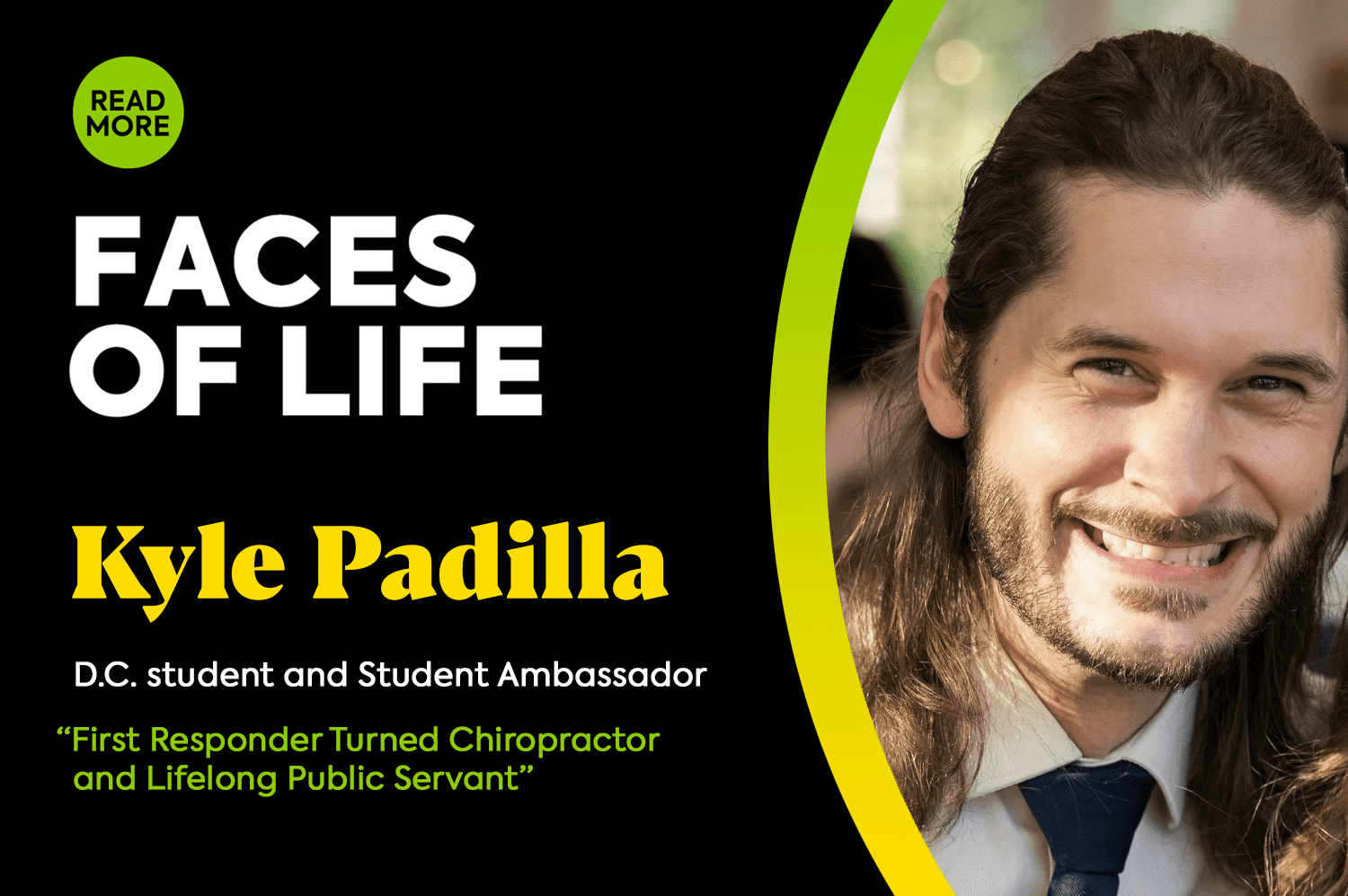 D.C. student and Student Ambassador
"First Responder Turned Chiropractor and Lifelong Public Servant"
Hands-on learning and a public servant mindset come naturally to Kyle Padilla. Padilla is a Doctor of Chiropractic student and Student Ambassador at Life University. Originally from Oregon, Padilla grew up on his family's small farm as one of seven boys. His parents supported several children through the foster care system and actually adopted three of their kids.
After Padilla graduated high school, he worked in the family landscaping business. Padilla expressed gratitude for that extra time spent working alongside his dad, who has since passed away. Shortly after that, he felt a call to some form of public service but was a bit unsure of what that would look like.
First, Padilla considered law enforcement, but he found that it did not really suit his personality. Then, he turned to firefighting, starting off by volunteering at a local fire department where he worked for about seven years.
"Through [my work as a firefighter], I began to develop a love for working with patients on a one-on-one basis," said Padilla.
Eventually this led to Padilla pursuing EMT certification and working on an ambulance for a little under five years. Around that time, he discovered within himself a desire to do more than facilitate health in a transportation capacity.
"My heart was to see people live well, so I began to look around at other options. Chiropractic has always been something that my family has utilized, and we had seen a chiropractor throughout my growing up years, but I had really dismissed it, because I thought it would take too much time, too much money," remembered Padilla.
At that time he was 25 and figured he was too old to go back to school. He then sat down with a local chiropractor that encouraged him, telling Padilla that he had not started his doctorate until he was 40. The chiropractor also encouraged Padilla to explore different chiropractic programs, mentioning Life U as a viable option.
Still tentative, Padilla attended a LIFE Leadership Weekend at the insistence of friends and "fell in love with the area and felt a real peace that this is where God wants [him], and this is where [he] is supposed to be."
One of the things that Padilla loves most about Life U is the sense of community and welcoming spirit, and he became a Student Ambassador to help continue that legacy.
"[Student Ambassadors] are involved in all things hospitality, so our desire is to promote the growth and the quality of the University by interfacing with new and prospective students," said Padilla. "Every week, Student Ambassadors are leading tours for prospective students around the school, and once every quarter, we volunteer at the LIFE Leadership Weekend events. We spend quite a few hours getting to have conversations with people who are thinking about a career change or thinking about the direction they want to head after high school and college."
Meeting people from different cultures and all walks of life through Student Ambassadors has been "a sweet opportunity" for Padilla. And regardless of where Padilla's path takes him next, the tools and resources he has drawn on in his time at Life U can help him to become the kind of public servant he always hoped to be.
Faces of LIFE is a story campaign that showcases members of the dynamic Life U community, including faculty/staff, students, alumni and health science professionals. Interested in being featured or nominating a candidate? We want to hear from you! Email Marketing@LIFE.edu. Read more Faces of LIFE stories.
Related posts